Why Jimmy Garoppolo Isn't Leaving the 49ers Anytime Soon
This past season, sportsbooks gave the San Francisco 49ers only +240 odds of making the playoffs, let alone making it to the Super Bowl. Yet the 49ers surged out of the gate with an eight-game winning streak. Much of their success rested on the competent play of quarterback Jimmy Garoppolo as his 69.1% pass completion rate was good for fourth in the NFL.
Despite his role in the 49ers' success, rumors swirl about Garoppolo's future. Two persistent theories predict that the 49ers either swap Garoppolo for Tom Brady or wait a year and ditch him in favor of Kirk Cousins. Although both of those scenarios are useless at this point, Garoppolo still isn't leaving the 49ers anytime soon.
The case for keeping Jimmy Garoppolo
Garoppolo has certainly had a rocky career so far. After spending his first several years in the shadow of Brady, he's struggled with injuries. The 2019 season was his first fully healthy season as a starting QB. Garoppolo fans point to his overall inexperience with optimism, arguing that as good as he was last year, he'll only get better moving forward.
There's no denying he showed promise in 2019. Garoppolo was the only quarterback to rank in the top five in completion percentage (fourth best), passing yards per attempt (third best), and passing touchdowns (fifth best). He also became just the fifth QB ever to win at least 16 of the first 18 games he started, reports FanDuel.
Garoppolo's fans argue that, while he still has areas of his game that need improving, his tremendous upside means he'll continue to improve. Once he proves his consistency, Garoppolo has a shot be one of the best QBs in the NFL.
The case for letting Garoppolo go
On the other side of the aisle are the NFL pundits who see only the downsides of Garoppolo's game. They see an inexperienced 28-year-old quarterback who with a massive salary. They also point out that the 49ers' 13-3 record last season owed just as much to a stifling defense as Garoppolo's leadership.
His detractors also argue that a lot of his success has been the result of having expert play-caller Kyle Shanahan as head coach. Another significant knock against Garoppolo is his tendency to throw the ball away. He gave up 13 interceptions in the regular season while fumbling the ball 10 times. More embarrassing turnovers occurred in the 49ers Super Bowl loss.
Garoppolo replacement scenarios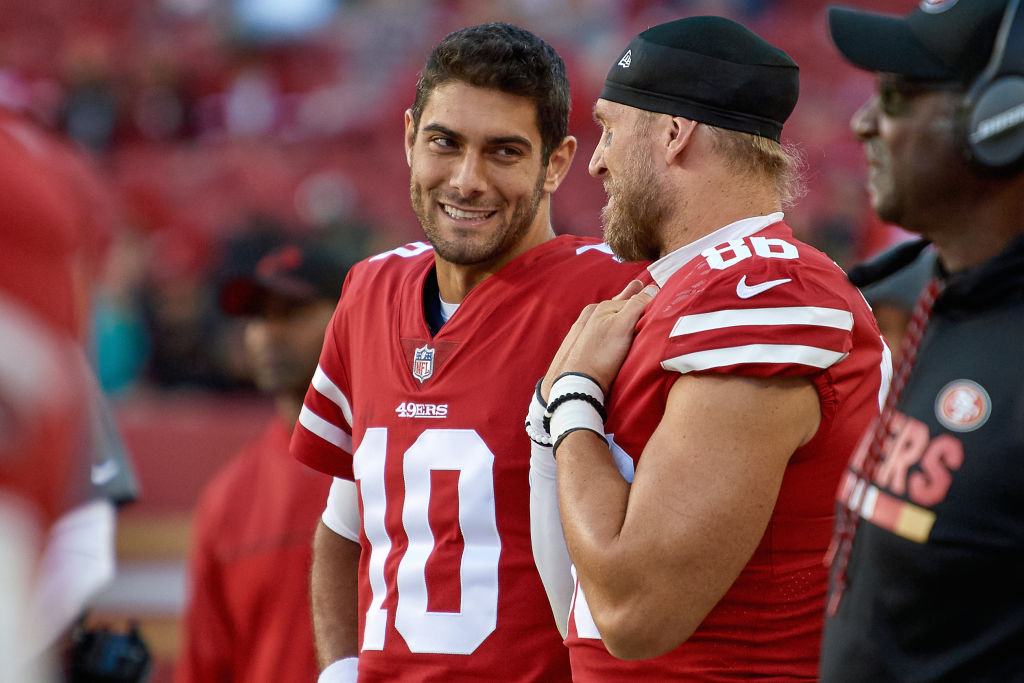 The first replacement scenario floated by Garoppolo's critics involved the 49ers ditching him in favor of Brady. Obviously he's a legend, and few teams would balk at the chance to get him. Yet switching to Brady would be the kind of win-now move that leaves the 49ers without a clear future. After announcing he'd leave the Patriots, however, Brady signed with the Buccaneers.
The other option involves keeping Garoppolo for one year and then letting him go in favor of Kirk Cousins, who was a free agent in 2021. Cousins has a pre-existing relationship with Shanahan, and he was widely expected to become a 49er in his last free agency. However, Cousins signed a three-year fully guaranteed contract with the Vikings.
Recent news of the Panthers releasing Cam Newton adds another quarterback to the list of potential Garoppolo replacements. Garoppolo may have an unknown ceiling but if he can improve his decision-making skills, he's undoubtedly a more talented quarterback than the few remaining options on the market.