Why Jordan Phillips Is the Secret Hero of the Buffalo Bills' Stellar Defense
The Buffalo Bills might be the most underrated team in football. For a team that rarely seems to get much national discussion outside of recognizing their fiercely dedicated fandom, their actual play this year is something special. The Bills' strong performance in the newly competitive AFC East hinges on their stellar defense. And the underrated, outstanding player tying that defense together is defensive tackle Jordan Phillips. As the smoke clears on the 2019 NFL regular season, you'll likely hear that name more and more.

Let's explore his personal history, what he means to the Bills' defense, and where his future lies.

Who is Jordan Phillips?
Jordan Phillips' life is one marred by tragedy, healed by family and community, and uplifted by his own perseverance.

His parents were out of his life by two years old. Phillips' father was in prison, and his mother died in a car accident. His aging grandparents helped raise him, with help from the rest of their extended family.

When Phillips' grandmother had a stroke at 70, she could no longer care for her grandson as she once did. The family of one of Phillips' friends took him in from his freshman year of high school onward.

With the help of the Waggoners, his new surrogate family, Phillips honed his skills at DT. He played with the Oklahoma Sooners, putting on a good enough show to get drafted by the Miami Dolphins in the second round of the 2015 draft.

Phillips doesn't fit in with the 'Phins
Jordan Phillips played a read-based style on defense with Miami instead of one that let him go on the attack, which was out of sync with the Dolphins program. It got Phillips a reputation for lazy play when it was more likely an adjustment period to a new style. He turned it around in his final year in Miami, but couldn't shake his reputation.

When Phillips landed with the Buffalo Bills in 2018, he hadn't quite proven himself for long enough. Within a few games, fans in Buffalo forgot all the criticism. They knew they had something special on their hands.

Jordan Phillips' key role in the Bills' outstanding defense
When defensive tackle Kyle Adams retired before the 2019 season, Bills fans knew they would miss him. There was little question that signing Jordan Phillips to replace Adams with a one year deal was the right move, but nobody could've predicted just how well Phillips would fit into the starting role in Buffalo.

In his first four years in the NFL, Phillips totaled 5.5 sacks. In 2019 alone, Phillips muscled his way in and sacked quarterbacks 9.5 times.
Nobody in the NFL at his size, more than 300 pounds, is close to his number of sacks. Phillips was clearly stifled in trying to parse the Dolphins' program of constant trick plays. With the Bills, he's been let off the leash to stick to his preferred approach of reading the offense in real-time. He finds his own gaps. Then he muscles through with laser-focus.

It's simple tactics combined with complex mental reactions that make Jordan Phillips special. It's something he should be recognized for outside of Buffalo. But that hasn't happened quite yet.

The classy way Jordan Phillips handled his Pro Bowl snub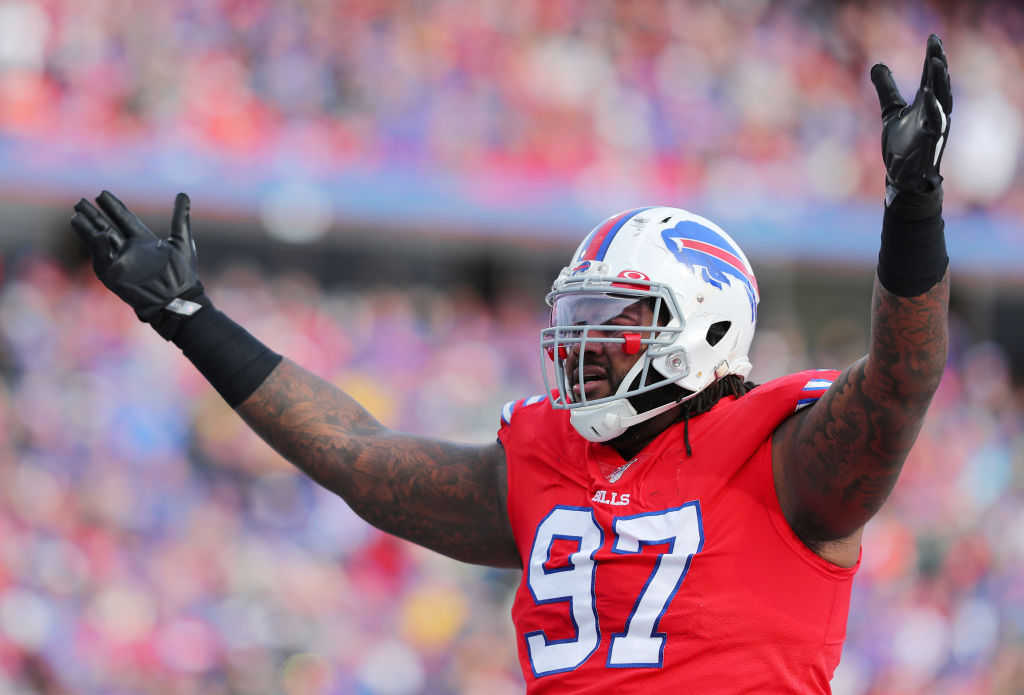 Jordan Phillips' banner year in Buffalo is a huge deal locally. Nationally he still lacks name recognition, most recently in how he was passed over for Pro Bowl selection.

Phillips doesn't seem to care.

At his first post-game press conference following the Pro Bowl omission, Phillips was dismissive of the very idea of caring about it.

"Pro Bowl? Whatever. If I can do what I need to do by the end of the year, I'll be remembered in Buffalo forever," Phillips said.

Bills DT Ed Oliver's feelings were a bit different. In solidarity with Phillips, he told reporters, "if you didn't vote for [Jordan Phillips], you're not my friend."

Phillips earned his pay and then some during his one year free-agent deal with Buffalo. The team is likely to sign him again. If his 2020 season is anything like 2019, Ed Oliver should get to keep quite a few more friends after next year's Pro Bowl voting concludes.