Why KC Fans Love Patrick Mahomes and His Girlfriend so Much
In a time when NFL stars are celebrities who can be somewhat removed from the communities they represent, Patrick Mahomes and his girlfriend, Brittany Matthews, are huge favorites in Kansas City. Here's why Kansas City Chiefs fans love them so much.
Patrick Mahomes and Brittany Matthews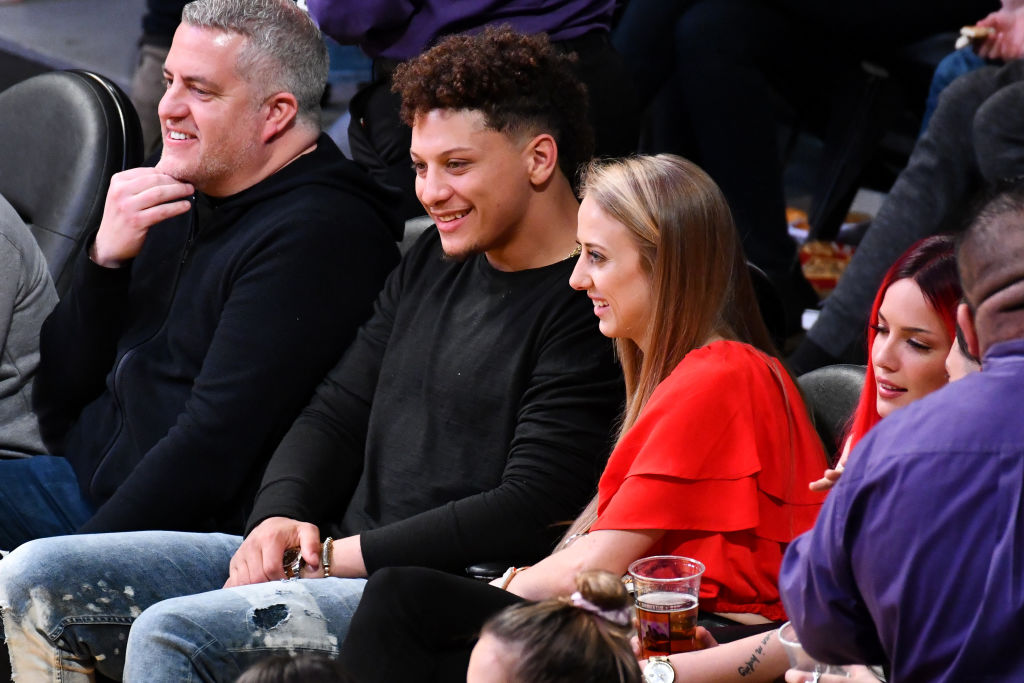 Mahomes and Matthews, both 24, have been together since 10th grade, although they went to different colleges. Matthews is a Certified Personal Trainer with a bachelor's degree in kinesiology. She is also a former college soccer player. After college, she played pro soccer in Iceland for UMF Afturelding/Fram.
Now, Matthews sells training programs and gear through her website, Brittany Lynne Fitness, which launched in September. Her website also raises money for Kansas City-area animal shelters and the 15 and the Mahomies Foundation by selling the 2020 Kansas City Pet Calendar, sponsored by Companion Protect. The calendar shows Matthews and Mahomes with their dogs plus Kansas City team members with local adoptable shelter animals.
Mahomes is in his third season as the Kansas City quarterback. He spent his rookie season as the backup to Alex Smith. With just one full year as the starter, he's already received a number of awards, including 2018 MVP. Last season, Mahomes led the Chiefs to the AFC Championship, where they lost to the Patriots. During the season, he had 50 touchdowns and 12 interceptions.
Patrick and Brittany are present in the city
The two are well-loved in Kansas City because they are involved in the community and give back as much as possible. Mahomes spends his offseasons in Kansas City, although he could choose to live elsewhere, as many NFL stars do. He spent some of his time in the 2018 offseason attending events and visiting restaurants.
Mahomes said, "The fans come out every single week and show passion and love for us and our team and what we're doing here, so for me, I want to be back in the community, giving back. And just be a part of it, to show the same love and passion to them."
Patrick and Brittany bought a house
They moved to Kansas City when Mahomes joined the football team, and they bought a house together. They've said they plan to live in the city for 20 years.
Mahomes talked about his commitment to the area when they purchased their house: "I think the people are what we love most about Kansas City. They have such a passion for the community, the food, the football team They treat us like we've been here our whole entire life. We're trying to be here for a long, long time."
They're active on social media
Both Mahomes and Matthews are very active on social media, providing another way to engage with the Kansas City community. Matthews posted her support for fans on Instagram following the Chiefs' loss in the 2019 AFC Championship.
She wrote, "Many more years of success for this team #chiefskingdom." Mahomes added his thank you to the city on Twitter: "Thank you #ChiefsKingdom. This hurts now but we will be back love y'all for y'alls support."
This season, Matthews posted her reassurance on Instagram following two Chiefs' losses in a row and an ankle injury for Mahomes, saying on October 14, "This team and their kingdom aren't going anywhere. #wearestillthebest #dontarguewithme."
The pair have a foundation
Mahomes established the 15 and the Mahomies Foundation earlier this year. The nonprofit focuses on improving children's lives by supporting initiatives in health, wellness, and communities that need resources.
Mahomes visited Children's Mercy Hospital earlier this year with gifts donated by his foundation. He also makes hospital visits with other members of the Chiefs team. The foundation held its first gala on November 21, hosted by Mahomes, and it was able to raise $600,000. On behalf of the foundation, Mahomes and Matthews presented $15,000 donations to 15 nonprofits, distributing a total of $225,000.
In just a few short years, this young couple has found ways to join their new community and make an impact.