Why Kendrick Nunn is the Best Rookie Not Named Zion Williamson or Ja Morant
The NBA's Rookie of the Year race is between two young men, Ja Morant and Zion Williamson. Both of these guys have been incredible. Morant is averaging 17.6 points per game to go with 6.9 assists in 59 games, while Williamson is averaging 23.6 points and 6.8 rebounds but in only 19 games. There are, however, some other rookies who have been playing well, specifically Kendrick Nunn. Here are the top four NBA rookies not named Zion Williamson or Ja Morant.
4. Kevin Porter Jr., SF, Cleveland Cavaliers
It took some time for Kevin Porter Jr. to get going for the Cleveland Cavaliers, but now he is proving to be one of the biggest steals in the 2019 draft. The 30th overall pick is averaging 10 points per game for the Cavs this season and might be one of the most athletic rookies other than Morant and Williamson.
He has been playing well of late too. Before the game against the Boston Celtics on March 4, a game he left early with a head injury, Porter had averaged 16.2 points per game in his previous five games. He also had a huge game in an upset win over the Miami Heat on Feb. 24 where he dropped 30 points and had eight rebounds.
Porter has shown an ability to shoot and get to the rim so far during his rookie season. If he continues to improve, he could be a star for the Cavs. Maybe not a star on the level of Zion Williamson or Ja Morant, but a standout player for a Cavs team in need of some star power.
3. RJ Barrett, SG, New York Knicks
Williamson's running mate at Duke has not been talked about much, but RJ Barrett has quietly had a good rookie season for the New York Knicks.
Averaging 14.1 points per game, Barrett is also pulling down five rebounds a game. He has also been on a tear lately. Barrett scored 17 points against the Oklahoma City Thunder on March 6, 27 against the Houston Rockets on March 2 to go with five rebounds and five assists, and 19 against the Chicago Bulls on Feb. 29. In that game against Chicago, he also shot 80% from the field and 75% from 3-point range. No one expects him to shoot that well every night, but if he can shoot somewhat close to that consistently, then he will certainly be hard to stop.
The Knicks missed out on Kevin Durant and Kyrie Irving this past offseason, and they didn't have a chance to draft Zion Williamson or Ja Morant, but they might have found their future star in Barrett.
2. Coby White, SG, Chicago Bulls
Coby White was a fun guy to watch for the North Carolina Tar Heels last year, and his game has translated well to the NBA. White is averaging 13.2 points per game and 3.5 rebounds for the Bulls this year.
He has been dominating since the All-Star break too. In his last nine games, White is averaging over 26 points per game. He also had three games in a row, against the Phoenix Suns, Washington Wizards, and Oklahoma City Thunder, where he scored 30 points or more. He can also facilitate as he has had five or more assists in each of his last five games, including eight against the Brooklyn Nets.
White can shoot – as he has two games this year with seven made threes, and two other games with six – and he can also pass, in addition to just being able to flat out score. He can be a great player in the NBA for a long time.
1. Kendrick Nunn, SG, Miami Heat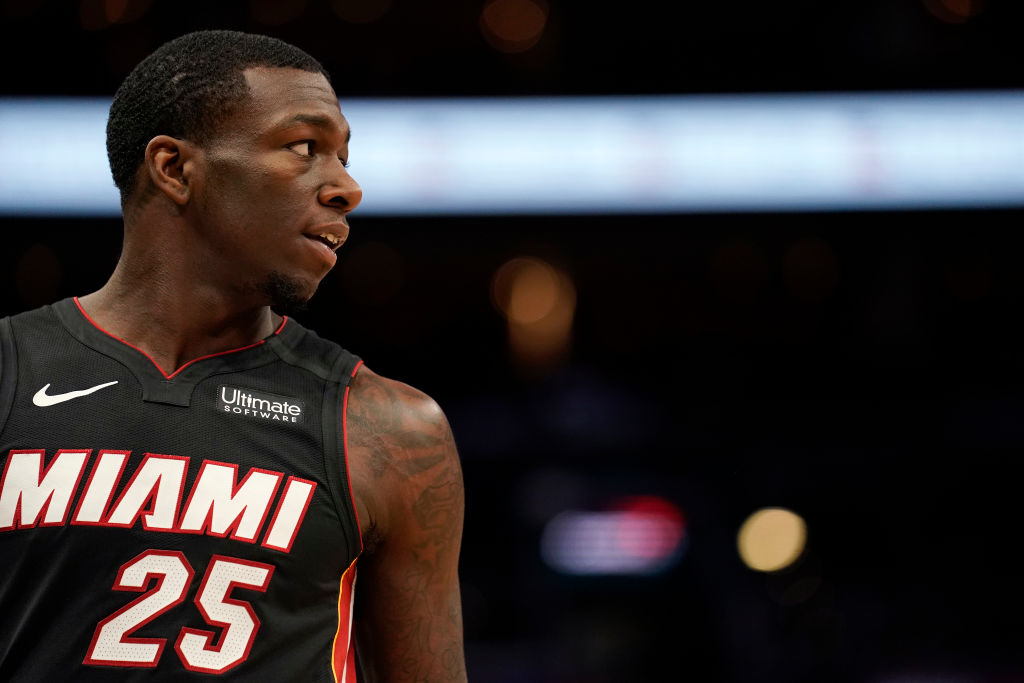 The only rookie on this list who is actually on a good team is Kendrick Nunn. He is having a great year for a championship contender in the Miami Heat as he is averaging 15.5 points per game and 3.4 assists.
The most amazing thing about Nunn is that he went undrafted. Nunn made history by becoming the first undrafted rookie in NBA history to win the Kia Rookie of the Month award multiple times, according to NBA.com. He also made more history at the end of February as he broke Mario Chalmers' team record for 3-pointers in a season.
Nunn has had some incredible games this year too as he scored 36 points against the Atlanta Hawks, and 33 points against the San Antonio Spurs. The Miami Heat have surprised everyone as they are currently in fourth place in the Eastern Conference with a 41-23 record. Nunn's rookie campaign is a big reason they have been so successful.
Nunn's scoring ability, coupled with the fact that he has made history multiple times already, are big reasons he is the No. 1 rookie on this list. The fact that he has helped the Heat become a top team in the Eastern Conference, though, is why he is the best NBA rookie not named Ja Morant or Zion Williamson.