Why Is Kirk Cousins Not Playing for the Minnesota Vikings as They Take on the Green Bay Packers on Sunday Night Football?
Minnesota Vikings star quarterback Kirk Cousins will not be able to play on Sunday Night Football as the Vikings take on the Green Bay Packers at Lambeau Field.
Cousins was added to the Vikings' reserve/COVID-19 list on Friday, and because he's not vaccinated, he will be ineligible to return in time for what is shaping up to be a must-win game for Minnesota.
This is a game the Minnesota Vikings needed Kirk Cousins for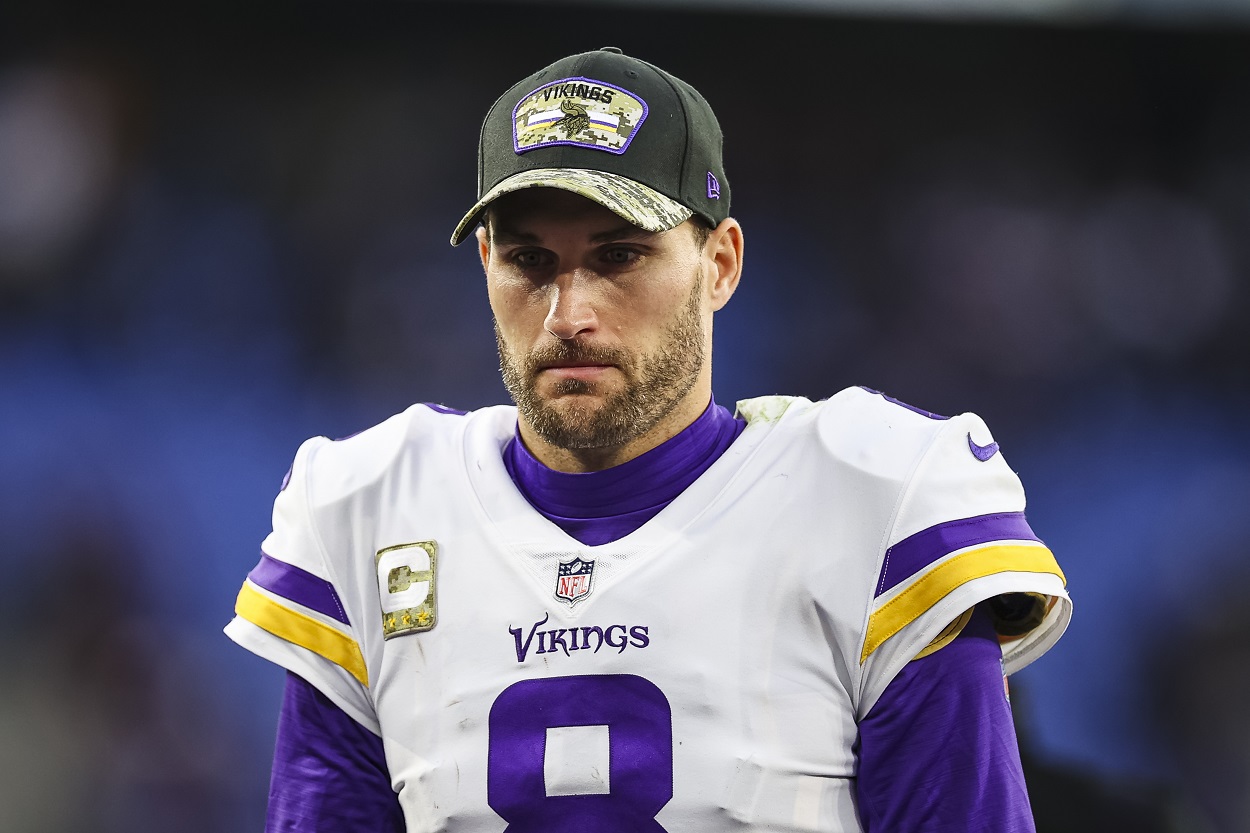 The coronavirus has been running rampant through the league and causing all sorts of roster havoc not just in the NFL but all across sports in general. Unfortunately for the Vikings, the timing of losing Cousins couldn't be any worse. Minnesota is 7-8 and going up against a 12-3 Green Bay team that has already won the NFC North and is aiming to clinch the No. 1 overall seed in the playoffs.
The Packers are going to be motivated to get a win, and that motivation will be doubled because Green Bay will also be looking to get revenge over the last-second loss at the hands of the Vikings back in November.
According to Five Thirty Eight, the Vikings already have just a 9% chance to make the playoffs. If they beat Green Bay, those odds shoot up to 50%. If they lose on Sunday night, those odds fall to almost non-existent: 3%.
Sean Mannion will get the start in place of Cousins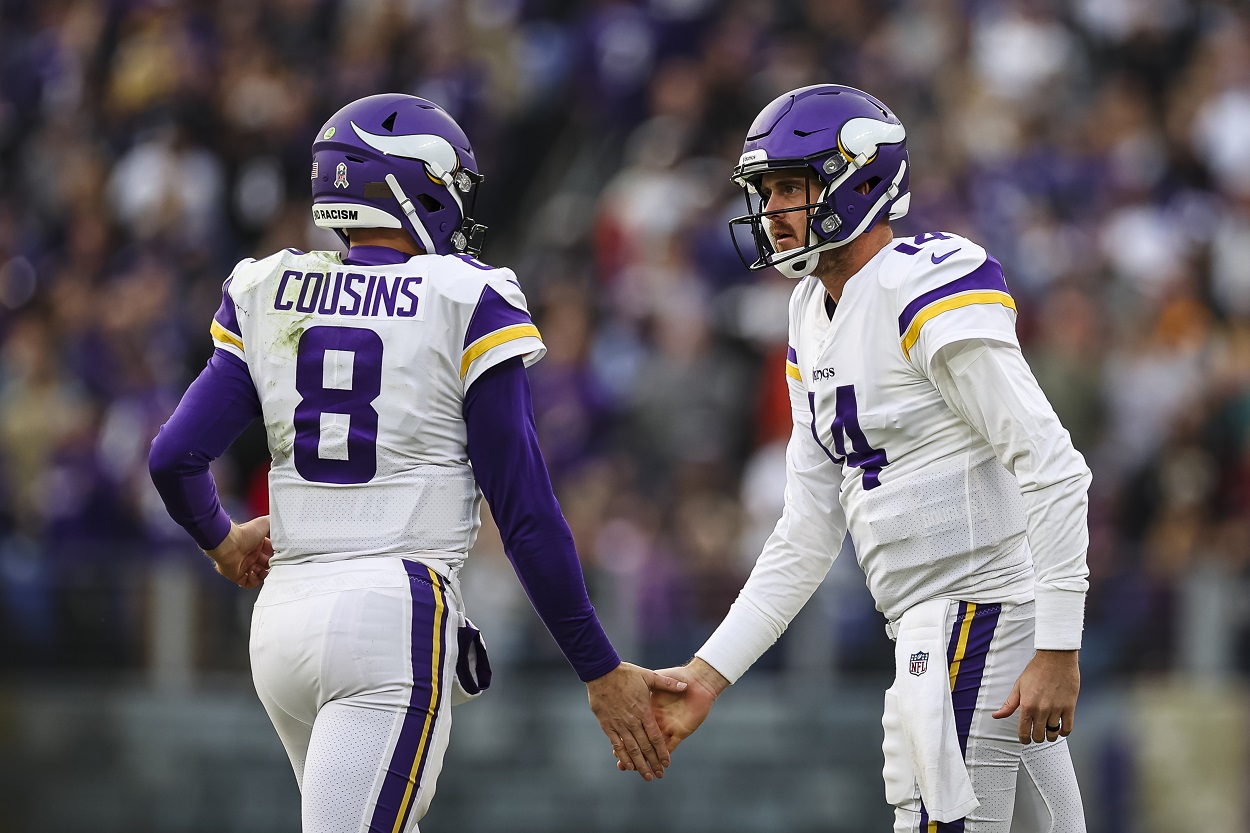 Fifth-year pro Sean Mannion is slated to get the start for the Vikings in place of Cousins. Mannion was drafted in the third round of the 2015 Draft by the then-St. Louis Rams, but he's been a career backup. That was his role in the Rams organization, and the Vikings have used him similarly to this point.
The Vikings drafted Kellen Mond out of Texas A&M in the third round of this past draft, and he was quite a dynamic college quarterback. He could have provided Minnesota a bit of "juice" heading into this game. Maybe just a spark of hope that he could regain some of that college glory while seizing the moment. Any hope Minnesota fans may have had in a Mond appearance was quickly doused by head coach Mike Zimmer, though. He's clearly most comfortable with Mannion in this contest.
Zimmer was asked if there was any thought about giving Mond the start. His answer was pretty frank.
"There really wasn't," he said, according to Sam Ekstrom. "We knew that Sean was coming back [from the reserve/Covid-19 list], and Sean is extremely bright, he studies like crazy, he's a great competitor. He's put in his time, he's earned this opportunity, and I think he'll do great.
"Sean knows the gameplan cold. Like I said, he's an extremely brilliant person. He puts in the work every single week like he's going to be the starter. And he is this week."
The Vikings do still have hope to win without Cousins
Not all hope is lost for the Vikings without Cousins. There's just no doubting the fact that this game would be much more winnable for the Vikings with him.
Still, the Vikings beat the Packers just a few weeks ago, and they did it with a heavy dose of Justin Jefferson, and he's available to play on Sunday night.
Jefferson notched eight catches for 169 yards and two touchdowns in that contest. The Packers had no answers for him then, and they may not have answers for him now. The only solution they may have is entirely out of control, and that's the frigid weather at Lambeau Field, which could make throwing the ball tough.
On that note, the Vikings will have Dalvin Cook back from his time on the COVID list, and he's been known to have big games against the Packers, especially when there's a lot on the line.
Mannion may not inspire a ton of confidence as a starting quarterback, but he does have some legitimate weapons around him. Can he take advantage of this opportunity and keep Minnesota's playoff hopes alive?
That's a question only he's in the position to answer, and we'll find out what he's capable of rather quickly against a tough Green Bay defense.
Stats courtesy of ESPN and Pro Football Reference.
RELATED: The Vikings Have No Clear Solution to Their Crippling Kirk Cousins Problem
Related post url: