Why Kristaps Porzingis is the Key to the Mavericks Success, According to Mark Cuban
It's impossible to talk about the surging Mavericks without discussing Luka Doncic, so we'll start there. The reigning Rookie of the Year puts up absurd numbers nearly every night and led the Mavs to 17 wins in their first 25 games, drawing comparisons to Magic Johnson and Larry Bird. However, Doncic's recent injury has shined a light on some of the other Mavericks' contributions. Even before Luka's ankle sprain, though, Mavs owner Mark Cuban recognized the work that Kristaps Porzingis brought to the Mavericks.
Mavericks' hot start in 2019-20
Through December 19, the Mavericks are 18-9 with wins over the league-leading Lakers and Bucks, shocking fans and critics by beating Milwaukee with Doncic watching from the sidelines. But much of their overall success is due to Doncic simply playing out of his mind, building on a groundbreaking rookie season with an even more impressive sophomore campaign.
Every game the Mavericks win (or even keep close) is an improvement over last year's 33–49 record that seems like a distant memory. The team gels together perfectly, and the coaching is on point. If the Mavs can keep things together until Doncic returns, they've got a great shot to carry this momentum into 2020 and make a playoff run.
Luka Doncic's second season
With a stellar rookie season behind him, Luka continues to set records, recently tallying the most 30-point triple-doubles before age 21 with two months to build on it. With one league-wide award already in the books, Doncic is mounting a legitimate MVP campaign and looking to join the ranks of players to capture both awards. In addition to stocking his trophy shelf, Doncic's ascent to superstardom has lifted the team around him, including a man with a history of his own headlines — Kristaps Porzingis.
Why Mark Cuban believes Kristaps Porzingis is MVP material
Even as the press and the rest of the NBA focus on Luka, the 7-foot-3 Kristaps Porziccis can't be ignored. Traded from the Knicks in January 2019, Porzingis has played a support role for the Mavericks during Doncic's ascent, earning him a rave review from Mark Cuban. As Luka dominates the game and puts the Mavericks over the top, Cuban observed that "everybody else is giving up stats to do what we need to do. That, to me, is as impressive as anything."
Specifically, Cuban recognized Porzingis's ability to shift on the court to deliver whatever the Mavs need.
"I don't think there's ever been a max-out player like that who has changed his game to fit what's needed for the team as quickly as K.P. has," Cuban said.
One of the most notable games on the road trip was a Mavericks win where Porzingis only scored two points but still massively influenced the game. Thirteen rebounds and a trio of blocks provided the edge Dallas needed to overcome the Phoenix Suns (assisted by 42 points from Luka, naturally).
More proof Kristaps Porzingis is a team player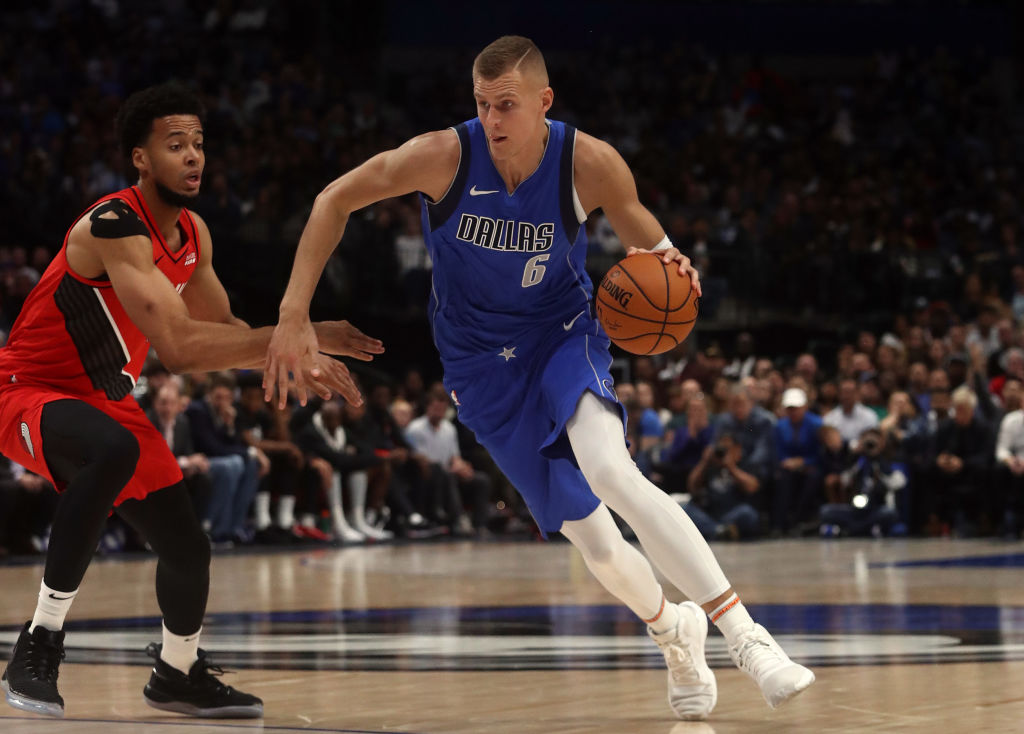 Porzingis recovered from some early-season struggles that saw him benched, but his reaction to his time off the court revealed more about him than anything he could do while playing. When asked for comment, Porzingis simply replied, "I wasn't having a great game. I'm all-in for whatever's best for the team. If the coach thinks he'd rather have me out and have someone else in that's having a better game, let's do it if we can win a basketball game. That's the most important thing, but going forward, I want to make sure I'm out there."
In today's ego- and marketing-driven NBA, it's a refreshing surprise to see a player who everyone was watching just a year ago willingly accept his role as second fiddle to a young star. If the Mavericks make a deep run in the playoffs, it's going to be due to Luka's strong play and KP's even stronger support.