Why Kyle Larson Has Wanderlust and Is 'Jealous' of Mario Andretti and Tony Stewart
Just call it Kyle Larson's man crush, times two. The 2021 NASCAR Cup Series champion probably has pinups of his two idols in his garage.
Larson's wife, Katelyn, probably wouldn't feel threatened by idyllic posters of Mario Andretti and Tony Stewart hanging on the walls.
To Larson, however, Andretti and Stewart are the apples of his eye.
Kyle Larson on attending his first F1 race: 'Probably nobody knows who I am here'
During the offseason, Larson attended the Abu Dhabi Grand Prix on Dec. 12, Formula 1's season-ending event. NASCAR's most dominant driver in over a decade, Larson witnessed first-hand a style of racing that left the former dirt racer in awe.
Max Verstappen, the 24-year-old first-time F1 champion, used fresh tires to propel past Lewis Hamilton, then the four-time defending champ, with a controversial, final-lap pass.
Larson, 29, loves all forms of racing. He especially admires drivers like Andretti and Stewart, among a few others who experienced something he has not – success at the F1 and NASCAR circuits.
"I'm jealous, …" Larson told the-race.com at the F1 event. "… Probably nobody knows who I am here, it's a totally different world here, and these guys are all worldly known. They are on top.
"I feel we're still a step below even though I had a great couple of seasons now. These guys are on a whole other level of stardom and fame; I'm in awe of being here. I'm a fanboy (on Dec. 12), and hopefully, someday I can climb the ladder and keep getting more well-known."
Larson: 'It's important for me to race a lot of different cars and to be competitive in those cars'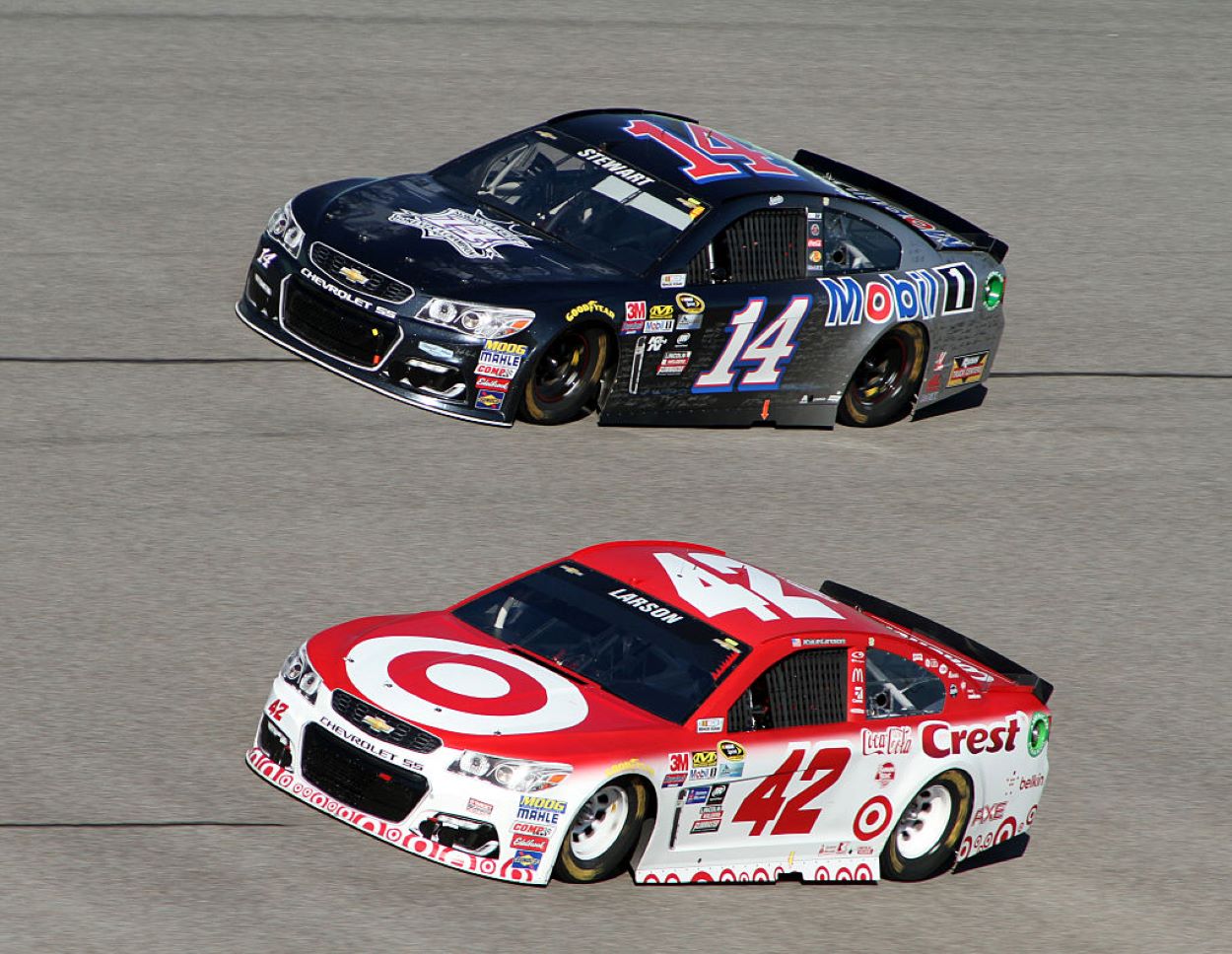 Larson has been keeping busy this offseason. In addition to his 10 Cup points wins, plus the $1 million all-star race, He has competed in or is scheduled to drive in a wide range of events. He also earned 18 checkered flags during dirt-track races and defended his Chili Bowl Nationals midget race title.
The first premier series driver to earn at least 10 wins in a season since Jimmie Johnson in 2007, Larson yearns to be known as more than a NASCAR champion. He wants to be like Andretti and Stewart and other cross-over pilots.
"I think of Mario Andretti, AJ Foyt, Tony Stewart, and Parnelli Jones, who could win in any type of vehicle," Larson said. "I want to be in the same category as them someday, and it's important for me to race a lot of different cars and to be competitive in those cars."
Larson is showing similar racing wanderlust as Johnson 
It's much too early to start comparing Larson to drivers such as Johnson, who stepped away from NASCAR with a co-record seven Cup drivers' titles. Johnson will pilot an IndyCar during its upcoming season. Larson appears to have the same racing wanderlust.
"Hopefully, I will get opportunities to venture out of what's comfortable to me and show well," Larson said. "I just really enjoy the challenge of learning something new and trying to learn it quickly and be competitive.
"It's just difficult to get those opportunities outside of America. So I'm jealous of the lifestyle and the schedule they got to run."
If only Larson could be like Andretti or Stewart.
Like Sportscasting on Facebook. Follow us on Twitter @sportscasting19.