Why Kyle Larson's Work Ethic is Forcing NASCAR Competitors to Play Follow the Leader
Following Kyle Larson's lead, which NASCAR Cup Series drivers did a lot during a busy 2021, more circuit drivers will seek additional opportunities to drive at local tracks next offseason.
Larson's improvement last year was glaring after spending the previous season mainly racing on short dirt tracks while serving a suspension for disciplinary reasons.
Once known as a promising mid-tier talent, Larson emerged from exile a dominating presence. 
Other drivers noticed. Several will play follow the leader.
They want to drink from Larson's cup. 
Kyle Larson blazing a new NASCAR trail of extra offseason racing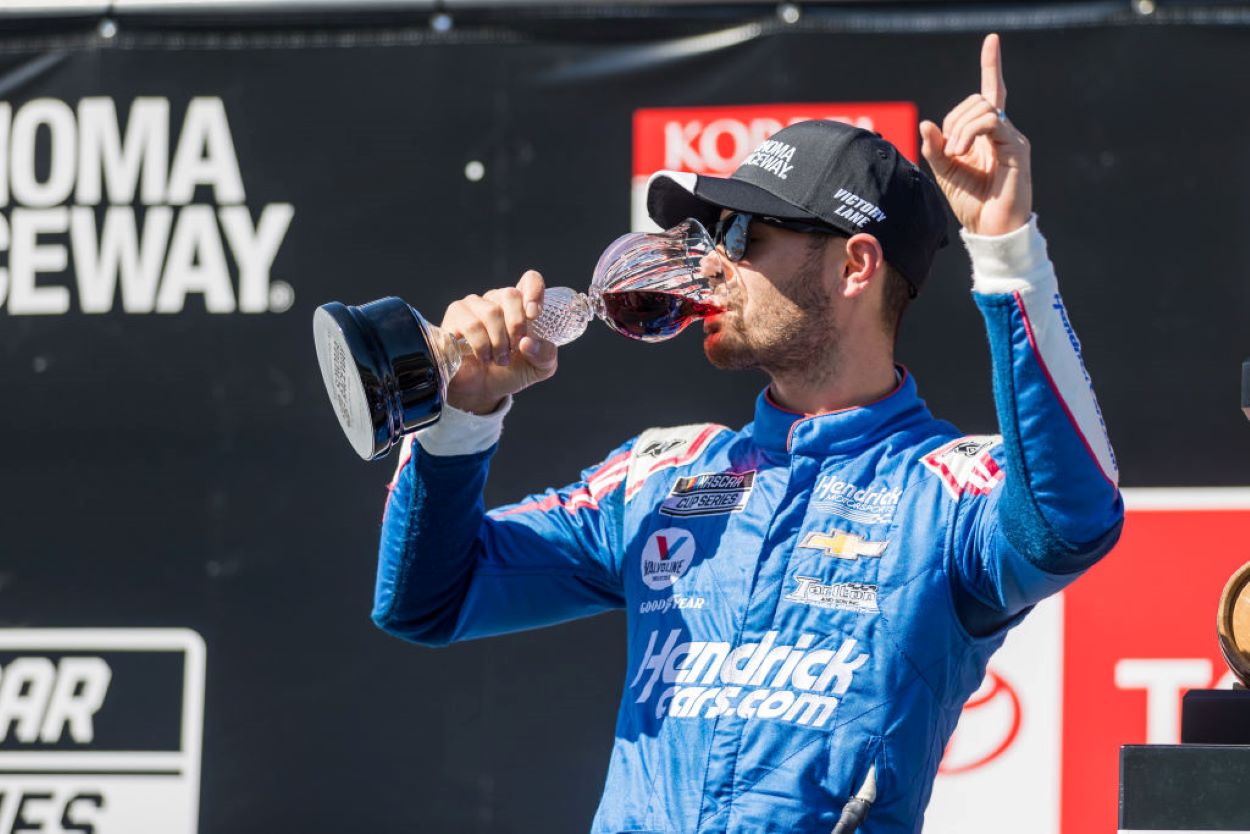 Tyler Reddick is one driver who noticed the work Larson put in competing at different levels and forms of racing. Before Larson was fired from Chip Ganassi Racing in April 2020 following an iRacing streaming incident in which he uttered a racial slur, Larson collected six wins in parts of eight premier series seasons.
When eligible to return to NASCAR, Larson signed with Hendrick Motorsports, and in his first season with the organization, he claimed his first drivers' championship. En route to the title, Larson won 10 points races, plus the all-star affair. In 36 starts, he produced 26 top-10 runs and led 2,581 laps.
The difference was significant. Reddick, the 2018 and '19 Xfinity Series champion who secured three top-five finishes in each of his first two full-time Cup seasons, noticed.
"When I think of somebody that spends as much time in a race car as possible, trying to learn and trying to get better, (Larson) has got everybody beat by a lot," Reddick told NBC Sports.
Larson: 'I openly talk about how it makes me a better race car driver'
A lot? How much?
"You could probably add the amount of lap time or track time that he has, and you could probably throw five or six other drivers together, and you wouldn't still get the amount he has," Reddick said. "He's just raced so much."
Last year, Larson also won the Chili Bowl Nationals midget event, the Prairie Dirt Classic late model race, and the Knoxville Nationals and Kings Royal sprint car outings.
Team executives once recommended drivers to stay away from a lot of extra-curricular racing. Now, drivers are being pushed to compete in all types of local competitions.
Here is a list of Cup drivers seeking additional racing opportunities:
Ryan Blaney
Chase Briscoe
William Byron
Chase Elliott
Justin Haley
"I race so much, and I openly talk about how it makes me a better race car driver and then to have the results on the Cup side has, I think, definitely convinced some owners that it works," Larson said. "They probably want their drivers to do a little bit more."
Larson and his Outlaw brother-in-law are going into the racing promotion business
Larson is not only staying busy driving, but he's beginning to work on the business side of racing. Larson and Brad Sweet, the three-time World of Outlaws champion, will serve as new promoters of the Silver Dollar Speedway. 
The quarter-mile clay oval track is located in Chico, California. It opened in 1962 and hosts the Gold Cup Race of Champions. The track is a two-hour drive from Larson's hometown of Elk Grove, California (depending on traffic, of course).  
Larson is keeping the business dealings within his family. Larson married Sweet's sister. It's a bit of a sentimental deal for Larson. Before turning pro, he spent time learning to race at the track, according to NBC Sports. 
Sweet will manage the daily operations for the company, Sweet Larson Copeland Promotions. The third partner is pro driver Colby Copeland.
"I'm so excited to be a part of the future at Silver Dollar Speedway," Larson said via press release. "I've spent many days at Silver Dollar as a fan and driver and have been lucky enough to win some of their big races."
Like Sportscasting on Facebook. Follow us on Twitter @sportscasting19.
RELATED: 3 Reasons the Clash at the Coliseum is Barely a NASCAR Race