Why LaVar Ball Is Terrible for the NBA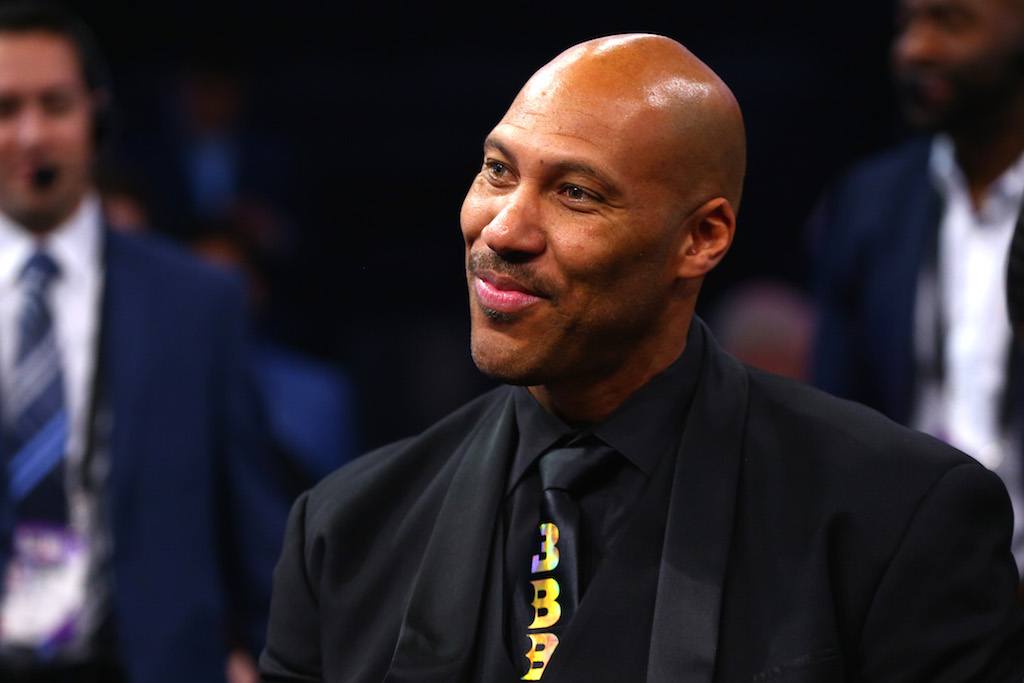 If Lonzo Ball's recent Summer League performance is any indication, the Los Angeles Lakers first-round pick has a chance to be a special NBA player. Given his vision, high basketball IQ, and unrivaled talent for getting his teammates involved early and often, there could easily be some individual hardware in Lonzo's immediate future. If only 'Zo could escape the pesky albatross who appears to pop up at every turn: his father, LaVar.
LaVar Ball is confident, outspoken, and loud. And he LOVES to talk. However, the truth is, most of the stuff he consistently spouts holds little to no weight. Unfortunately, some of his statements are more damaging than he seems to realize. Here's a look at some of LaVar's comments that simply don't belong in today's NBA.
"You can't win no championship with three white guys…"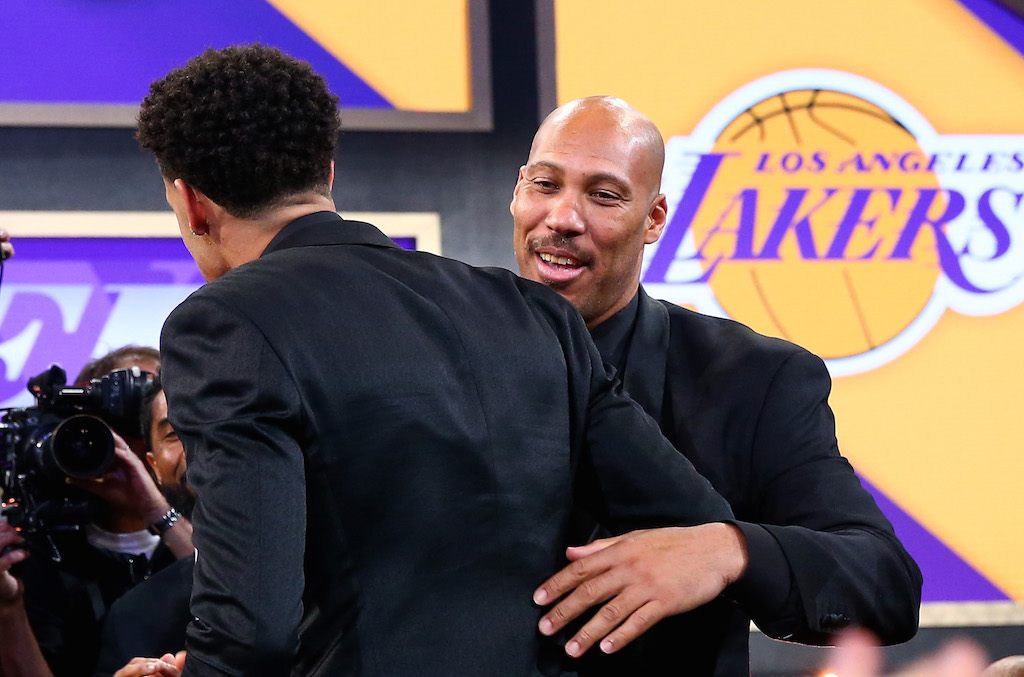 Roughly two weeks after UCLA's Sweet 16 loss to Kentucky in the NCAA Tournament, LaVar made this claim to The Orange Country Register:
Realistically you can't win no championship with three white guys because the foot speed is too slow. I told Lonzo — "One of these games you might need to go for 30 or 40 points." It turned out that was the one game. Then once they get to the Elite 8, they're right there.
Now, while LaVar would later attempt to clarify his comments during an interview with ESPNLA 710, the simple fact remains there was no reason for this to be said in the first place. Kentucky beat UCLA. Period. End of story. In fact, in the Bruins' 86-75 loss, Lonzo only had 10 points while allowing Kentucky's De'Aaron Fox to scorch him for a game-high 39. Perhaps if UCLA played better team defense, the result might have been different.
"Stay in your lane"
During an appearance on The Herd with Colin Cowherd, LaVar was incredibly disrespectful to co-host Kristine Leahy. Not only would Lonzo's father only talk to — and look at — Cowherd, when Leahy asked him how many shoes Big Baller Brand had sold, LaVar pointed back at her and simply said, "Stay in your lane." This comment was unbelievably sexist and, quite frankly, appalling to watch. If only LaVar had stopped there.
"Yeah, if you have a women's company"
In the same show, Leahy made a valid point: She noted that in order for Big Baller Brand to be a successful company, it's going to need women who actually like the brand. LaVar, of course, was having none of this, dismissing the co-host by making his own claim: "Uh, yeah, if you have a women's company. But, anyways…" That is condescending, insulting, and straight up chauvinistic. Honestly, we're embarrassed.
"If you act like that, guess what? Something's coming to you"
The assault on Leahy continued after she mentioned that big companies wouldn't want to work with LaVar because he doesn't respect women. To this, LaVar not only claimed he never disrespects women, but he had this to say: "But I'll tell you what, if you act like that, guess what? Something's coming to you, and it's okay." LaVar might not think so, but that definitely sounds like a threat to us. And you better believe that's NOT okay.
"I don't think he can comment on anything but snacks"
Fox Sports 1's Jason Whitlock wasn't on the show at the time, but that didn't stop LaVar from attacking him, either. Said LaVar: "Going back to Whitlock, I don't think he can comment on anything but snacks."
Now, it's one thing to stand up for your son when you think someone's attacking him, but there's no reason to bring weight into the conversation. This is a sensitive topic in our society and LaVar, if he wants to be a positive influence, needs to do — and be — better.
"We need to get someone else in here"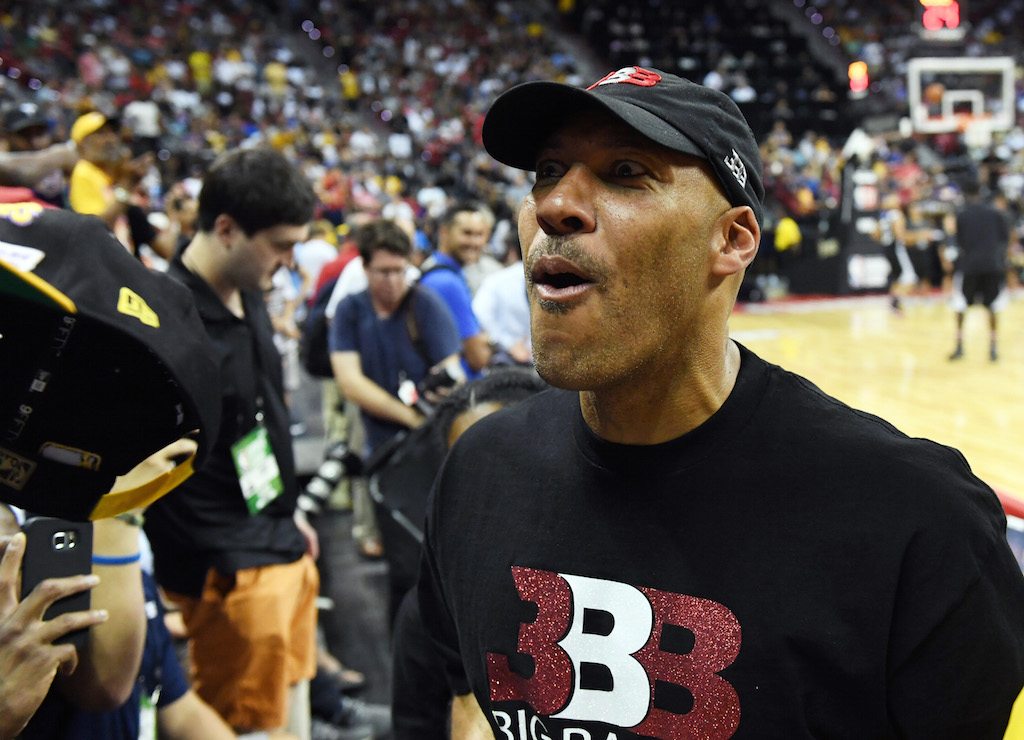 During an AAU game, LaVar threatened to pull his team from the floor unless a female referee, who called him for a technical foul, was replaced. Yes, this actually happened. Said LaVar while pointing to the ref: "We need to get someone else in here." What's worse, the referee was actually replaced (although, Adidas later apologized). Again, this is terrible. In only LaVar could let sleeping dogs lie.
"You better be in shape"
Following the game in which LaVar had a female official replaced, he had this to say to ESPN:
She got a vendetta because she's a woman who's trying to act — I get that she's trying to break into the refereeing thing. But just giving techs and calling fouls, that's no way to do it.

I know what she trying to say: "Oh I gave him a tech. I'm strong." That ain't got nothing to do with it. Just call the game. If you're going to be qualified, you better be in shape and you better know the game. And she's bad on both of them. She's not in shape, she's not calling the game right. And she don't understand.

And now she's trying to make a name for herself, so she's walking around like, "You know I'm the only woman in here." Yeah, we get it. I don't care if you're a woman, or a man or whatever, just be good at what you do.

Don't try to step in the lane. She needs to stay in her lane because she ain't ready for this. [Ref] the little kids first and then come up. Because she ain't did enough. She ain't got enough on her resume, I could tell.
This is wrong on so many levels. First, LaVar mentioned that "she needs to stay in her lane" and then there was the comment that "she's not in shape." We cannot emphasize enough how sexist and disrespectful this is. Unfortunately, we don't see him changing anytime soon. And that's too bad. For better or worse, LaVar has a platform to speak his mind. It's too bad he doesn't think before he opens his mouth.
Information courtesy of ESPN and the Washington Post.