Why LeBron's TV Show Won't Influence His NBA Future
On his worst day, LeBron James is one of the top five players in the NBA. He is also slated to be a free agent this summer… sort of. James rejoined his hometown Cleveland Cavaliers in 2014 with a two-year deal that featured a player option (which he declined to sign another, nearly identical deal, this summer).
Because players of LeBron's caliber tend to be locked into massive contracts that span half a decade or so, his situation with the Cavaliers creates a state of flux that is great for him, as he gets to sign a short-term max contract each season, and great for the rumor mill, because it means that there is always the possibility that Cleveland's greatest basketball player could leave.
As you can imagine, this lets anyone take anything James does, on or off the court, and examine it through this lens as if it were socio-political criticism (think feminist critiques, Marxist critiques, so on and so forth — for NBA fans, we've got the James Departure school of thought). LeBron sneezed? He's bailing on Cleveland. The latest morsel of discourse for the LeBron Landing-Spotters?
So, people lost their minds when news broke that James would co-produce a reality show, titled Cleveland Hustles, in which he and the always-present Maverick Carter will "give four up and coming local entrepreneurs the chance to realize their own dreams while also helping to revitalize a neighborhood in Cleveland."
The logic, detailed by Cleveland.com's Joe Vardon goes something like this: LeBron's TV show will air in August; there's no way he'd leave Cleveland in July (a month before the show's debut). This is, of course, bullshit. To hit the low-hanging fruit first, remember the last time LeBron was on national television to raise money for those less fortunate than themselves?
The Decision can't factor too heavily into this discussion because the circumstances are so totally unlike James's free agency in 2016, but as a television event it was always about helping out the Boys and Girls Clubs of America and other charities — and it did, raising $2.5 million for that organization and millions more for others. Which is to say, if James is leaving Cleveland, it will be because of basketball-related reasons, not because he does or does not have a Cleveland-based TV show in the works.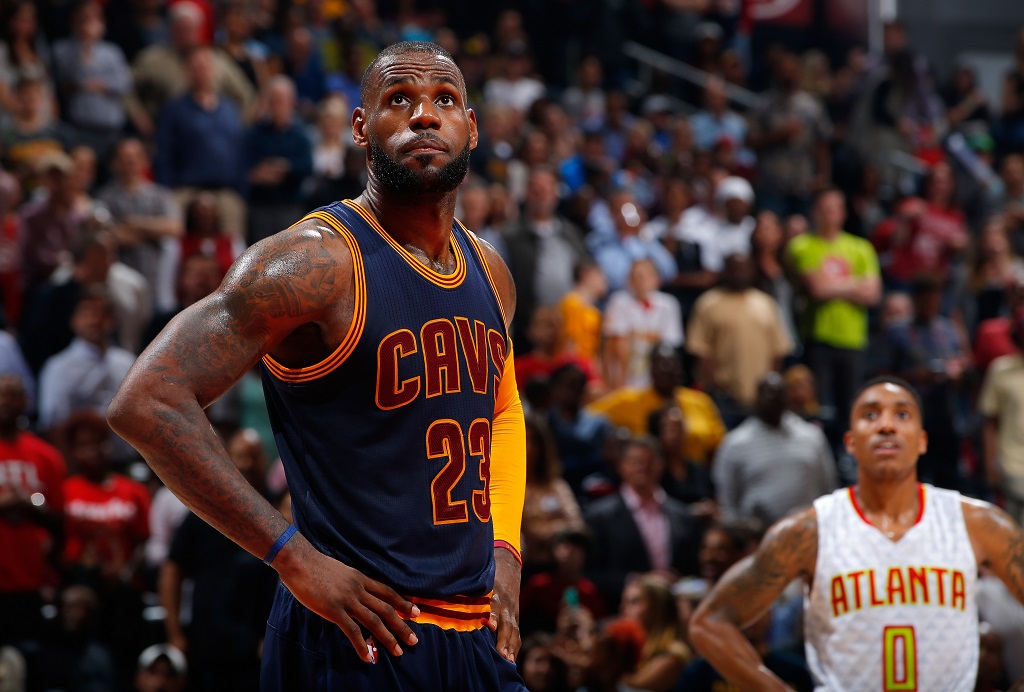 That said, bailing on Cleveland makes only a little bit of sense from a basketball perspective. And it enters into Nero-burning-down-Rome territory when you consider any other facet of the situation. Are the Cavaliers a flawed basketball team? Undoubtedly, but you can say the same for any other squad save Golden State or San Antonio this year — and they're not perfect basketball teams either, just historically great ones.
As of this morning (April 6), Cleveland has the third-best overall record in the league (at 56-22), behind both of the aforementioned teams but ahead of contemporaries like the Oklahoma City Thunder and the Los Angeles Clippers. All that to say: The Cavs own the Eastern Conference, period, and it's extraordinarily unlikely, assuming good health, that they'll drop a seven-game series before the NBA Finals.
Cleveland is far from the juggernaut that Miami was when James chilled in South Beach, but that kind of post-season job security is a much more gripping argument for staying in Cleveland than having what will probably amount to limited screen time on Cleveland Hustles.
There is, however, a local argument that does merit some consideration: The fact that another James departure would sour his home state on him permanently. To seek an admittedly anecdotal perspective on it, we asked one Ohio native if she'd be all right with LeBron pulling a Karl Malone (signing a one-year deal with another team in an effort to make it to the playoffs at the end of his career).
Her response? It would be worse than The Decision, because the whole point of James coming back, allegedly, was that he had a connection with Ohio that was bigger than basketball. While this sort of sentiment can't be properly balanced against the on-the-court stuff we believe will ultimately determine LeBron's next NBA destination  — it also recalls Shakespeare, as in "dispute not with her: she is lunatic." — there's no doubt that James will want to return to Northeast Ohio once he retires, and we don't see him wanting to burn any hometown bridges before then, TV show or not.