Why LeSean McCoy's Retirement Is the True End of an Era
The NFL season is almost a month in, and future Hall of Fame running back LeSean McCoy has remained unsigned after spending the past two seasons with the Kansas City Chiefs and Tampa Bay Buccaneers.
On Thursday, it was announced that McCoy would sign a one-day contract with the Philadelphia Eagles and officially retire from the NFL on Friday. He'll be honored during the Eagles game against the Chiefs on Sunday as McCoy's former head coach Andy Reid comes to town in a touching turn of events.
McCoy's retirement is a changing of the guard as far as NFL running backs are concerned. He was a true workhorse, something that doesn't exist much in the NFL anymore — with a few rare exceptions anyway.
McCoy ran the ball at will and was a huge threat in the receiving game as well, and with the NFL turning towards more of a committee backfield approach, the workhorse days are essentially over.
LeSean McCoy's storied career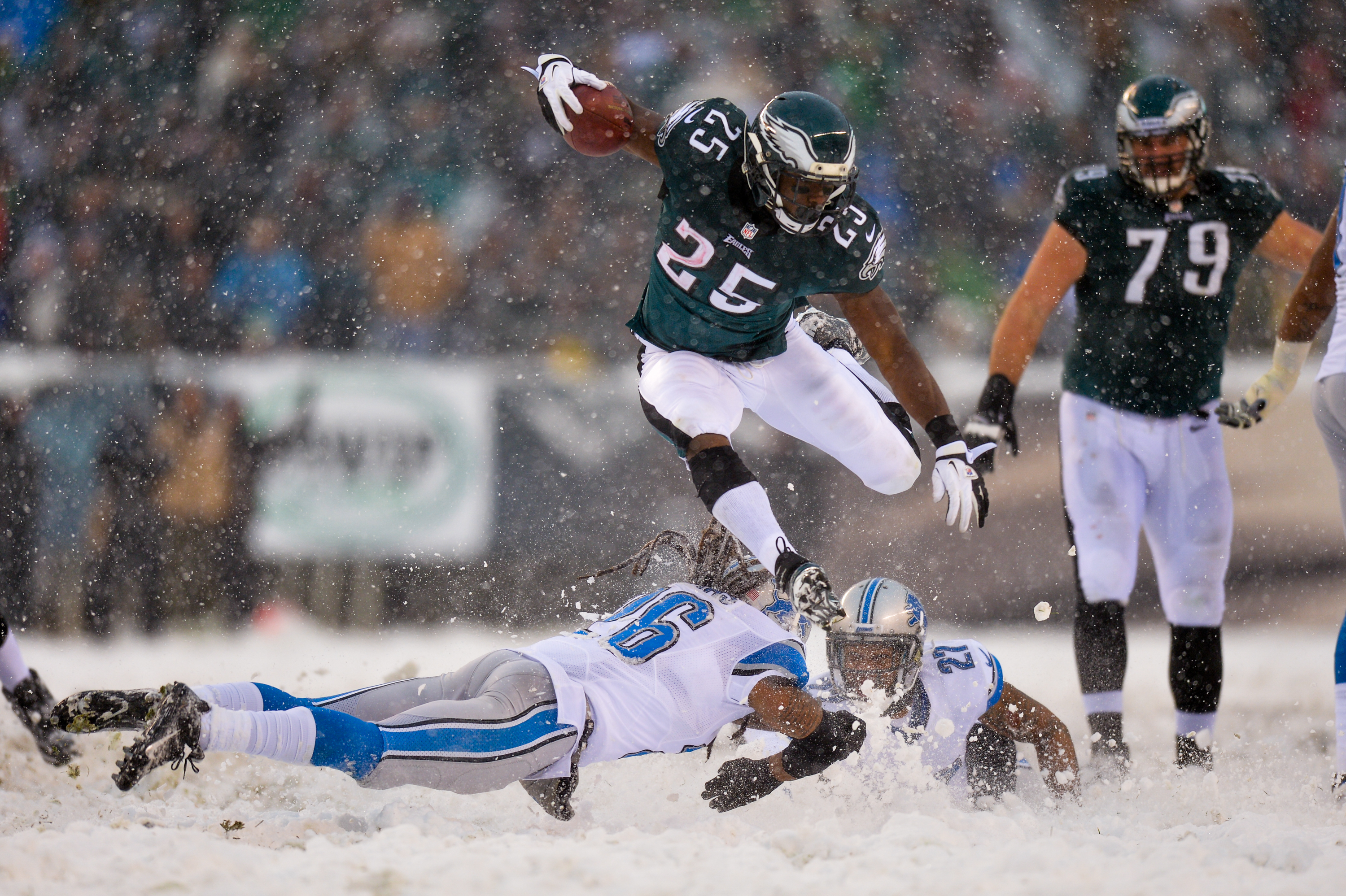 "Shady" McCoy was indeed a unique talent. The longtime running back will end his career with a lengthy list of accolades. McCoy spent 12 seasons in the NFL and was one of his generation's most electric and dynamic players.
He was a true Swiss Army knife, ending his career with 11,102 rushing yards and 3,898 receiving yards with 89 career trips to the end zone. With these numbers, one would think McCoy would be a lock for enshrinement in the Pro Football Hall of Fame.
The six-time Pro Bowler spent six seasons with the Eagles before joining the Buffalo Bills and enjoyed a bit of a career resurgence with a pair of 1,000-yard seasons. He then spent one year with the Chiefs and won a Super Bowl ring before heading to the Bucs and winning another Super Bowl ring alongside Tom Brady.
It was a storied career for McCoy, and his incredible highlights will undoubtedly be watched for years to come.
McCoy's retirement is the end of an era in the NFL
McCoy hanging up his cleats for good signals the end of a generation for the NFL. Why?
The two-time All-Pro was a workhorse, something that is rare in today's age in the NFL. McCoy played 16 games in four seasons and 15 in three seasons. The fewest games he suited up for in a single season was 10, which was just last year with the Bucs.
McCoy was the guy early in his career for the Eagles and had more than 200 carries in his final five years with the franchise. He posted two seasons with more than 300 carries and led the league in rushing attempts in 2013 with 314 and had 312 the following year, rushing for over 1,300 yards in each of those campaigns. This would be even more unheard of if it weren't for the massive 2020 campaign from Tennessee Titans star Derrick Henry, who finished with 378 carries for 2,027 yards and 17 scores.
But, Henry is the lone exception to this statistic. Moreover, Henry doesn't catch the ball much, posting just 19 grabs in 2020.
To McCoy's point, he had 40 or more catches in every year with the Eagles except his last. Assuming he doesn't attempt a comeback, his final career numbers are 2,457 carries and 518 receptions.
The NFL has quickly become a committee backfield essentially everywhere in the league, with Najee Harris, Christian McCaffrey, and Henry being the rare exceptions.
The future Hall of Famer will be remembered forever
Everybody will remember McCoy for a long time. He was electric in the running game and the passing game and finally got the opportunity to get a Super Bowl ring over his final two seasons.
His highlight tapes and clips on YouTube will always be watched, especially by Eagles fans. McCoy is also Philadelphia's all-time leading rusher and likely will be for quite some time.
The shifty running, superb pass-catching and astounding numbers should be headed to Canton, where he will receive a gold jacket and remain forever among the best of the best in NFL history.
Stats courtesy of Pro Football Reference
RELATED: Andy Reid's Highly-Anticipated Return to Philadelphia Is Already off to a Troubling and Worrisome Start