Why Marcus Mariota Is the Most Popular Player in the NFL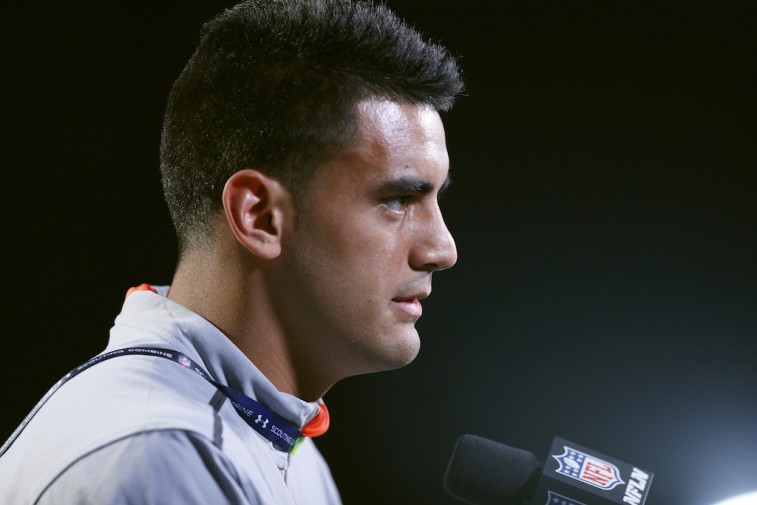 Who's your favorite player in the NFL?
Other than having to answer which team you cheer for, this is probably the most frequently asked question to any football fan. And that shouldn't come as a surprise. When you get invested in the National Football League, you become more than just some person who spends Sundays on the couch, glued to the television as one game takes place after another. That characterization is too simplistic. That picture we just painted doesn't do your loyalty to the sport justice. And we'd hate to sell the NFL fan short.
Football fans take this sport seriously. They go to the games in face paint, join multiple fantasy leagues, and define the success of their weekends based on whether or not their favorite team won or lost. Some may call that obsession. Here at The Cheat Sheet, we call it devotion. And in the spirit of this, we'd like to talk about another way to gauge your level of devotion. Which brings us back to our first question: Who is your favorite player in the NFL?
We're sure you like different players for different reasons. Perhaps you're drawn to the top-tier gunslingers. Or maybe you prefer the Beast Mode running backs. Better yet, maybe you have an affinity for the throwback gear. Whatever your preference may be, we have no doubt that one way you show love to your favorite player is by purchasing their jersey.
That's what fans do. And there's nothing wrong with that. But let's be honest, some players clearly get more fanfare than others. Which is why you can look at jersey sales as a way of quantifying an NFL player's popularity. Wouldn't you know it, at present, there is a new alpha dog in the National Football League — and he hasn't even taken an official snap.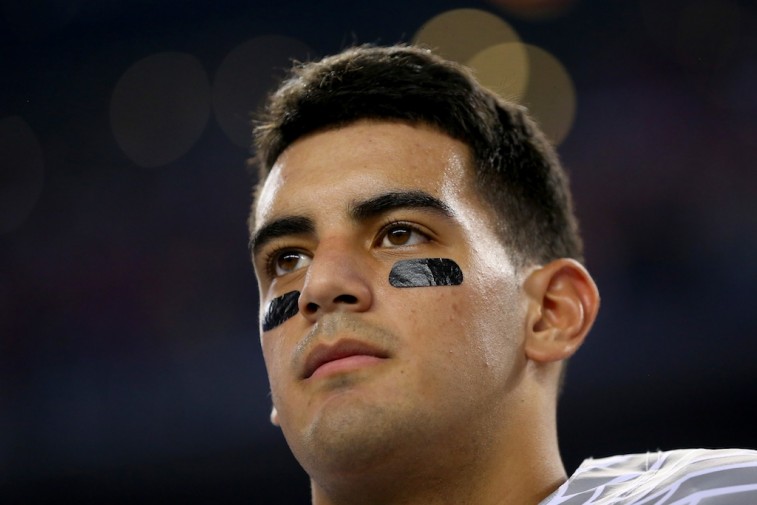 Tennessee Titans rookie quarterback Marcus Mariota may have been the No. 2 overall pick in the 2015 NFL Draft, but he's quickly become No. 1 in the hearts of football fans worldwide.
According to the NFLShop.com — the league's official online shop — the former Heisman Trophy winner had the top selling jersey for the entire month of May. In a fun little twist, by taking the top spot in this respect, Mariota managed to swap places with the guy who beat him out for the draft's first overall pick. Sorry, Jameis Winston. This round goes to the Duck.
When told about his accomplishment, Mariota had this to say in a radio interview with The Midday 180 in Nashville: "It's surreal for me, it's such an honor.For me it's one of those deals, looking back on it in the future, it's a crazy, crazy deal for sure." The rookie quarterbacks may have gone No. 1 and No. 2 on this list, but the rest of the top five was made up of familiar faces: Tom Brady (3), Russell Wilson (4), Odell Beckham Jr. (5).
When it comes to popularity, there can only be one headliner. Mariota already crushed it in the college game, and it appears people have high hopes for him at the next level. We're sure he didn't see all this love coming, but he should enjoy it. After all, the people have spoken. And Marcus Mariota can't help it that he's popular.
To see the rest of the Top-Selling NFL Jerseys for May 2015, click here.