Why Matt Ryan Deserves to Be a Hall of Famer More Than Matthew Stafford
Let the debate begin. After Matthew Stafford helped deliver the Los Angeles Rams a Super Bowl 56 victory over the Cincinnati Bengals, talks began to circulate whether he deserves to be in the Hall of Fame.
Stafford came over from the Detroit Lions in a monster blockbuster trade a year ago, one exact year to the day that the Rams defeated the San Francisco 49ers in the NFC title game.
The question is being asked: Is Matthew Stafford worthy of a Pro Football Hall of Fame spot? The answer is no, at least not yet. Furthermore, Atlanta Falcons quarterback Matt Ryan is more deserving of a Hall of Fame nod than Stafford. Let's break down the numbers.
Matt Ryan is more deserving of a Hall of Fame spot than Matthew Stafford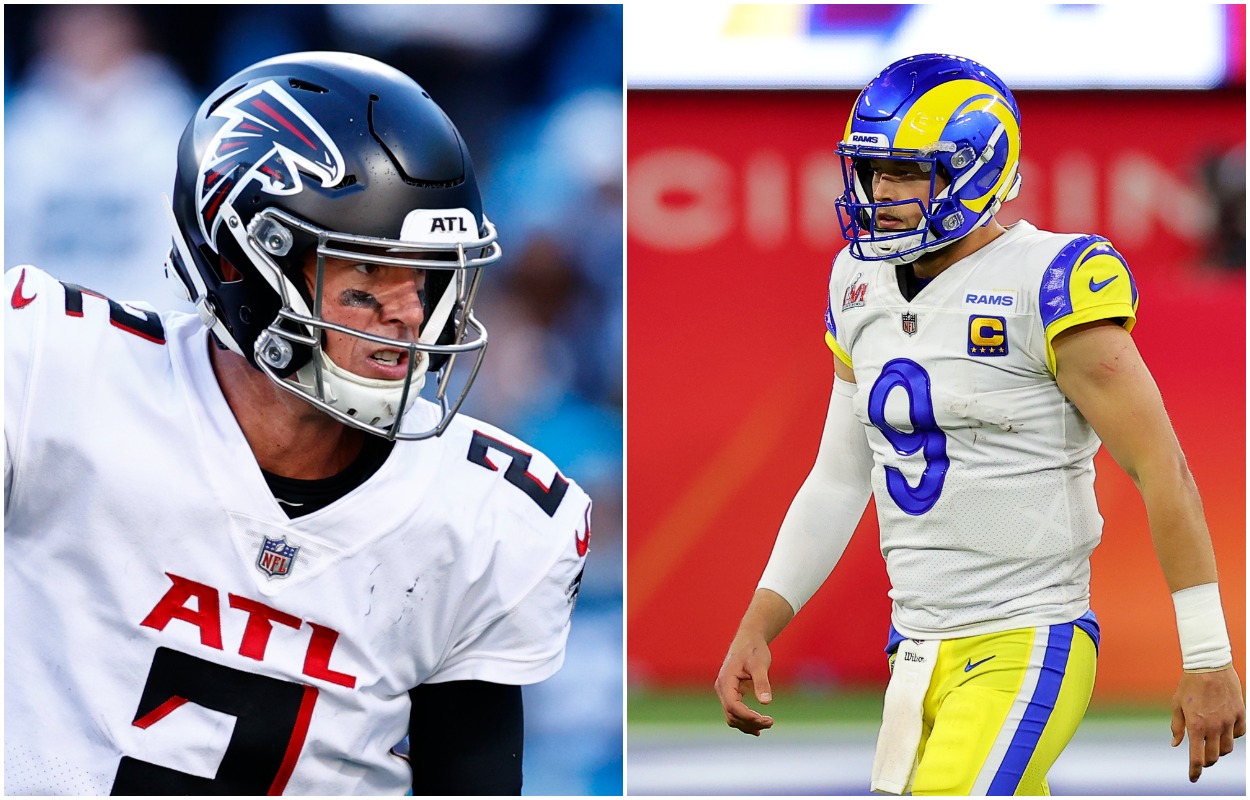 The numbers speak for themselves. Surprising as it is, Ryan has impressive numbers throughout his career, and he has an NFL MVP trophy on his mantle as well. Sure, Ryan doesn't have a Super Bowl ring on his finger, but there are a lot of reasons for the Falcons blowing a massive 28-3 lead against the New England Patriots.
Nonetheless, Ryan has played just one more season than Stafford and has thrown for more than 10,000 yards. That's impressive, and Ryan was just a few plays away from a Super Bowl victory.
Ryan has more touchdowns, victories, and a better career passer rating. Stafford only has one thing that Ryan doesn't: a Super Bowl ring. To that point, it took a vaunted Rams defense and an all-time great season from Cooper Kupp for him to get that cherished title.
Stafford's resume is pretty good, but is it Hall of Fame worthy?
Before he joined the Rams, he couldn't find playoff success. He has only made the Pro Bowl one time since being drafted first overall in the 2009 NFL Draft.
Ryan and Stafford played their entire careers in the NFC, and Ryan has more Pro Bowl nods than Stafford — which means something.
Richard Sherman joins the Hall of Fame discussion, but he doesn't think Stafford is deserving of a nod
Richard Sherman didn't hesitate to join in on the conversation after Michael Robinson stated that Stafford deserves a Hall of Fame nod.
But Sherman brought up some excellent points, and the former Pro Bowl cornerback knows a thing or two about excellent quarterback play after sharing a locker room with Russell Wilson and Tom Brady.
Stafford didn't even win Super Bowl MVP — it went to Kupp. Stafford probably didn't even deserve to be second. It probably should have been Aaron Donald, Kupp, and Stafford in that order.
Sherman is right — the Hall of Fame bar is low, and the Stafford Hall of Fame crowd might be swayed by his recent performance with the Rams.
Yes, he was a massive part of the Super Bowl run this season, but that shouldn't automatically ensure him a spot in the Hall of Fame. On the other hand, Pro Bowl nominations shouldn't mean very much, but Ryan still has a comfortable lead over Stafford in these categories.
By the end of their respective careers, they might be neck and neck. However, it seems unlikely that Stafford ever gets an NFL MVP award or even makes another Pro Bowl team for that matter.
Ryan has an edge in the Hall of Fame conversation, but it's likely that neither one gets into Canton
Even after Stafford won the Super Bowl, Ryan still has a significant edge in the Hall of Fame debate. But, it's unlikely that neither player gets in, at least not for a few ballots once they become eligible.
Ryan and Stafford are both incredible players with impressive resumes. But are either one of these guys going to be in Canton, Ohio, in the future? Probably not.
Stafford was a dropped interception away from losing to the 49ers in the NFC title game. If that happened, there would be no debate about whether or not he belongs in the Hall of Fame.
Sherman's point is valid — the bar has become incredibly low, at least as of late. Tom Brady, Peyton Manning, and Aaron Rodgers are surefire first-ballot Hall of Famers. Ben Roethlisberger, Drew Brees, and arguably one or both of Eli Manning and Philip Rivers should get in also after some time.
But will Ryan or Stafford ever see a bust in Canton? Who knows, but at the moment, Ryan is miles ahead of Stafford in this debate.
Whether or not either one gets in remains to be seen, but let's pump the brakes on the Matthew Stafford Hall of Fame talk.
Stats Courtesy of Pro Football Reference
RELATED: Matthew Stafford's Super Bowl Victory Only Validates He Must Follow in Dak Prescott's Footsteps