Why Michael Carter-Williams Is Wrong About the 76ers Tanking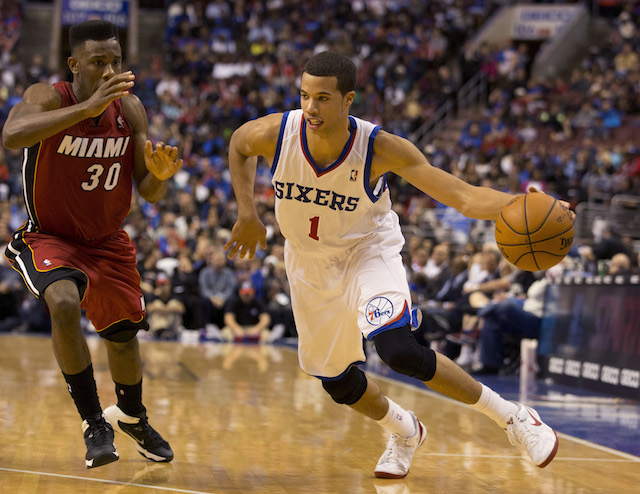 Michael Carter-Williams has a simple request. In fact, he published this plea in a first-person essay this week on Derek Jeter's The Players Tribune. Here's what the reigning NBA Rookie of the Year is asking of fans and media around the world, in six straight-forward words: "Don't talk to me about tanking."
The 76ers guard makes the impassioned argument that NBA players, himself included, care far too much to lose on purpose. In his words, referring to the 2013-2014 Philadelphia season, "The media spin was that we were tanking the season so we could get the number one draft pick…Grown men are going to go out and purposely mail it in for a one-in-four shot at drafting somebody who might someday take their job? Nope."
Here's the problem with Carter-Williams' article, though. The 76ers are tanking. They were in 2013-2014 and they are in 2014-2015. Now, let's be clear: Carter-Williams might not be tanking. The players wearing the Sixers uniform for 82 games this year may not be tanking. But the team? The franchise? The organization? It's definitely tanking.
First of all, let's define our terms before we get too far into this discussion. According to Merriam-Webster.com, "tank" as a verb means "to be very unsuccessful, to fail completely." Another definition is "to make no effort to win a contest…to deliberately lose a game, match, etc."
See, no one is accusing Carter-Williams and his Philly teammates — the players on the floor — of deliberately losing (or not caring). There's no doubt in our minds that the coaching staff and front office aren't going to the Sixers' rotation players saying, "You know, if you could just brick a couple more three-pointers," "Why don't you try to toss the ball out of bounds once or twice today," or "If you lost the man you're guarding coming around a double screen, it wouldn't break our hearts," or the like. That's not tanking. That's match fixing. There's a big difference.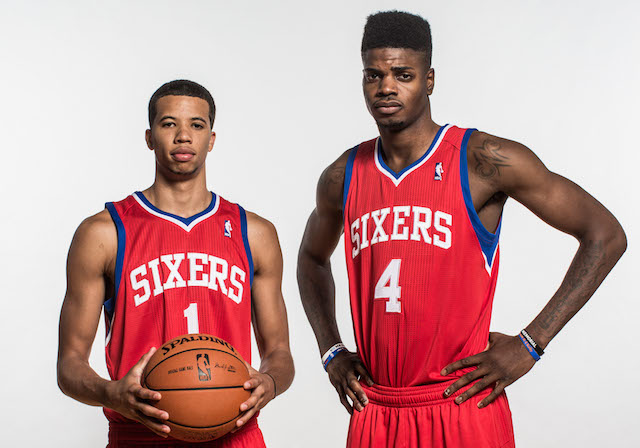 And, to be honest, we'd be beyond shocked if the owners or basketball operations staff are calling up Brett Brown and whispering, "Hey, why don't you try benching your best players down the stretch in the fourth quarter tonight?" with a wink. So, in this respect, what Carter-Williams is saying is completely true. The players and coaches aren't showing up to the arena night in and night out trying to get beat on purpose. Losing is too painful for that.
However, that doesn't mean the Sixers as an organization aren't tanking. The front office has put together a roster that wasn't capable of competing for the playoffs last year and isn't capable of competing for the playoffs this year. Why? Because the 76ers' brass wants to build a team that can win a championship down the road, and that means stockpiling young talented players through the draft and, yes, MCW, the lottery. While it's not an exact science, the basic premise holds true: The worse your record, the better your next first-round draft pick.
The bottom line is that Tony Wroten, Brandon Davies, K.J. McDaniels, Alexey Shved, Hollis Thompson, and Henry Sims (the six players with the most points for Philly so far this season) can play as hard as they want for the next five months, and if they do, they might win a few games (well, at least we hope so — they haven't so far!). But the effort or lack thereof from the Sixers' no-name roster doesn't change the overarching strategy from on high: Philadelphia's mission is to be really bad short-term so they can be really good long-term. That's why the team didn't rush Nerlens Noel (pictured right) back last year. It's why they have no plans on hurrying Joel Embiid onto the floor this season. The organization as a whole is tanking the 2014-2015 season by, in Merriam-Webster.com's words, "making no effort to win."
We're sorry, Michael Carter-Williams, but when the dictionary says tanking means "to be very unsuccessful" and "to fail completely," we don't have a choice: We have to talk about tanking. How else to explain the scoreline from Thursday's embarrassing 123-70 loss at Dallas? To be fair, it was the second-year guard's first game back with the team this season, so we're not blaming him for the Sixers' now 0-8 record, but still: Losing by 53 points seems to be "very unsuccessful" and would qualify as the textbook example of "to fail completely." How bad was it? If the Mavericks hadn't scored a single point in the second half of that game, they still would have beaten Philadelphia 73-70!
The good news for Philly fans (and Carter-Williams if he can stay the course) is that brighter days are on the horizon for a team that hasn't won more than 41 games in a season since the Allen Iverson era a decade ago. Although getting there will be a painful process, the 76ers look, on paper, to be building a team that can do great things down the road. But the process they're undertaking with that goal in mind? It's called tanking. Pure and simple.
You can't argue with Webster.