Why Michael Jordan Took Kobe Bryant Under His Wing
Aside from Shaquille O'Neal, there may not be a player more synonymous with Kobe Bryant than Michael Jordan. Although the end of Jordan's career intercepted with Bryant's rise, the two never played a meaningful game together past regular-season matchups and All-Star appearances.
Still, any conversation about Bryant will likely end with a comparison, positively or negatively, to Jordan. During a recent talk with O'Neal, Bryant discussed what Jordan meant to him.
Kobe Bryant speaks on Michael Jordan
Bryant always aimed to be the next Jordan. O'Neal reminded him of a time early in their relationship when Bryant told him that he planned to surpass the legend and become the greatest basketball player ever. This confidence helped Bryant become one of the best NBA players; it also sparked a bond between the two shooting guards that remains to this day. 
Bryant reminisced about he and Jordan's bond on and off the court, saying the legend around His Royal Airness was so intriguing that he wanted to experience it himself. When asked what it was like to outdo his idol on the all-time scoring list, Bryant said it wasn't as life-changing as he expected.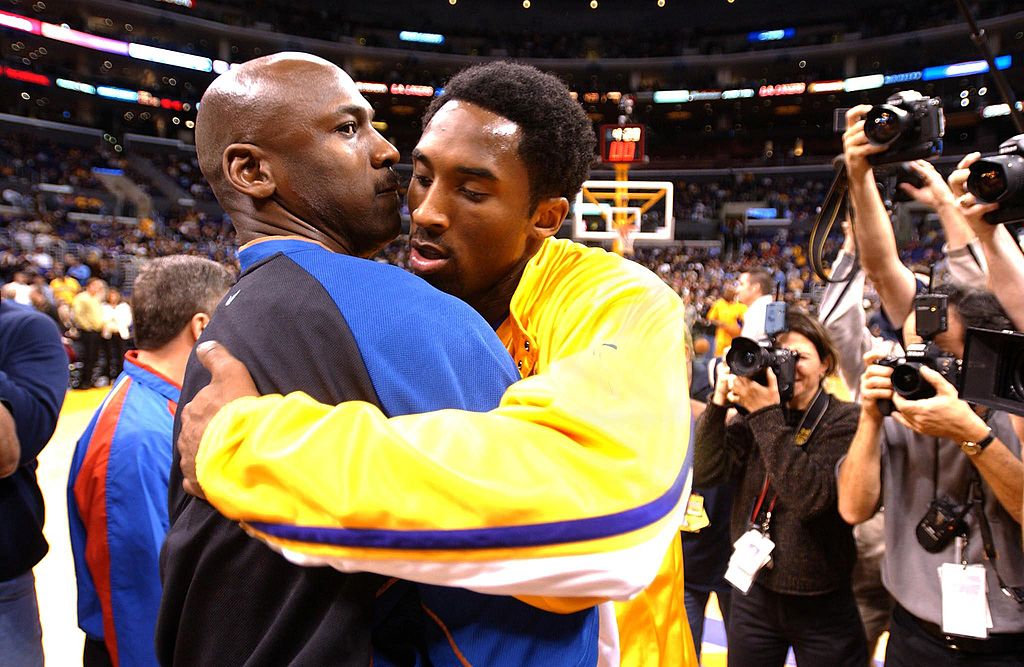 "When I came into the league and wanted to take him on, all I heard was, they called him Black Panther, they called him Black Jesus and all this stuff, and I wanted to see what this was about," Bryant said. "But, what happened is that we wound up becoming brothers."
In a way, it makes sense that the two NBA stars would be kindred spirits. They're similar competitors who value a player who puts in the hard work and goes all out every night. Perhaps, as teammates, they may have worn on each other, but as competitors, there was nothing but respect. 
Jordan confirmed this to a group of players at his basketball camp in 2015.
Michael Jordan on Kobe Bryant
Jordan is a notorious trash-talker, but he will give respect where respect is due. He can be hard to read, as was the case when he jokingly said Steph Curry wasn't a Hall of Famer. But he often praises those who meet his expectations of a good player.
When speaking to the people at his 2015 camp, Jordan explained how he is a fan of Bryant: "I like Kobe, we talk a lot, I hope he comes back healthy [from his recent injury]," Jordan said per Fox Sports. "I think he's one of the great players of the game, I think he's done a lot for the game, and he has a true love for the game of basketball."
Of course, it wouldn't be a Jordan compliment without a little bit of Jordan shade. Bryant notoriously emulated Jordan's game to an extreme degree, causing Jordan to end his compliment by saying, "Even though he stole all my moves, but that's OK. I still love him like a brother."
Both mentioned the other as a brother. But at the end of the day what fans care about is who is better. 
Who is the best: Jordan or Bryant?
The main case against Jordan when comparing him to all-time greats is that he didn't play as long as many of them. By most standards, 15 years is a long NBA career, but Bryant played 20 seasons. Even LeBron James has surpassed Jordan's longevity due to the Bulls legend's two retirements.
Still, if you remove total numbers, Jordan better than Bryant nearly across the board. He never had a season below 20 points per game, even though he played into his forties. He was the undeniable leader of all six of his champion teams — something many dispute about Bryant.
At his height, Jordan was a great rebounder, defender, and assist-maker. The only statistics Bryant beats Jordan on is three-point shooting, which he leads by .2%, as well as turnovers. Bryant does lead in career-highs, too (81 to 69).
The Lakers legend is one of the greatest scorers of all time, and Bryant had his moments on defense and in other statistics. But he is very much known as a scorer. Jordan still has him beat in terms of memorable clutch moments in big games.
Still, if Jordan respects you as a player and thinks you are one of the greats, that's enough for any player to hang his hat on.