Why Are Mike Tirico and Cris Collinsworth Calling Buccaneers-Saints Instead of Al Michaels?
Tom Brady and the Tampa Bay Buccaneers will face off against the New Orleans Saints in a critical NFC South showdown on Sunday Night Football. However, this game will be slightly different in the broadcast booth as Cris Collinsworth and Mike Tirico will be in the booth and not Al Michaels.
Furthermore, Michele Tafoya will join as well as Brady and the Bucs try and clinch the NFC South and improve their chances of snagging the top spot in the NFC.
Mike Tirico and Cris Collinsworth will be in the booth for Sunday Night Football to watch Tom Brady
Yes, Tirico and Collinsworth will be the broadcasting duo for Sunday night when the Saints head to Raymond James Stadium.
There haven't been any reports of any issues with Michaels' health. Instead, it just looks like he is taking the week off as we approach the tail end of the season.
Unfortunately, this Buccaneers-Saints game doesn't have the implications we once thought it would. Sean Payton's team defeated the Bucs in New Orleans and stunned everybody earlier this season.
Since then, the Saints have been a mess, and the Bucs have caught fire. Payton is also out on Sunday after testing positive for COVID-19, and this game heavily favors Tampa Bay — somewhat eliminating the eye-popping matchup it was just a few weeks back.
However, could this Tirico-Collinsworth pairing be a sign of things to come?
Al Michaels is reportedly leaving after the season and the Tirico-Collinsworth duo could be the future of Sunday Night Football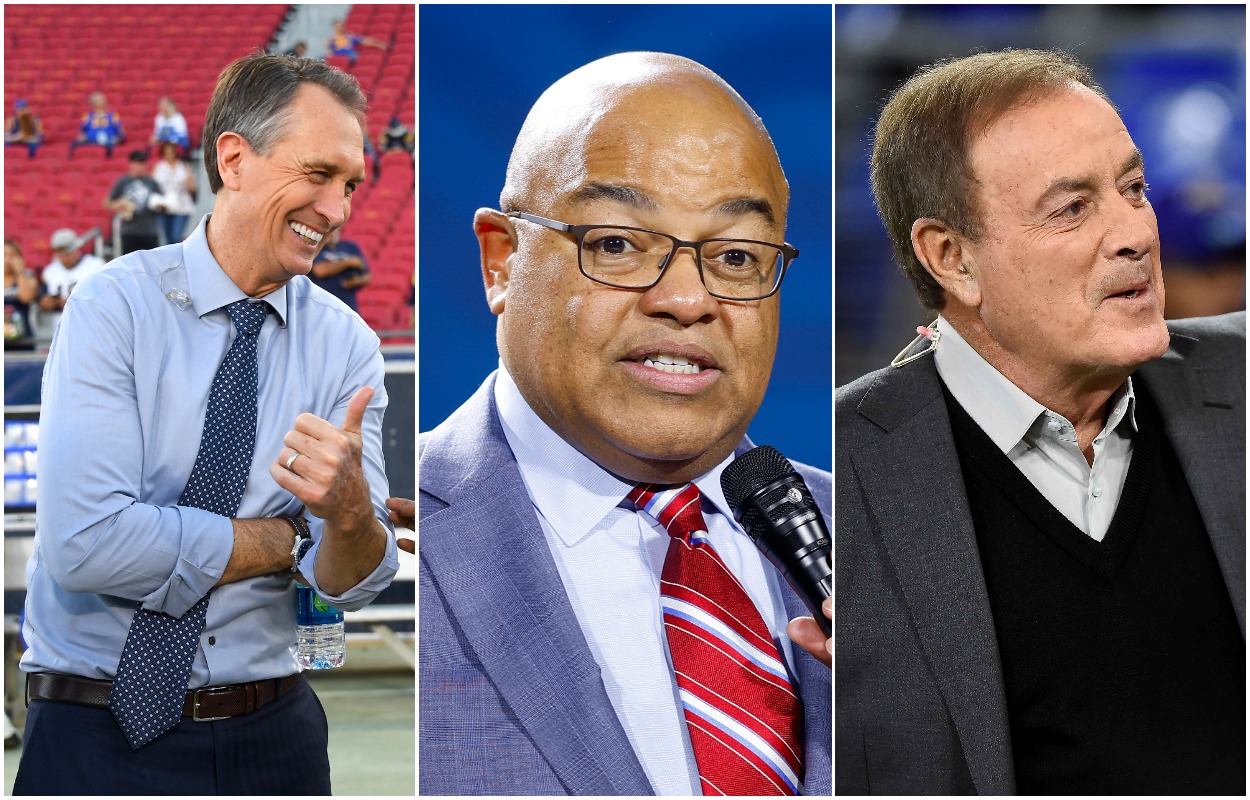 Reports have swirled all year about Michaels next step. His contract with NBC ends in 2022, making him a very highly regarded free agent.
More recent conversations have pointed to Michaels going to Amazon to call the Thursday Night Football games, and a deal is "90 percent" done, according to Andrew Marchand of the New York Post.
Michaels doubled down on those talks and confirmed that he is headed for free agency. Other reports have hinted at Amazon making a run at Troy Aikman to pair with Michaels, which would surely be an interesting team in the booth.
At this point, it isn't whether or not Michaels leaves — it's where he goes. Unless NBC is willing to have a bidding war with Amazon, somebody else will be calling Sunday Night Football games for the first time since 2006 when NBC took over the game.
Michaels has been a staple, so it will be interesting to see what happens when all of this occurs.
If that is the case, perhaps Tirico and Collinsworth will become the regular duo for the Sunday night games, which means that Bucs-Saints would be a trial run of what the future would look like.
Michele Tafoya will make her return during the Saints-Buccaneers clash
Yes, Tafoya will be back on the sidelines for Sunday night's NFC South showdown. The NBC sideline reporter has been absent for the past three weeks in a strange turn of events as speculation swirled.
Tafoya hopped on The View in November and had some controversial comments. After that, she was gone for three weeks and rumors came up about whether or not NBC decided to part ways with Tafoya.
Well, she is back for Week 15 as the Saints and Bucs face-off, and NBC insisted that Tafoya's absence was planned.
At this point, more questions than answers for the usual SNF crew. Will Tafoya be elsewhere in 2022? Will Tirico and Collinsworth be the new pairing with Michaels likely headed elsewhere?
Either way, sit back and enjoy the new duo in the booth in what could be a glimpse of what's to come.