5 Athletes Who Have Fears and Phobias, What's Yours?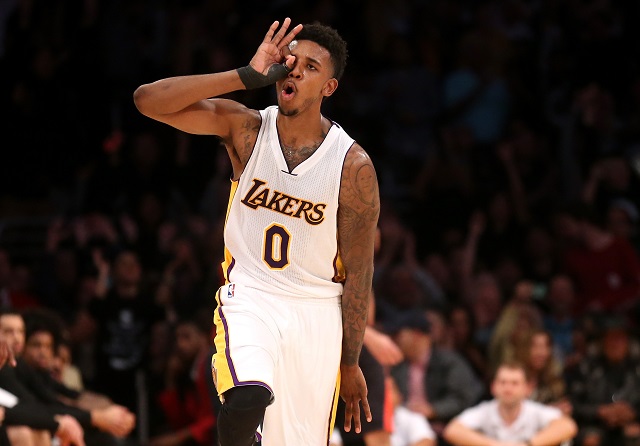 We didn't know what to think when Iggy Azalea tweeted that her boyfriend, Los Angeles Laker Nick Young, was scared of dolphins. It seemed too ridiculous to be true. There was no way that a dolphin tried to kill Swaggy P. We didn't believe it. And then Young confirmed the tale to ESPN.
Before a Lakers game against the Denver Nuggets last season, Young told reporters:
He was playing with everybody else, doing what dolphins do — the "ack ack" and all that. It was my time to ride the dolphin. For some reason, he took me all the way to the bottom. He was trying to drown me. But I saw it happening so I jumped out of the water and took off the little life vest and threw off my little water shoes and stayed outside. He went straight down. He was trying to kill me. I think he was trying to get on Iggy. He was a little friendly, kissing her and stuff. He was trying to take my woman.
We still don't know how we feel about this story. After all, it seems like something we've heard before. But regardless of whether or not this actually did go down, it got us thinking how there had to be other athletes with odd fears. And sure enough, we found some good ones. Here are five that caught our eye more than the rest.
 1. Eric Berry
Fear: Horses (Equinophobia)
Eric Berry is a hard hitting safety for the Kansas City Chiefs, who is most famous among non-football fans for undergoing treatment for Hodgkin lymphoma. However, when he's been out on the field, he's proven to be an extremely talented player. In his six seasons so far, he's made three Pro Bowls and earned First-Team All-Pro honors in 2013. But his biggest accomplishment was facing the thing that scared him the most: horses. With the help of the NFL, Berry has worked hard to try and overcome his intense phobia.
2. Damian Lillard
Fear: Statues
All-Star point guard Damian Lillard has no problem competing against some of the top athletes in the world. The NBA is now very much a guard-dominated league, and the Portland Trail Blazer is right up there with the best of them. Lillard has become one of the most clutch players in basketball and is not afraid to take the last shot with the game on the line. That's easy for him. What's not, however, is getting over his fear of historic statues. You can chalk this phobia up to a bad experience at a wax museum.
 3. Rebecca Adlington, Olympic swimmer
Fear: The Ocean
Rebecca Adlington is a decorated English freestyle swimmer, who has since retired from the sport. Before she decided to hang up her goggles, Adlington won two gold medals at the 2008 Summer Olympics. To win multiple medals at the Olympics is difficult, so she should be commended for her accomplishment. However, what's even more impressive is she did all this while also being afraid of the sea. Said Adlington, "I just don't like not knowing what's underneath me. I don't even like fish, because they're guilty by association." That's pretty intense if you ask us.
4. Aleisha Cline, ski cross racer
Fear: Heights
You would think that someone with an intense fear of heights wouldn't choose to speed down a snowy mountainside. But, that's exactly what ski cross racer Aleisha Cline did for a living. She does believe that her acrophobia is actually an advantage. According to Cline, "Once the race starts, I can't wait to get off the hill." That's one way to face your fear head-on.
 5. Andy Roddick, tennis player
Fear: The Easter Bunny
Would you believe that retired tennis star Andy Roddick is scared of the Easter Bunny? Apparently it's true. As told by one Deadspin reader, Roddick's run in with the furry mascot occurred in Houston during an Easter morning brunch back in 2002. Said the reader about Roddick, "He got all sorts of agitated when he saw the bunny frolicking about. To the point of asking us to make sure we kept the bunny far, far away from him. And acting all freaky about it."
Wow. Just. Wow.