Why it's a Very Big Deal Bubba Wallace is Not Testing NASCAR's New Next Gen Cars at Daytona
23XI Racing driver Bubba Wallace remains sidelined from off-season shoulder surgery and out of the next round of NASCAR Next Gen car testing sessions.
Big deal?
Yes, it's a big deal.
Considering he collected just three top-10 finishes in 36 outings last season, it's a very big deal.
Injured Bubba Wallace missing important testing track time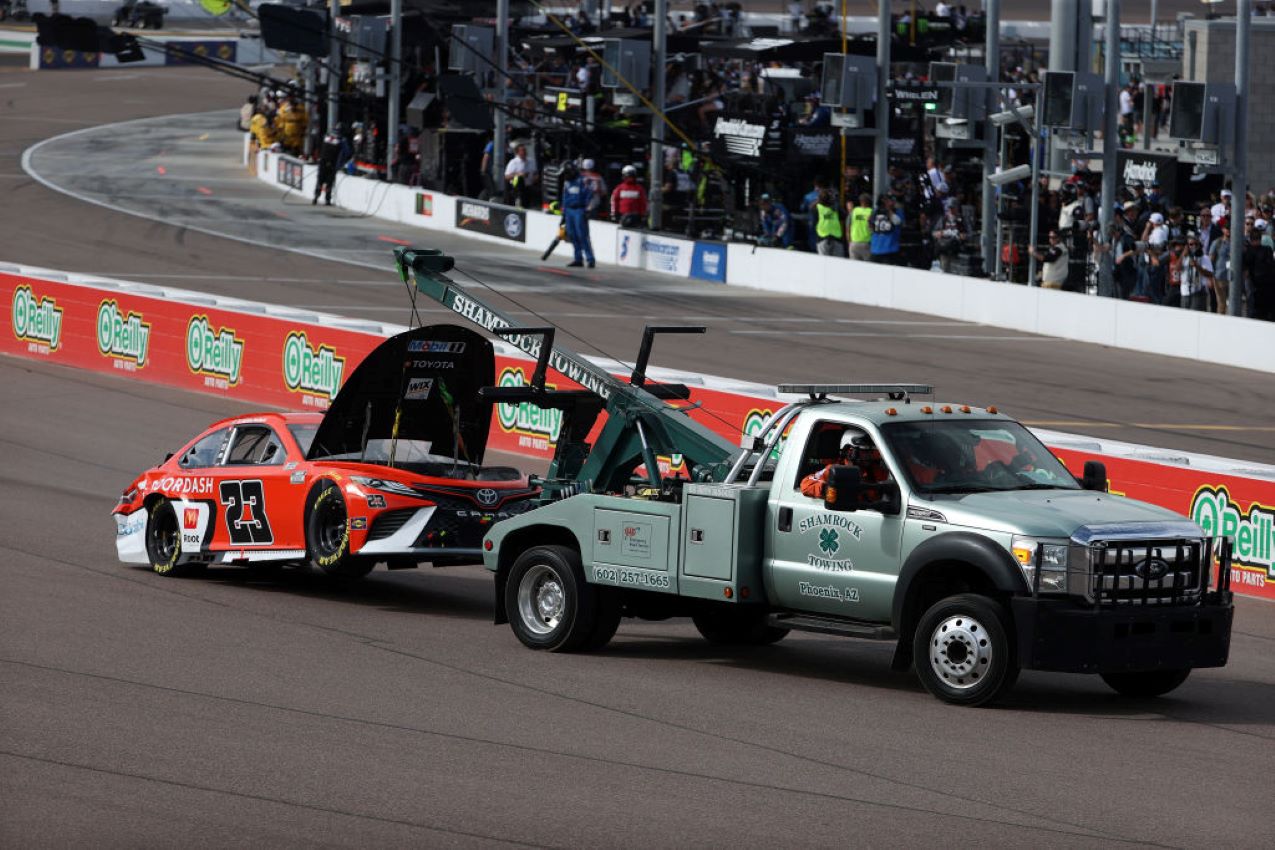 With updated news on his shoulder recovery remaining on empty, Wallace has missed significant Next Gen car testing time. He was absent from Charlotte Motor Speedway for its two sessions and at Phoenix Raceway last November.
Entering his second season as pilot of the Michael Jordan-owned No. 23 Toyota, Wallace has one win, six top-five finishes, and 12 top 10s in 148 career Cup starts. He also compiled 19 DNFs, more than his top-five and top-10 finishes combined.
Wallace continues to struggle finishing races outside of his season-making, rain-shortened victory at Talladega Superspeedway on Oct. 4. Following his first career victory, Wallace followed it up with two 14th-place finishes, a 25th, a 32nd, and a season-ending 39th during the Championship 4 race on Nov. 7.
If there's a pilot who needs practice track time, it's Wallace.
Kurt Busch filling in for new injured teammate Bubba Wallace during Next Gen car testing
According to premierortho.com, the recovery period for shoulder surgery is up to six months, if there's a tear in the rotator cuff. The postoperative period can last about six weeks. It's been about eight weeks since Wallace's surgery.
Since Wallace has not been upfront with his injury to the media, fans can only speculate when he'll return.
In the meantime, 23XI Racing has been utilizing their veteran offseason free-agent pickup, Kurt Busch, to compile data on NASCAR's new technology. Busch participated in the tire and Next Gen car tests at Atlanta Motor Speedway on Jan. 4-6. His mind was blown away by the experience at the reconfigured, repaved track.
Busch also will be at Daytona for the two-day sessions at the 2.5-mile, high-banked oval. Wallace will be paying attention to the reports, but on-track practice is what Wallace needs.
Wallace likely will return for final offseason test session at Phoenix
Wallace will likely be cleared to participate in the final Next Gen car test at Phoenix on Jan. 25-26.
In the meantime, the last image fans have of Wallace is his seven-lap outing during the Championship 4 race. Battling with Corey LaJoie for 21st place. Ricky Stenhouse Jr. Joined the fray and the trio raced three-wide into Turn 3. LaJoie lost control and clipped the rear of Wallace's machine, which spun and struck the wall hard. He attempted to back it off the track, but it wouldn't budge.
A tow truck appeared on the track, ending Wallace's frustrating campaign.
The No. 21-ranked driver, Wallace led only 62 of the 8,528 laps he completed last season. That improved from 2020, though, when he paced the field for just 14 of 9,079 laps.
Too bad Wallace is not fully recovered. He could use the track time to practice.
Like Sportscasting on Facebook. Follow us on Twitter @sportscasting19.