5 Reasons Why Nobody Cares About J.J. Watt Anymore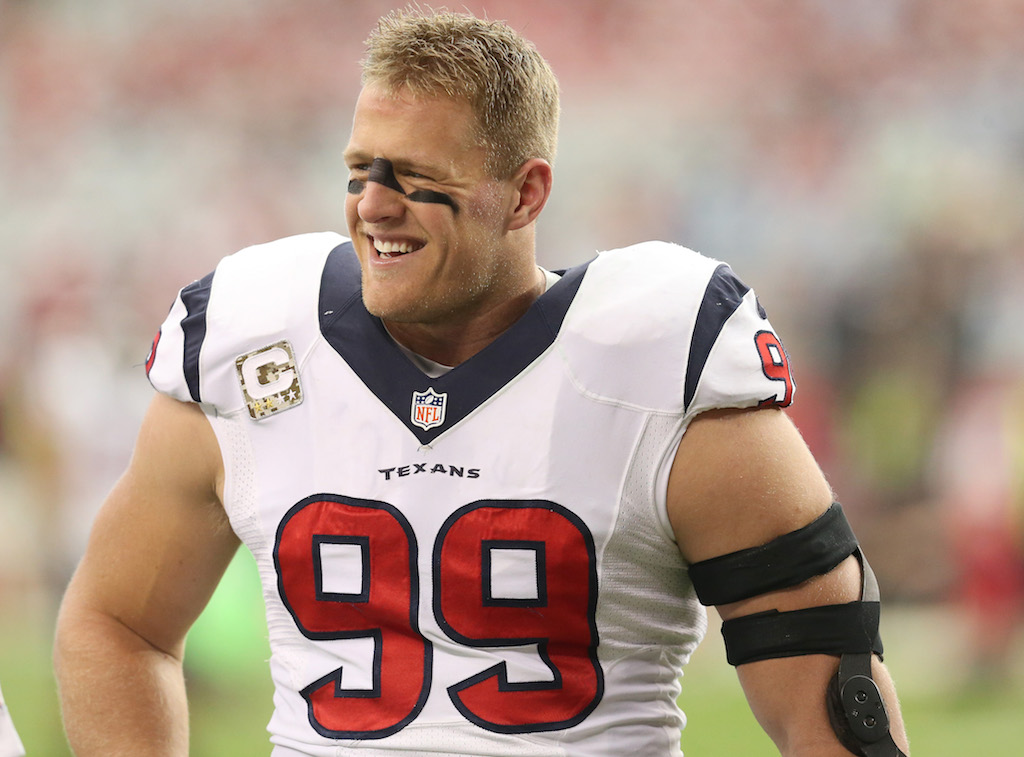 It's easy to forget now, but just about this time last year, J.J. Watt and the Houston Texans were poised to take the AFC South and make a real postseason run. Watt closed out the 2015–16 regular season with 17.5 quarterback takedowns. He reigned supreme as the league's Sack King for the second time in his career. It was somewhat obvious that he was well-equipped to become the NFL's newest Golden Boy — a player who wreaked havoc like Lawrence Taylor, pitched product like Peyton Manning, and still somehow found time to line up as tight end, too.
The wheels fell off last September, however; the Texans announced that Watt needed his second back surgery in three months and would be out for the entire season. Still, the reaction to this news was relatively muted; nobody seemed to really care. J.J. Watt fell off his pedestal and out of favor. We now have a problem in Houston, for these five following reasons.
5. Overexposure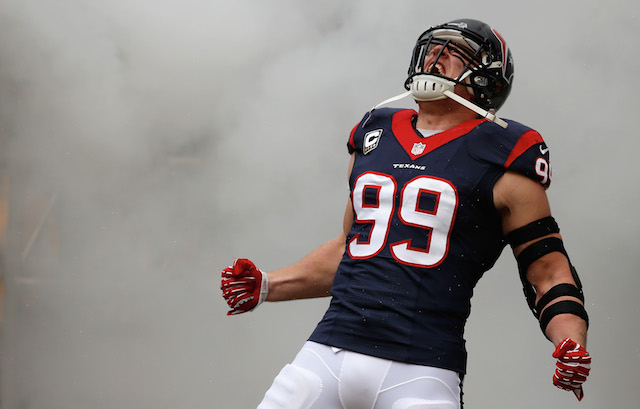 In 2011, J.J. Watt first arrived in the Lone Star State, where his salt of the earth Wisconsin values immediately endeared him to the local fans and Texas ranch culture. As a rookie, Watt became known for his unstoppable, high-powered motor: ignoring injuries and offensive linemen alike to go after the ball carrier at all costs. Off the field, he gained a reputation for living and breathing football, to the point where he readily admitted that he would rather lift weights and watch film than commit to a serious girlfriend.
By his second year, in 2012, Watt was racking up 20.5 sacks for the season en route to claiming his first out of three Defensive Player of the Year Awards. The other two DPOY awards came back-to-back, between 2014 and 2015, when Watt went for a combined 38 sacks over those two years. In 2014, Watt scored two return touchdowns, off one fumble recovery and one interception, when he rumbled more than 80 yards to paydirt, as a 300-pound man.
In 2014, Watt became the wealthiest defensive player ever in the history of the NFL, after signing his six-year, $100 million contract with the Houston Texans. The endorsement deals came rolling in shortly thereafter, with Watt pitching product everywhere, from Papa John's pizza to State Farm insurance. Like Peyton Manning before him, the clean cut J.J. Watt had become so good, for so long, that he became boring, and too corporate. Manning went so far as to hawk Budweiser after winning his last Super Bowl, and was rightfully ripped for ruining the moment.
4. How 'bout 'dem Cowboys?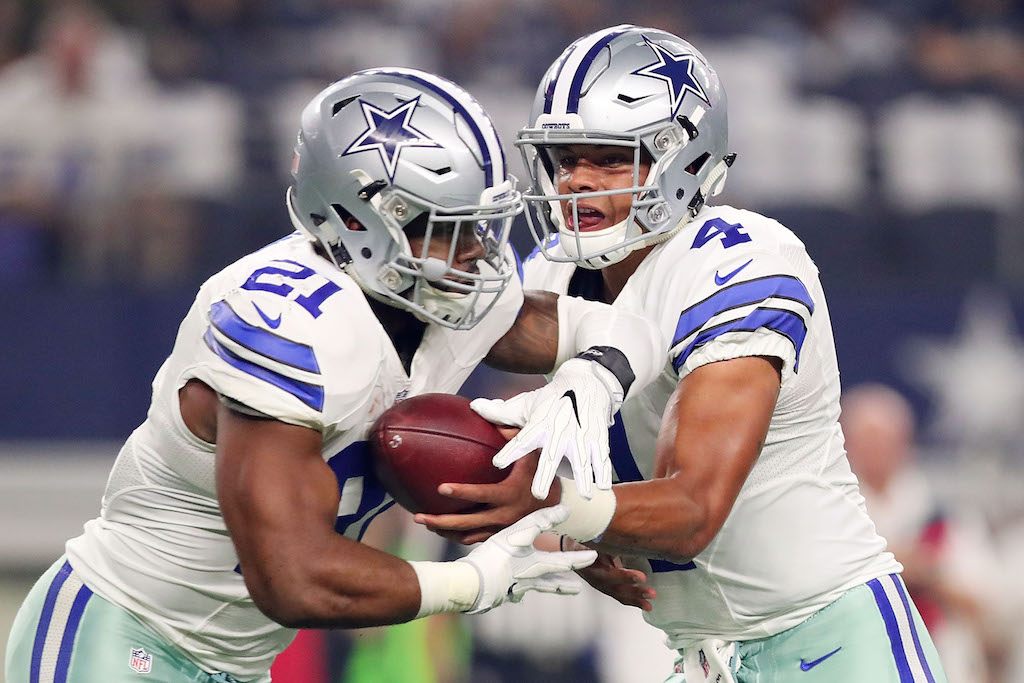 The city of Houston has a familiar role for its professional football team: an oft-ignored sideshow to the Dallas Cowboys. In the late 1970s it was Earl Campbell that repeatedly rammed himself into stacked fronts at the line of scrimmage for the Houston Oilers, while a nimble Tony Dorsett skirted untouched, out around the edge for the Cowboys.
While the Cowboys would routinely make playoff and Super Bowl appearances — including three victories on the NFL's biggest stage in four years during the '90s, and a cast of characters that included Jerry Jones, Jimmy Johnson, Troy Aikman, Emmitt Smith, Michael Irvin, Larry Allen, Charles Haley, and Deion Sanders —  the Houston Oilers were little more than a run-and-shoot gimmick, mostly known for giving up a 32-point playoff lead in Buffalo to back-up quarterback Frank Reich.
Ultimately,the Oilers would wind up moving to Tennessee in 1997 and being rechristened the Titans. While football would return to Houston in 2002, NFL fans have remained largely preoccupied with the latest drama coming out of Dallas, despite the fact that J.J. Watt and the Texans won the AFC South and made the postseason in 2011, 2012, and 2015.
Last season,the Cowboys raced out to an improbable 11-1 mark and became the first team to clinch a playoff berth behind hotshot rookies Dak Prescott and Ezekiel Elliott. The Texans, meanwhile, stumbled out the gates to a mediocre 6-6 and a first round exit, all but an afterthought when compared against America's team up I-45.
3. Von Miller and Khalil Mack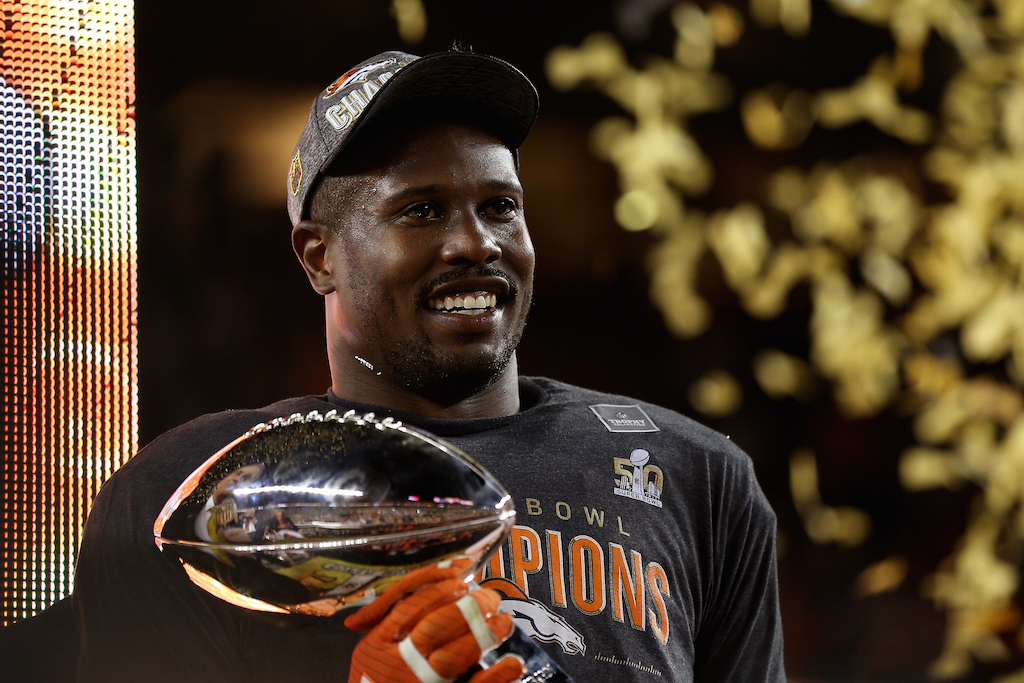 Defense wins championships. Just ask reigning league MVP Cam Newton, who went a miserable 18-for-41 for 265 yards, while also throwing one interception, losing two fumbles, and taking six sacks in Super Bowl 50. Battered, Newton refused to address the media after the 24-10 blowout that saw Denver's Von Miller take home Super Bowl MVP honors, after dominating the line of scrimmage for 2.5 sacks, 5 tackles, and 2 forced fumbles. While Denver's defense was historically dominant, they were covering for a pair of decidedly sub par quarterbacks: Peyton Manning and new Texans quarterback Brock Osweiler. Miller, who emerged as the heart-and-soul of the stingiest defense in the league, signed a six-year, $114.5 million contract, in his own right, displacing J.J. Watt as the highest paid defensive player in the league.
Now, Khalil Mack is balling out in Oakland, as the next defensive force to take the league by storm. In 2015, Mack racked up 15 sacks and was the first player to ever go first team All-Pro at two positions, at defensive end and linebacker. The 2016 Raiders are young, gathered behind a hot shot young quarterback, and quickly growing their profile from a sleeper team into that of a legitimate Super Bowl contender. Above all else the NFL is a "what have you done for me lately" league, and Khalil Mack could surpass both J.J. Watt and Von Miller if the Raiders were to put together a deep postseason run in the near future, while the Broncos and the Texans are left to watch sitting at home.
2. Injuries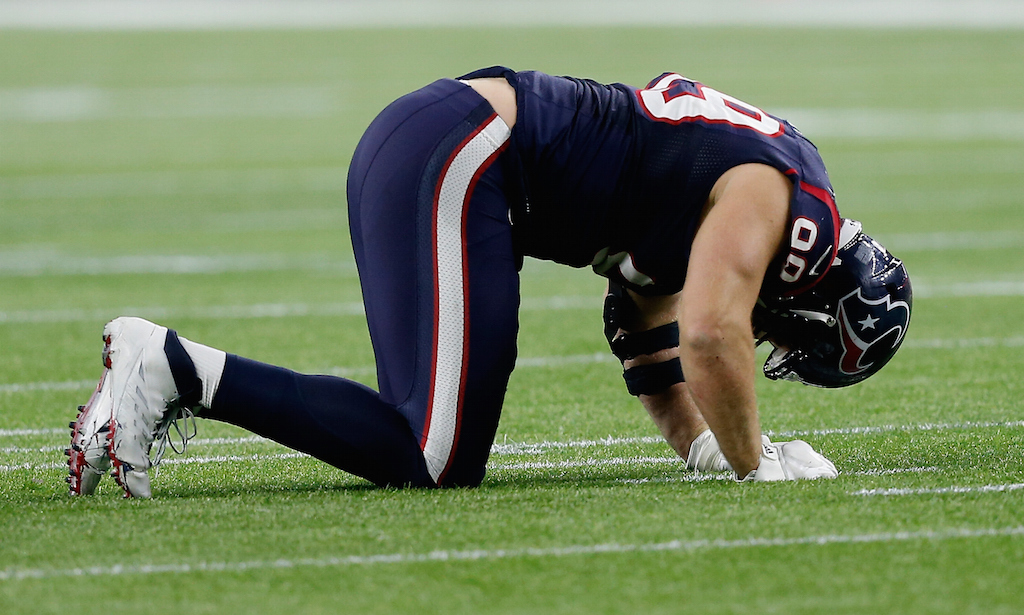 In September, the Houston Texans announced that J.J. Watt was set to undergo season-ending surgery. At that time, Watt had played in only three games last season and recorded 1.5 sacks, before complaining of lower back pain through a 27-0 blowout loss to the New England Patriots. Apparently, the offseason procedure to repair Watt's herniated disk had failed.
At best, J.J. Watt will rehabilitate himself over the spring and summer, and be back to wreaking havoc through 2017. Meanwhile, Jadeveon Clowney and Whitney Mercilus can gain even more reps and experience as edge rushers. In 2015, Mercilus did tally up 12 sacks in his own right, and a healthy Texas D has already proven that it can dominate, if it can get anything out of former first overall pick Jadeveon Clowney.
Still, professional sports are littered with the remains of injured players, who were never quite the same. As a cautionary tale, J.J. Watt can look right across his own front seven at Clowney, who many have already ripped as an injury-prone bust, after tearing up his knee, spraining his foot, and tweaking his wrist, to the point where he can barely stay on the field. Expect Houston coaches and executives to use J.J. Watt as a decoy and renegotiate his contract for pennies on the dollar, if he fails to make a complete recovery from his bad back. Business is business.
1. Disappointing Texans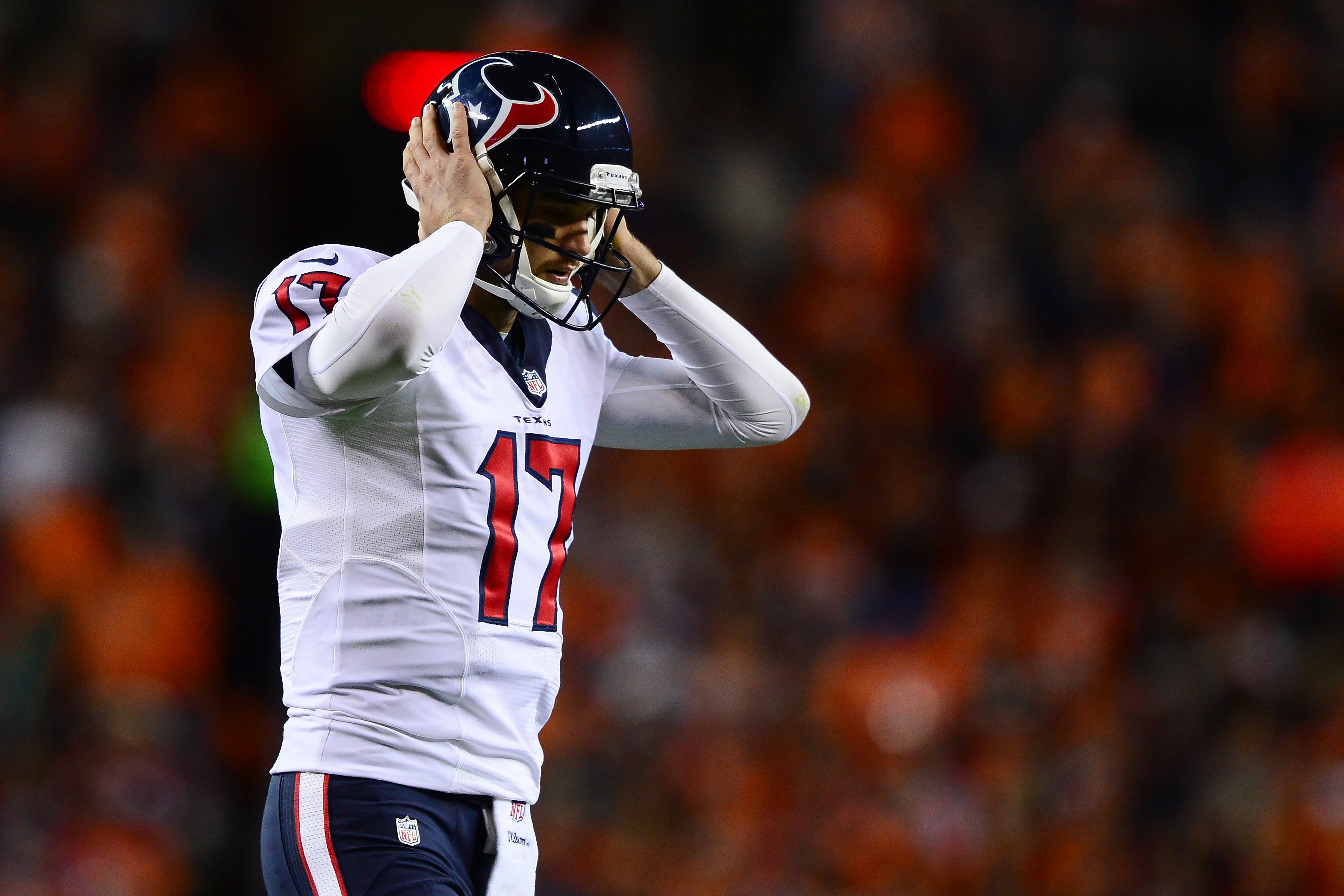 J.J Watt is often (unfairly) compared directly against Lawrence Taylor. In 1986, Lawrence Taylor came up with 20.5 sacks, and was the first and only defensive player to bring home the league MVP award. That year, the Giants went 14-2, and won Super Bowl XXI, after ripping through the postseason by a combined 105-23 score. Four years later, LT was again in on the action, when Scott Norwood and the Buffalo Bills went wide right, and the Giants claimed Super Bowl XXV.
For the sake of comparison, J.J. Watt and the Houston Texans have never advanced past the Divisional Playoffs, despite taking the AFC South crown in 2011, 2012, and 2015. In 2015, the Texans were shut out and embarrassed at home 30-0 in the Wild Card round, by a Kansas City club that had won 11 straight games at that point. Apparently, it was shoddy quarterback play out of the likes of Brian Hoyer, T.J. Yates, and Ryan Mallett that was holding J.J. Watt back from championship glory.
In response, the Texans rolled the dice and signed Brock Osweiler to a four-year, $72 million contract. Instead of getting their man at franchise quarterback, Osweiler looked every bit the part of a backup, in leading the league with 13 picks through 12 games before being humiliated against New England. Brock Osweiler is woefully shaky in the pocket, and rarely takes shots downfield. Opposing defenses have packed it in, and made life miserable for DeAndre Hopkins and the Texans offense.
J.J. Watt, instead of going down as one of the all-time greats, will be dismissed as a mere footnote in history if the Texans do not get their quarterback situation in order and start winning games late into January. It is Super Bowl or bust, from here on out.
Statistics Courtesy of ESPN and Pro-Football-Reference.