Why Obi Toppin Is One of the Best NBA Prospects Coming out of College Basketball
With the college basketball season officially being over because of the coronavirus pandemic, many young college basketball players like Obi Toppin and Anthony Edwards will now most likely prepare for the 2020 NBA draft. This is, of course, a sad time as these young guys would have liked to finish their college careers. However, this can also be an exciting time because they will soon be professionals. As they prepare for the NBA draft that, as of right now, is scheduled for June 25, here are the top NBA prospects coming out of college, assuming they declare for the draft.
4. Cole Anthony, PG, North Carolina
North Carolina's Cole Anthony did miss some extended time for the Tar Heels this year with an injury. However, he still played in 22 games and was one of the best points guards in the country when he was on the court.
The former five-star recruit, was an elite playmaker for the Tar Heels in his freshman season, scoring 18.5 points per game to go with 5.7 rebounds and four assists per game. He had some incredible games too. In the first college game ever against Notre Dame, Anthony scored 34 points, grabbed 11 rebounds, and dished out five assists. He also shot 54.5% from 3-point range that game.
Additionally, Anthony had eight other games where he scored 20 or more points and five other games where he shot 40% or better from 3-point range. He continued to show his rebounding abilities too as Anthony had six total games this year with eight or more rebounds.
Anthony has a chance to be a great playmaker for a team that needs a point guard or even a scorer. His ability to score is what makes him a top NBA prospect.
3. Obi Toppin, PF/C, Dayton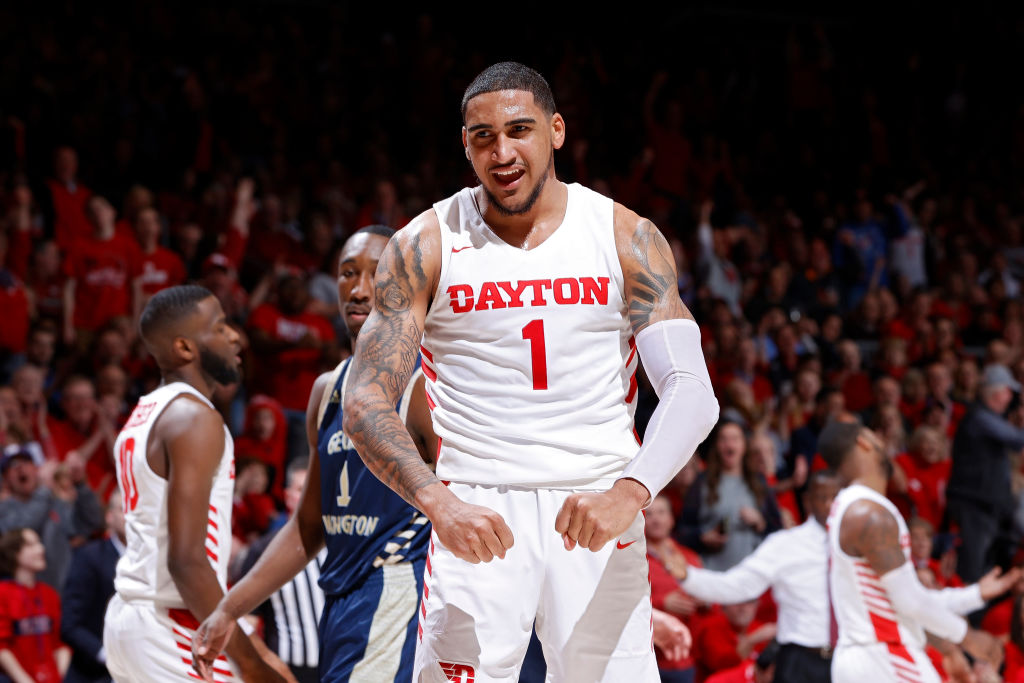 Maybe one of the best NBA prospects to ever come out of Dayton, Obi Toppin was a star for the Dayton Flyers the past two seasons. Especially this season, though. After averaging 14.4 points per game and 5.6 rebounds during the 2018-19 season, Toppin scored 20 points per game for the Flyers this year and pulled down 7.5 rebounds.
Toppin was an instant highlight reel as almost every game he either had a 360-degrees dunk or one where he went between-the-legs. His field goal percentage was pretty good too as he shot 63% from the field this year and 39% from 3-point range.
As he seemed to come up big in every game, Toppin was one of the best scorers in the country. He had 16 games where he scored 20 points or more. He also had 11 games where he pulled down nine or more rebounds,
Toppin's athleticism, as well as his ability to score from up close and from long range, is why he is a top NBA prospect going into the draft.
2. Anthony Edwards, G, Georgia
While Georgia's Anthony Edwards did not have quite as good of numbers as Toppin, Edwards ranks higher than him because he was only a freshman this season.
In his freshman season, Edwards was must-see TV for the Bulldogs, averaging 19.1 points per game and 5.2 rebounds. He also had three games where he scored more than 30 points, including a 37-point game against Michigan State. He also had a huge game against Texas A&M where he scored 29 points and pulled down 15 rebounds.
On the season, Edwards had six games where he had eight or more rebounds and 13 games where he scored 20 or more points. His ability to score and rebound at the guard position, in addition to having unreal potential as a freshman, makes him one of the top prospects going into the draft.
1. James Wiseman, C, Memphis
James Wisman only played in three games this season for Memphis due to a possible NCAA violation. However, he showed that he was the real deal in those games. The former No. 1 recruit in the entire country, according to 247Sports, scored 19.7 points per game to go with 10.7 rebounds in those games.
In his first game against South Carolina State, Wiseman, who is 7 feet, 1 inch tall, scored 28 points to go with 11 rebounds. That was ultimately the biggest game of his college career.
Even though Wiseman's sample size in college is small, experts raved about him coming out of high school. At Memphis East High School, Wiseman averaged 25.8 points per game and 14.8 rebounds, according to The Undefeated. He also won the 2018-19 Gatorade National Boys Basketball Player of the Year award.
Wisman's ability to score in the post and rebound at a high level, in addition to his size and unreal potential, is why he is the top NBA prospect coming out of college.