Why the Pittsburgh Steelers Can Afford to Move On From Former Pro Bowl Wideout JuJu Smith-Schuster in Free Agency
The Pittsburgh Steelers will have their fair share of interesting decisions to make in the 2022 NFL offseason. What to do with wide receiver JuJu Smith-Schuster will be high on that list. The fifth-year wideout will enter the free-agent market once again. However, the Steelers' front office should strongly consider moving on from Smith-Schuster this time around.
JuJu Smith-Schuster is set to become an unrestricted free agent
JuJu Smith-Schuster has spent the first five seasons of his career with the Pittsburgh Steelers after they drafted him in 2017. The second-rounder appears to have loyalty to the franchise that gave him his first shot in the NFL.
Smith-Schuster became a free agent after the 2020 season. AFC foes like the Baltimore Ravens and Kansas City Chiefs tried to poach him from Pittsburgh. Both squads even offered Smith-Schuster more money than the Steelers were willing to give him.
Still, the USC product turned his suitors down. He opted to return to Pittsburgh on a one-year, $8 million contract.
Surely, head coach Mike Tomlin was glad that Smith-Schuster returned instead of joining another AFC contender. However, the 2021 season hasn't gone as planned for the wideout.
The Long Beach, California native suffered a shoulder injury in Week 5 that landed him on injured reserve and kept him out for the rest of the regular season. According to ESPN, the team opened the 21-day window for Smith-Schuster to return.
It's unclear if the wide receiver will play in the wild-card matchup against the Kansas City Chiefs.
Why the Steelers don't need to retain him for 2022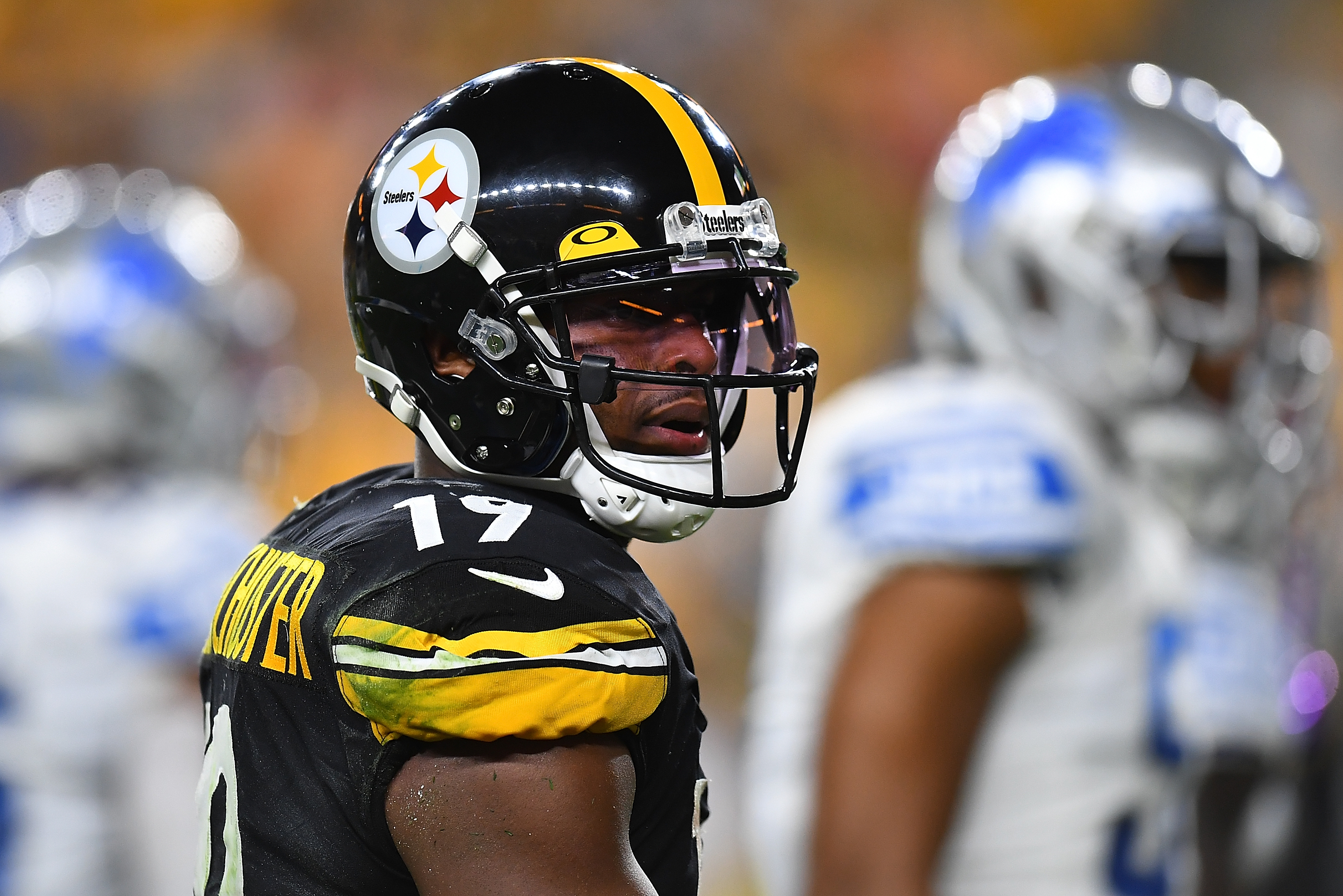 Whether or not JuJu Smith-Schuster suits up against the Chiefs, his time with the Pittsburgh Steelers could be coming to an end.
The Steelers front office was excited to add a player like Smith-Schuster to the offense. The 6-foot-1, 215-pound wideout enjoyed a productive career at USC. His skills quickly translated to the pro level, and it didn't take him long to develop a rapport with Ben Roethlisberger.
The former Trojans star recorded 169 receptions, 2,343 receiving yards, and 14 touchdowns across his first two NFL seasons. He earned All-Rookie Team honors in 2017, then made the Pro Bowl the following year.
Pittsburgh parted ways with Antonio Brown after 2018, allowing the young receiver to step into the No. 1 role. The expectations were massive, but Smith-Schuster failed to deliver. He hasn't posted a 1,000-yard season since 2018. He did catch nine touchdowns in 2020, but that stat doesn't tell the entire story.
Before going down in Week 5, Smith-Schuster caught just 15 passes for 129 yards and zero touchdowns. The lack of production over the past few seasons is concerning.
Injury aside, the 25-year-old looks like the No. 3 receiver in Pittsburgh, behind Diontae Johnson and Chase Claypool. It might not be worth bringing Smith-Schuster back in 2022. James Washington will also be a free agent and should carry a much cheaper price tag.
Potential landing spots for the former Pro Bowl WR
If the Pittsburgh Steelers decide to move on from JuJu Smith-Schuster in free agency, several teams will likely be lining up for his services. He's only 25, so there's time for him to grow. A change of scenery may be necessary, though.
Suppose the former Pro Bowler isn't in a Steelers uniform in 2022. Where could he land? Here are a few teams who could be interested.
Kansas City Chiefs
Philadelphia Eagles
Los Angeles Chargers
New England Patriots
Andy Reid and the Chiefs would probably jump at the opportunity to land Smith-Schuster. He rejected them last offseason but would get the chance to play with Patrick Mahomes. Plus, he wouldn't have the pressure of being the No. 1 option (or No. 2, for that matter).
The Eagles, Chargers, and Patriots have young quarterbacks who can never have enough weapons.
Philadelphia has had a run of bad luck with receivers outside of DeVonta Smith. Smith-Schuster would be a luxury for LA, but he could thrive catching passes from Justin Herbert. The Patriots lack a go-to receiver. Perhaps, he could be that for Mac Jones.
The Steelers could retain JuJu Smith-Schuster, but it would not be surprising to see him elsewhere in 2022.
All stats courtesy of Pro Football Reference