Why Rams All-Pro Aaron Donald Is Already a 1st-Ballot Hall of Famer at 30 Years Old
The Los Angeles Rams defeating the Cincinnati Bengals in the 2022 Super Bowl was a monumental moment in the careers of several players. Odell Beckham Jr., Matthew Stafford, Andrew Whitworth, and Jalen Ramsey earned their first ring. Aaron Donald did, too.
The Rams defensive tackle is the heart and soul of this football team. He sets the tone, and the rest of the players follow. By winning the Super Bowl, Donald secured the missing puzzle piece that alluded him throughout his career.
The coveted championship ring all but sealed his status as a first-ballot selection for the Pro Football Hall of Fame when he retires.
A Super Bowl ring was the missing piece to Aaron Donald's resume
Since entering the NFL, all Aaron Donald has done is dominate. He's been one of those players that opposing coaches stay up all night trying to game plan to stop. The problem is, you can try to slow the LA Rams defensive tackle down, but you can't stop him.
Donald proved that statement to be true with his performance against the Bengals in Super Bowl 56. The Pitt product recorded four tackles, two tackles for loss, three quarterback hits, and two sacks in the 23-20 victory.
Donald is the emotional leader of the Rams. His energy and constant motor completely shifted the momentum late in the second half. He got off to a slow start but stepped up when his team needed him the most. Donald and the front seven made life extremely difficult for Bengals quarterback Joe Burrow, sacking him seven times on the night.
The Pittsburgh, Pennsylvania native's prints were all over this game. He made it his mission to perform better than he did in the 2019 Super Bowl loss to the New England Patriots (five tackles, no sacks).
Aaron Donald answered the call.
If he retires, the Rams star should be a lock for the Pro Football Hall of Fame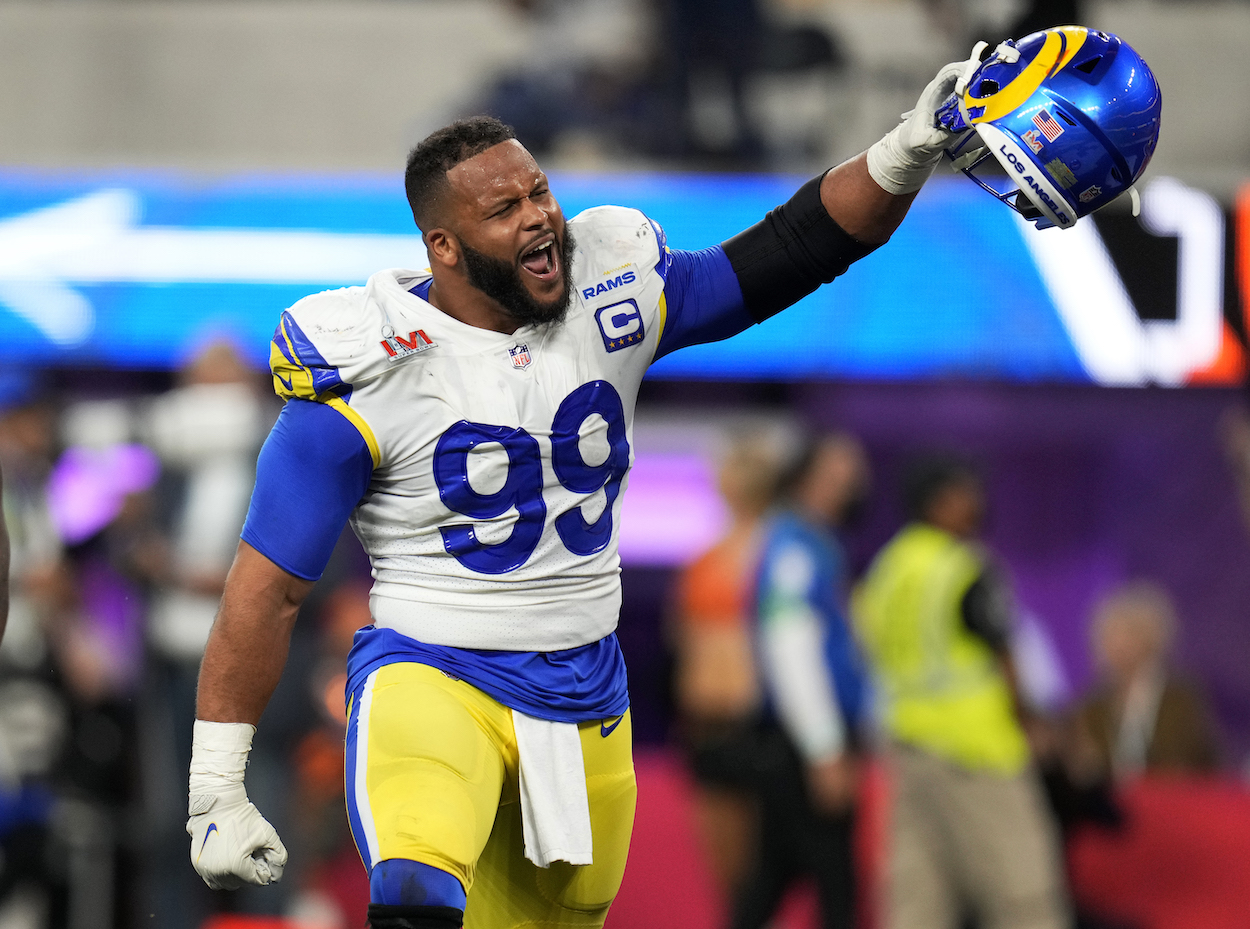 According to former Patriots star and NBC Sports analyst Rodney Harrison, sources believed Aaron Donald thought about retiring if the LA Rams won the Super Bowl.
Donald has neither confirmed nor denied the reports. However, it's safe to say that the Rams superstar is still playing at the top of his game.
Super 56 capped off a fantastic eighth season in the NFL for Donald. He finished with 84 tackles, 19 tackles for loss, 25 quarterback hits, and 12.5 sacks.
Donald's career numbers are unbelievable. He's recorded 441 tackles, 150 tackles for loss, 226 quarterback hits, 98 sacks, and 23 forced fumbles across eight seasons.
At 30 years old, the Donald has racked up seven All-Pro selections and three NFL Defensive Player of the Year Awards. He's never missed a Pro Bowl in his eight seasons.
When you look up consistency in the dictionary, you'll find Aaron Donald's name. The Pro Football Hall of Fame committee can't afford to get this one wrong. When it's all said and done, his bust should be in Canton, Ohio, in his first year of eligibility.
Where does Donald rank among the best defensive players ever?
The NFL has seen its fair share of dominant defensive players over the years, guys who offenses struggled to contain on their worst days. Aaron Donald undoubtedly fits that mold. But how does he fare stacked up against some of the all-time greats?
As far as defensive linemen go, Reggie White, Bruce Smith, Deacon Jones, and "Mean" Joe Greene are usually the first names that come to mind. All four players are in the Pro Football Hall of Fame, as they should be.
Smith (200), White (198), and Jones (173.5) currently rank No. 1, No. 2, and No. 3 respectively on the NFL's all-time sacks list. Those three players are edge-rushers, so Greene would be more comparable for statistical purposes. The Pittsburgh Steelers legend played 13 seasons in the NFL and recorded 77.5 sacks. Donald has 98 sacks in eight seasons.
The Rams star tied with Joey Porter for 63rd on the all-time sacks list, which is impressive for an interior defensive lineman. He's the total package — an elite combination of size, strength, and athleticism. If you ask anyone who's ever lined up again him, they'll likely tell you Donald is a problem.
Now that Aaron Donald has a Super Bowl ring to his name, he's creeping into the GOAT conversation for defensive players, regardless of position. Lawrence Taylor was the best ever at his position, and so was Deion Sanders. The Rams All-Pro is in that same mold, and it took him only eight years to do it.
It's hard to imagine Donald retiring from football while still playing his best football. Still, if he never suits up again, it's been a treat to witness greatness.
All stats courtesy of Pro Football Reference.
RELATED: Rams All-Pro Aaron Donald Grew Up Shy But Digs Into His 'Dark Place' on the Football Field