Why the Ravens' Latest JK Dobbins Update Is News to Lamar Jackson's Ears
The Baltimore Ravens' 2021 season ended in disappointment after losing six straight games to finish with an 8-9 record. Injuries played a massive role in the team's struggles. Several starters suffered season-ending injuries, including running back JK Dobbins. His absence, specifically, had a significant impact on Lamar Jackson.
Dobbins showed plenty of promise during his rookie season. John Harbaugh hoped the Ohio State product would take on a more featured role in year two. Despite missing an entire season, the Ravens brass is hopeful that Dobbins can return to form in 2022.
Ravens GM Eric DeCosta delivers promising news on JK Dobbins
The Ravens were excited about their chances in 2021. Unfortunately, the injury bug hit the locker room extremely hard. Multiple keys players went down before the regular-season opener, including Marcus Peters, L.J. Fort, and J.K. Dobbins. The latter suffered a torn ACL in the preseason game against the Washington Football Team.
Baltimore ruled Dobbins out for the entire season, delivering a massive blow to Lamar Jackson and the offense. To make matters worse, fellow running back Gus Edwards also suffered a season-ending knee injury in practice before Week 1.
The Ravens sorely missed both players in 2021. However, Dobbins' recovery appears to be trending in the right direction.
General manager Eric DeCosta spoke to the media at the NFL Scouting Combine and provided an update on the 23-year-old running back.
"J.K. specifically, obviously suffered a serious knee injury," DeCosta said per BaltimoreRavens.com. "But he's a young player, a hungry player, he's got a great mindset, and he's been working very, very hard. We are very, very confident he'll come back and be the type of player that he was two years ago."
DeCosta also revealed that the team expects Gus Edwards and Justice Hill to return at full strength as well.
"Losing those guys in the span of two weeks was very, very challenging as an organization," he added. "Saying that, we are very confident that those guys will all come back this year and play winning football for us."
A healthy Dobbins takes pressure off Lamar Jackson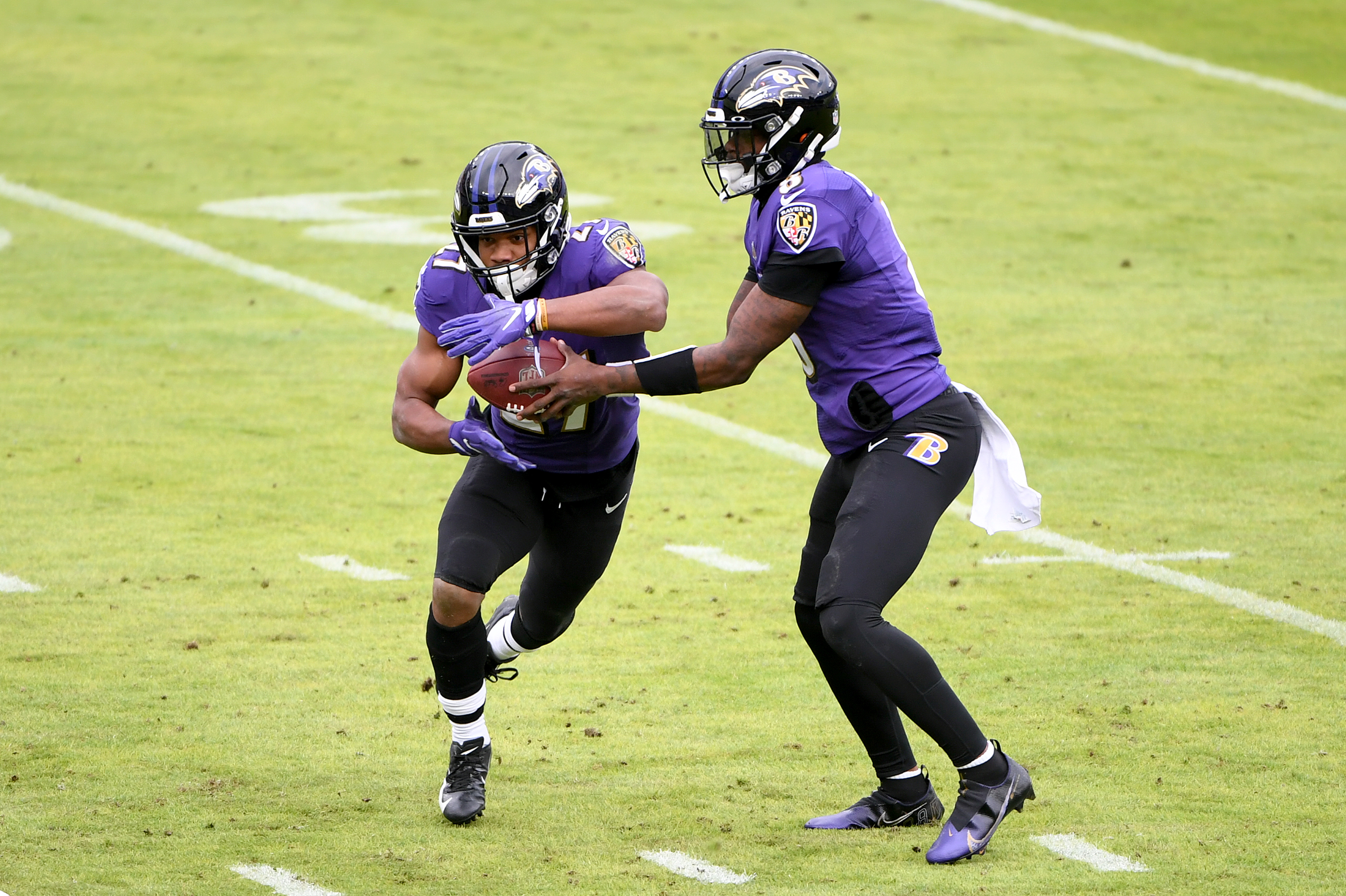 All of the injuries in the Ravens' backfield placed more pressure on Lamar Jackson's shoulders to run the show during the 2021 season.
Jackson had his moments, but he didn't enjoy quite as much success on the ground as in the previous two seasons. The former MVP rushed for 767 yards and two touchdowns after topping the 1,000-yard mark in back-to-back years.
Jackson also tried to play hero ball at times to make up for the lack of backfield talent and inconsistent offensive line play. Baltimore opened up its passing attack a bit more, but the fourth-year quarterback made some questionable decisions by trying to do too much. He threw for 2,882 yards, 16 touchdowns, and 13 in 12 games.
The returns of JK Dobbins and Gus Edwards could do wonders for Jackson in 2022.
Dobbins flashed his potential as a rookie, rushing for 805 yards and nine touchdowns on just 134 carries (six yards per attempt). Edwards pitched in 723 yards and six touchdowns.
When either running back is on the field, opposing defenses must account for them. In turn, that opens up more opportunities to make plays in the option game. The Ravens are a run-heavy offense, so all hands on deck could mean a better showing for Lamar Jackson in his fifth season.
How Baltimore's offense could take a leap in 2022
The Ravens had high expectations for the 2021 season, including Super Bowl aspirations. If John Harbaugh's squad could've stayed relatively healthy, it could've made some serious noise in the AFC.
Baltimore hopes to run it back with better luck in 2022. Of course, Lamar Jackson will continue to be the focal point of the offense. His dynamic dual-threat ability is still a handful for defenses around the league despite the lazy narrative that teams are figuring him out.
By re-inserting JK Dobbins and Gus Edwards into the lineup, Greg Roman's offense should be much more dangerous. Edwards brings the thunder while Dobbins is an excellent combination of size and speed.
Jackson has a talented group of receiving options at his disposal as well. Marquise "Hollywood" Brown put together his first 1,000-yard season in 2021 to go along with six touchdowns. Mark Andrews has officially entered the elite category at tight end. If the Ravens can figure out how to get Rashod Bateman more involved in his second season, watch out.
The biggest concern has to be the offensive line. Eric DeCosta has typically done well adding talent through free agency and the draft. He'll need to do that same this offseason if the Ravens are going to return to prominence in 2022.
It's unclear if Baltimore will open the offense up all the way, but it's safe to assume this team will have something to prove after a down year.
All stats courtesy of Pro Football Reference 
RELATED: Adam Schefter Argues Lamar Jackson Shouldn't Play Until He Gets New Contract