Why Ross Dwelley is the 49ers 'Best Player,' According to Coach Kyle Shanahan
Quarterback Jimmy Garoppolo leads the San Francisco 49ers, but if you ask head coach Kyle Shanahan, Garoppolo isn't the team's best player. That honor falls to a little known backup tight end named Ross Dwelley. So who is Dwelley, and why has Shanahan thought to bestow this honor on him?

Ross Dwelley career overview
Dwelley is in his second season with the San Francisco 49ers and his second year in the league. Dwelley was undrafted out of college after he played for San Diego. Here was the NFL.com draft profile on Dwelley coming out of school:

"Tight end with decent route burst who displays the ability to make the easy and difficult catch. Dwelley is a poor run blocker who lacks the strength to handle the day-to-day work required from a combination tight end, so he will have to ply his trade as pass-catcher. He'll need to do a better job of asserting himself in the middle of the route to slip man coverage and create windows for his quarterback."

The site gave him a rating of 4.93, which translated to them believing he should make it to an NFL training camp. Despite going undrafted, Dwelley was able to catch on with the Niners. Here are the career totals so far for the 24-year-old:
22 games played
16 catches on 23 targets
80 yards receiving
Two touchdowns
Seven first downs
Five yards per reception
Dwelley has 37 yards after the catch (YAC) in 2019. He's participated in 340 of San Francisco's snaps this season, good for 44% of all the team's offensive snaps. He's not an elite tight end, but he's a perfect fit for San Francisco.

Ross Dwelley's role on the San Francisco 49ers
Dwelley is the backup tight end to San Francisco's starting tight end George Kittle. He's had to make some spot starts this season to spell an injured Kittle. Dwelley has also played a little fullback for the team, stepping in when starter Kyle Juszczyk has been injured. He's taking advantage of his opportunity to play by doing whatever it takes to get on the field. Shanahan summed up Ross Dwelley's all-purpose approach to helping the team best:

"Ross is up for everything. Whatever you think he can't do, give him a couple reps at it, and he usually surprises you and figures it out."

That wasn't all Shanahan had to say about Dwelley, however.

Kyle Shanahan's comments about Ross Dwelley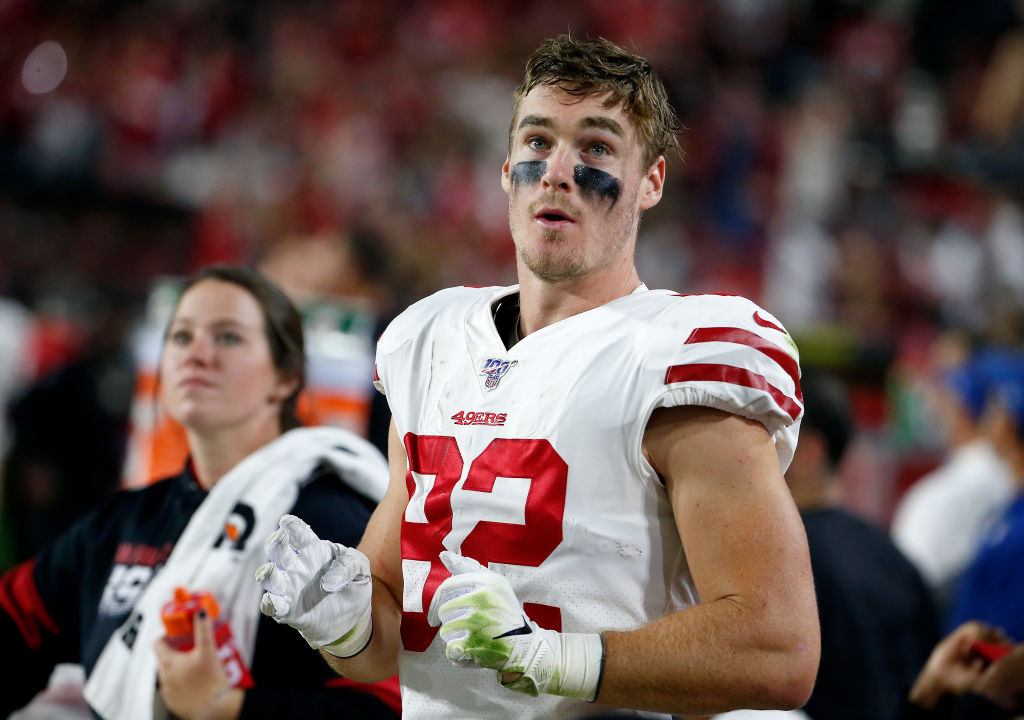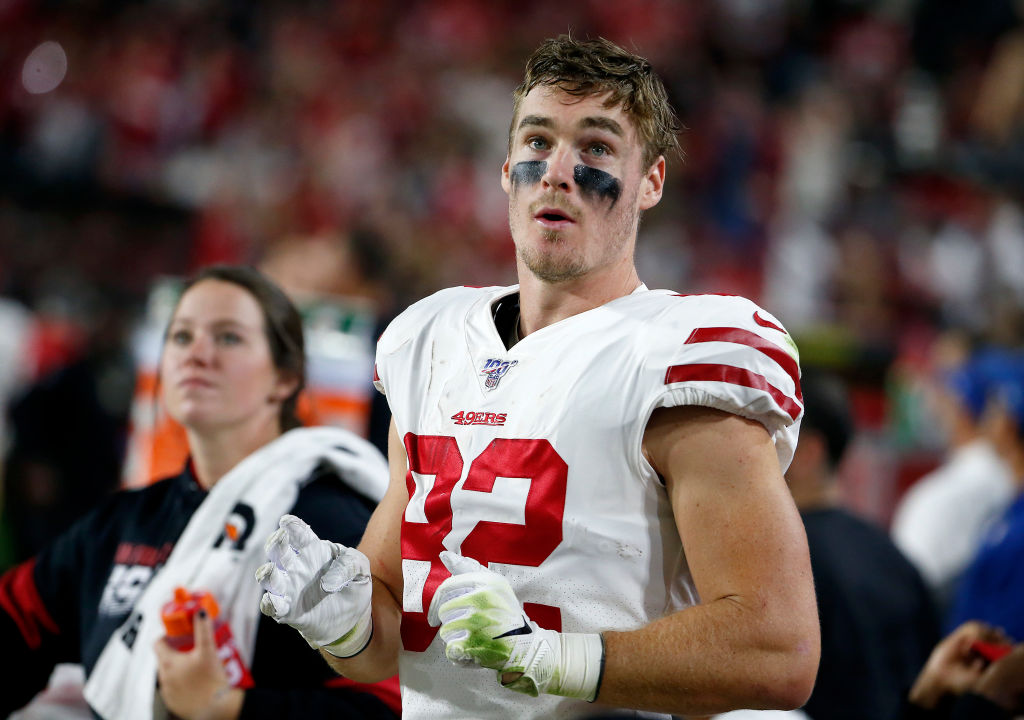 According to a column from San Francisco Chronicle columnist Scott Ostler, Dwelley is a rocket engineer. This intellectually engaging background has served him well while learning head coach Kyle Shanahan's extensive and complex playbook. Shanahan heaped high praise on Dwelley, as well as throwing in a humorous joke about Dwelley's yards after catch (YAC) average:

"I mean, we respect the heck out of him," Shanahan said Monday. "I said he was the best football player on our team yesterday, so I don't mind messing with his (YAC) average. He also had a 14-yarder called back, so that's where he got messed up — or it was 10 yards, I'm not sure. (It was 16 yards). But it's better to keep his average down just so we keep him humbled. We don't want him to get carried away."
Shanahan may not actually believe Ross Dwelley is the team's best player based on talent. But from the standpoint of evaluating a player who can fill multiple roles while playing tough, effective football, Shanahan clearly appreciates Dwelley's efforts. He's the type of player who serves as the team's "glue." He's intelligent and does the dirty work more talented players may not want to do. Dwelley's humble beginnings to his career leave him well-suited to serve the team in several capacities without complaint. And in Shanahan's book, that's good enough to be considered the best player on the 49ers.