Why Ryan Tannehill and $29 Million Stand in the Way of Aaron Rodgers Joining the Tennessee Titans
Aaron Rodgers will likely have plenty of suitors if the Green Bay Packers make him available via trade in the offseason. The Tennessee Titans are a team that could use an upgrade at quarterback, considering Ryan Tannehill's struggles. However, the Titans front office would have to make magic happen for a trade to make sense financially.
Still, it would not be surprising to see Mike Vrabel and company throw their hat in the sweepstakes to land the three-time NFL MVP.
The Titans have emerged as a possible suitor for Aaron Rodgers
With the Green Bay Packers' 2021 season officially over, expect the offseason rumors to ramp up even more. Many people are speculating which teams could be in play to acquire Aaron Rodgers from the Packers. The Denver Broncos, Las Vegas Raiders, and Pittsburgh Steelers have all come up. Add the Tennessee Titans to that list.
According to Jared Stillman of ESPN Nashville, Rodgers reportedly purchased land in Nashville, Tennessee, with plans to build a home. Stillman's sources also advised that the Packers signal-caller would be "open" to the idea of joining the Titans.
Having a home in Nashville doesn't mean Rodgers will be playing for the Titans in 2022. He's not a free agent. The Packers would have to agree to trade him, so he's not in complete control of his destination. Still, it would not be surprising if Tennessee made a push for the 10-time Pro Bowler.
Even though trading for Rodgers isn't out of the realm of possibilities, general manager Jon Robinson and the front office could have their work cut out for them from a financial perspective.
Ryan Tannehill's hefty contract could be a hiccup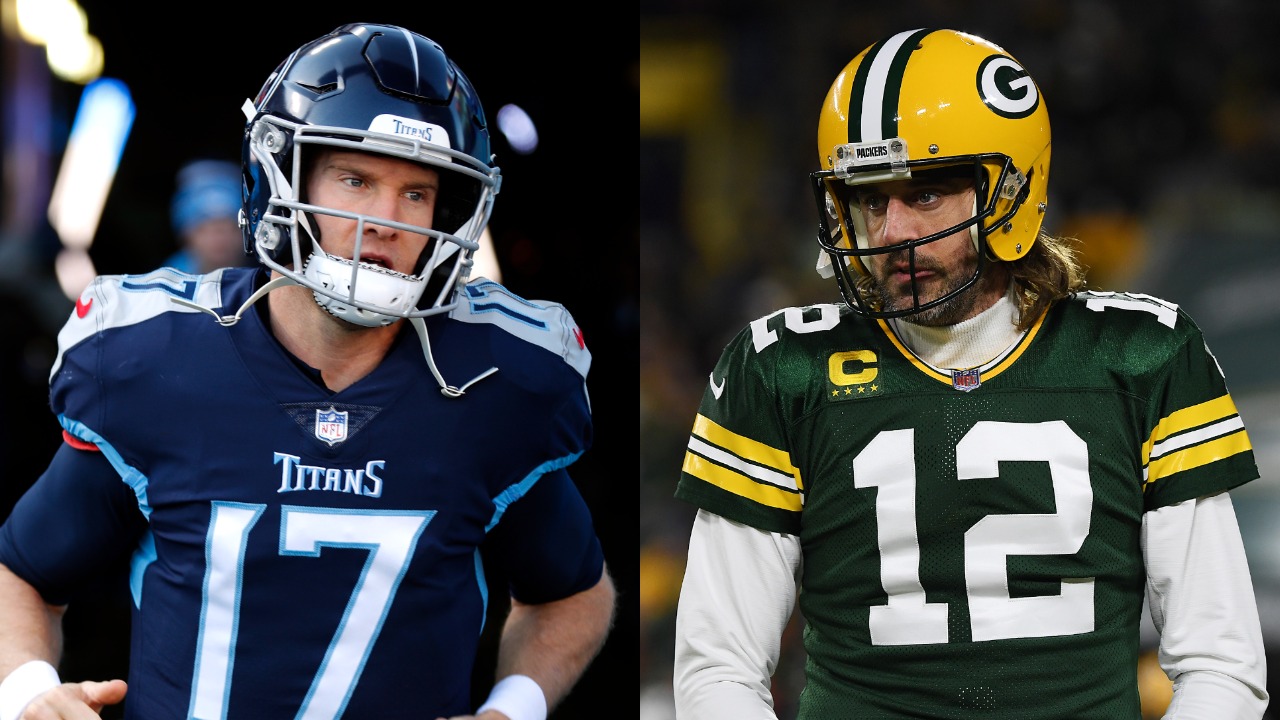 Tennessee Titans starting quarterback Ryan Tannehill had a rough 2021 season. He finished the regular season with 3,734 passing yards, 21 touchdowns, and 14 interceptions. While it wasn't his worst season, Tannehill certainly regressed negatively from the 2020 season.
The ninth-year veteran does deserve some credit, though. Superstar running back Derrick Henry suffered a broken foot in Week 8, and the offense wasn't quite the same without him. Still, Henry's absence exposed some flaws in Tannehill's game (accuracy, decision-making, etc.).
The Titans signal-caller had a horrible game in the Divisional Round loss to the Cincinnati Bengals, tossing three interceptions in crucial moments.
Ryan Tannehill has been good for Tennessee, but an opportunity to land Aaron Rodgers might be too good to pass up on. However, Tannehill's contract could be a hiccup in getting the deal done.
The Texas A&M product is under contract through 2023. He will make $29 million in base salary in 2022, which is fully guaranteed. According to Pro Football Talk, if the Titans trade Tannehill before June 1, they will trigger a $28.4 million cap hit.
Incurring such a massive hit would put a damper on the team's attempts to pay Aaron Rodgers.
Why the Packers QB could thrive in Tennessee
Suppose the Tennessee Titans could figure out a way to make the deal work financially. Then, Aaron Rodgers would be walking into a solid situation in Nashville.
The Packers star would be a significant upgrade at quarterback. Ryan Tannehill excels in the play-action passing game, but he can't do some of the things Rodgers does on a football field.
The four-time All-Pro selection would have the luxury of handing the ball off to Derrick Henry, arguably the best running back in the NFL. Having that bell cow would take a lot of pressure off Rodgers, as Tannehill knows very well.
Tennessee's offense also features A.J. Brown, one of the league's rising stars at the wide receiver position. Julio Jones is there as well. The veteran wideout has battled injuries and is no longer the player he once was. However, if any quarterback can maximize Jones' production, it's Aaron Rodgers.
The Titans also boast a top-10 defense, led by defensive tackle Jeffery Simmons, outside linebacker Harold Landry, and safety Kevin Byard. Inserting Rodgers into an equation that already includes a dominant run game and physical defense would be a recipe for success.
Unfortunately for the Titans, Ryan Tannehill's hefty contract could present a major roadblock.
All stats courtesy of Pro Football Reference and contract figures courtesy of Spotrac.
RELATED: Should the Titans Trade Ryan Tannehill During the 2022 NFL Offseason?