Why Saquon Barkley Thinks He Had the 'Best Draft Story Ever'
New York Giants running back Saquon Barkley is a fast-rising star at a challenging position. With the running game dropping in relevance, he still manages to use his legs to turn heads. Barkley is muscular, strong, yet lightning fast. One couldn't ask for better at his position.
Despite slowing down somewhat in 2019, he remains a contender for the best young RB. That's why the Giants drafted him early, during a period when a fresh-faced quarterback was their most pressing concern. But there's more to Barkley's draft-day story than his surprising acquisition by New York.
Why Saquon Barkley rose to the top of the 2018 NFL draft
RELATED: 10 Athletes Have Earned LeBron James' Highest Praise
RB is not the crucial position it once was. New defensive developments have led to players at the position getting their hands on the ball less than ever before. So why did the Giants go all in, especially when Eli Manning was clearly at the end of his time at QB? One look at scouting reports on Barkley settles that question easily.
Consider this Medium piece by sportswriter Najan Nanavati. He collects information from several scouting reports, alongside his own analysis. It includes this gem: "[…]if you molded the prototypically perfect running back from clay, and then used a thunderbolt from Zeus to bring him to life, you'd end up with Saquon Barkley."
Nanavati takes note of Barkley's rare combination of speed and brute strength. The only flaws center on the young RB's reliance on obvious holes in the defense. Considering that's an issue often solved by getting more playing time in, it's difficult to put too much worry on that. Simply put, he struck the figure of a generational talent at his position. On the day of the 2018 NFL draft, it was clear he'd go early.
How Barkley's personal life led to two draft day miracles
The hype around Barkley was palpable in 2018. Media demand for his time skyrocketed as draft day drew near. But the top prospect wasn't available to chat. He had better things to do.
What could possibly be better than diving head-first into a media circus revolving around you? When you're essentially assured that you will gain  your dream job, and instantly become a millionaire? As Barkley recounted in The Player's Tribune, it wasn't even a question of which was more important. His daughter was about to be born.
"I had two dreams growing up: to play in the NFL, and to have a family of my own," Barkley wrote. "And two days after my daughter was born, I got to go to New York and walk across the stage and shake the commissioner's hand and hold up that Giants jersey." The two biggest events of his life collided all at once, changing him forever.
Did the Giants make the right bet on Barkley?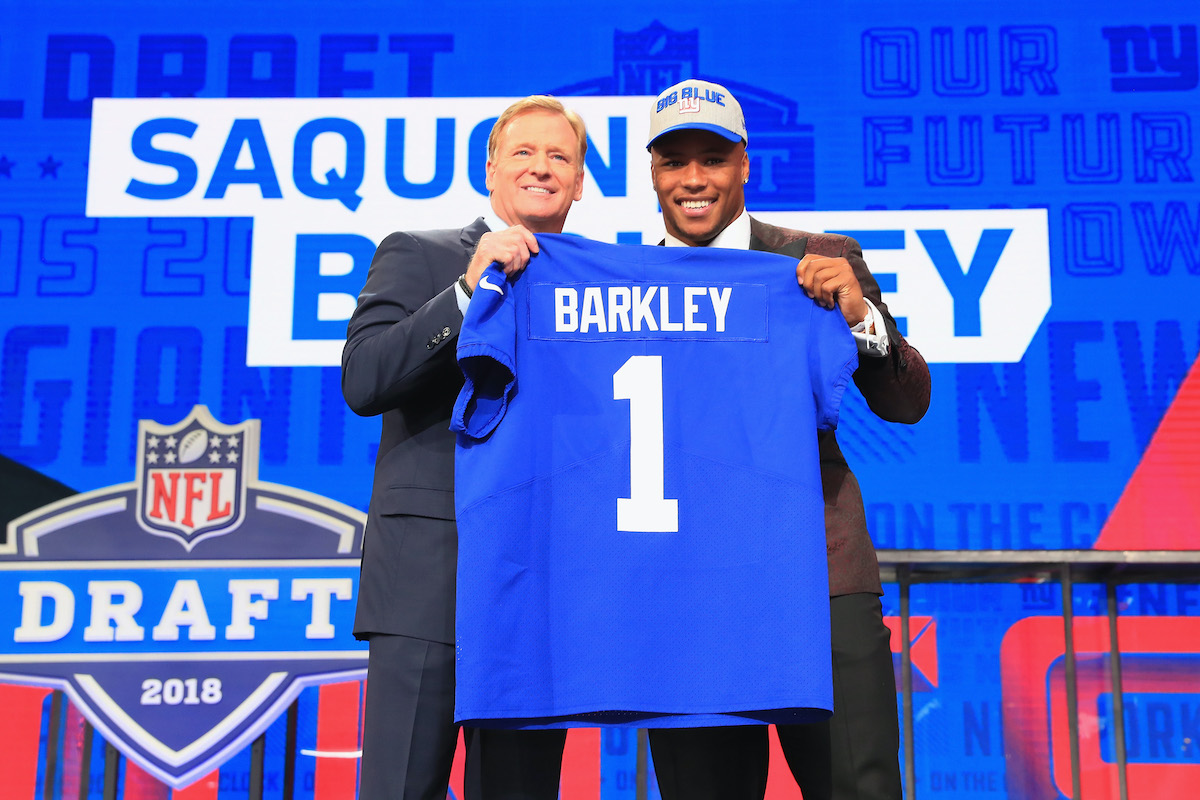 Barkley may be young, but his maturity is beyond his years. The pressure of being a new NFL player, the most physically demanding career in professional sports, didn't slow him down. Nor did becoming a new father. His 2018 was a resounding success. Pro Football Reference pins his rushing yards that year at 1,307, a crazy number for an inexperienced RB.
His 2019, in context, wasn't much to raise the alarm over. Even with an ankle injury slowing his production, and little support from a fairly weak offensive core, he put together 1,003 rushing yards. He dropped from 11 to six touchdowns year over year, but also got his hands on the ball less often. His noted work ethic means he shouldn't slow down further in 2020, as long as he stays healthy. The Giants clearly made a solid choice in buying high to obtain Barkley.