Why Shaquil Barrett's Free Agency is Such a Tough Call for the Buccaneers
The Tampa Bay Buccaneers are in the midst of a tough offseason where they'll have to make a decision regarding quarterback Jameis Winston's future with the team. Another decision they face? Whether to re-sign Shaquil Barrett, a player who nearly broke Michael Strahan's record for sacks in a season. But while one decision seems complicated and the other seems like an open and shut case, both have their issues. Here's why Shaquil Barrett's free-agency will be such a tough call for the Buccaneers.

Shaquil Barrett's outstanding 2019 season
There is no other way to say it — Barrett had a breakout season in 2019. Through any metric you'd like to use to measure a defensive lineman's production, he was dominant. In his first year with the Bucs, he posted jaw-dropping numbers:
16 games played and started
19.5 sacks
58 combined tackles – 45 solo, 13 assisted
19 tackles for loss
37 quarterback hits
Pro-Bowl selection
To put Barrett's year into proper context: he had 10 sacks through the first six games. The Bucs very quickly realized they were dealing with a much more effective player than the one they thought they signed. But how much better was Barrett last year than he had been in previous seasons?

Why signing Barrett will be tough for the Buccaneers
Shaquil Barrett wasn't just good in 2019 — he was amazing. He was quite simply one of the best pass rushers in the league. Looking at his 2019 results in a vacuum, one would think the Bucs signing him again would be a slam-dunk decision.

But one season is a smaller sample size than a career, and looking at the rest of Barrett's output tells a slightly different story. Look at Barrett's previous sack totals in his five earlier seasons with Denver:
2018: 3.0
2017: 4.0
2016: 1.5
2015: 5.5
2014: 0
Those numbers are pedestrian at best. And while Barrett started all 16 games last season, his previous high number for starts was nine.

Barrett's outstanding season — which, it must be noted, came in a contract year — is the outlier for his career so far. One could argue that he showed significant progress and likely won't backslide. But there's more evidence that says Barrett's a player more likely to get a handful of sacks on the year than he is to get nearly 20.

Will Shaquil Barrett and the Buccaneers reach an agreement?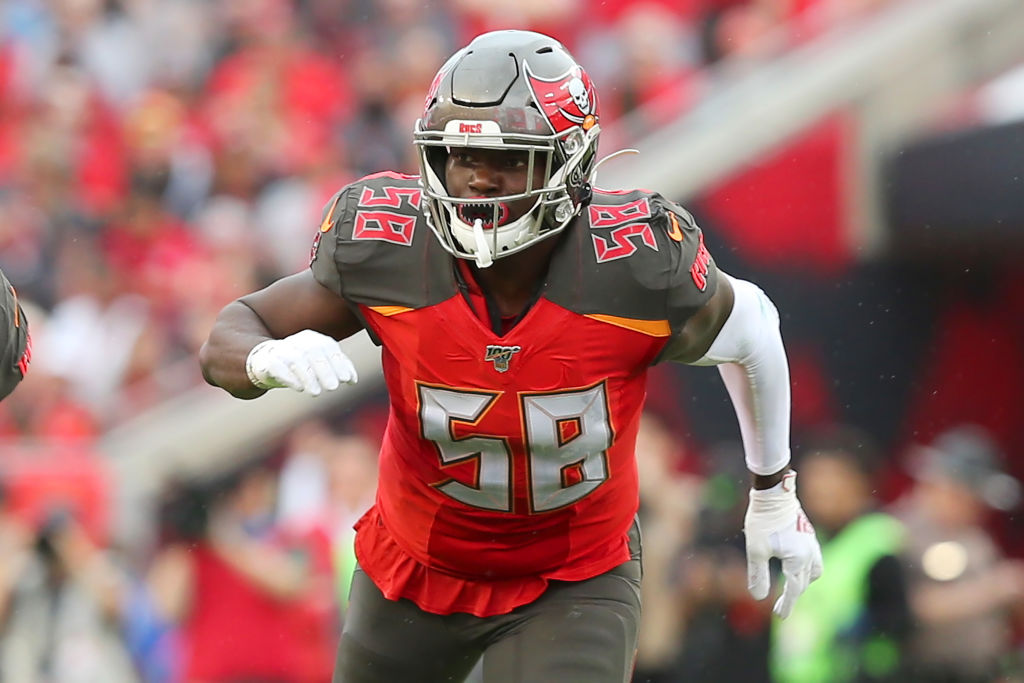 The bottom line is that Barrett produced last season. It's unclear whether that was his new normal or a one-year anomaly, but it's a gamble the Bucs should (and likely will) take. The most likely outcome is that Barrett comes back to Earth a little bit, but is still a productive member of the defense. To get top of the line production in the NFL, you need to pay top dollar.
Let's say the worst-case scenario comes true: Barrett returns to this (average at best) pre-2019 form. Even if that happens, the Bucs can afford it. The team has $91 million in cap space available, so they have the financial flexibility to make a long-term investment in Barrett. The fact of the matter is that the team will spend that money regardless. Why not reward a player on their roster instead of going out to sign a similarly risky free agent? Re-signing Barrett sends a powerful message to the rest of the team: make an impact for us, and we will reward you.

When it comes to NFL free agency, anything can happen. But with the Bucs facing a lot of question marks this offseason, this is one that seems like a no-brainer to answer. Bet on the Bucs re-upping Barrett.