Why Tebow Needs to Give Up His Quarterback Dreams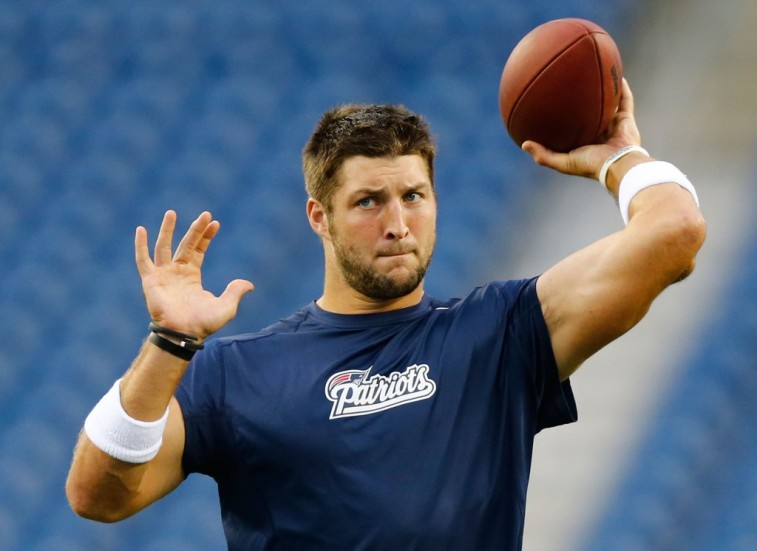 After being released by the New England Patriots during 2013 training camp, Tim Tebow took to his Twitter page to let the world know that this latest setback would not deter him from reaching his final goal. With the confidence of a man who was not in the habit of calling it quits, Tebow wrote, "I will remain in relentless pursuit of continuing my lifelong dream of being an NFL quarterback."
While most believed that this was likely the end of Tebow's NFL career, apparently there were still some who could see potential in the former Florida Gator. Not surprisingly, one of those people turned out to be Philadelphia Eagles coach Chip Kelly.
In a move that certainly got the sports world buzzing, ESPN NFL Insider Adam Schefter reported that Tebow did in fact work out for the Eagles on Monday. And just like that, the Internet officially broke — well, not really. But, if Tebow did sign with the Birds, you better believe this outcome would not be out of the realm of possibility.
But in the end, it was all for naught, as the Eagles opted not to sign the former quarterback. And so it would appear that Tebow will once again find himself on the outside looking in. With that being said, we're beginning to wonder if he only has himself to blame.
There's nothing to suggest that Tebow cannot be a successful pro football player. But the only way that's ever going to happen is if he finally embraces one simple truth: He doesn't have what it takes to be an NFL quarterback.
Tebow continues to stress that his ultimate goal is to be an NFL quarterback, but he needs to understand that this probably will not come to fruition.
The fact is, the 2007 Heisman Trophy winner doesn't have the skills required to be a starting QB in the National Football League. His throwing mechanics have always been abysmal, he has poor footwork, and the game appears to simply move too fast for him. However, if he would only agree to get out from under center, Tebow would realize that he could a valuable member of any football organization.
Tebow possesses the sort of intangibles that you simply cannot teach. He is a team-first leader, a tireless competitor, and humble beyond imagination. He would be a perfect addition to any locker room because he somehow has the ability to inspire.
His confidence in himself and those around him is absolutely contagious, and it's a shame that his quarterbacking skills aren't — and more than likely will never be — at that same level. He's the only thing preventing himself from potentially making it at the highest level. And we have to wonder if he even knows it.
If Tebow truly wishes to play in the NFL, perhaps it's time that he finally accepts the fact that it won't be as a starting quarterback. For all of his impeccable qualities, Tebow's stubbornness and pride seem to be keeping him from having a sustainable football career. But he is more than capable of making the necessary changes.
In the end, it's about deciding what's more important: remaining a quarterback outside of the league, or doing whatever it takes to make it in the league. If Tebow is able to come to terms with this, there may just be a place for him in the National Football League after all.