Why the Cowboys Shouldn't Pay Ezekiel Elliott
Ezekiel Elliott is one of the top running backs in the league, and he's under contract to the Cowboys through next season after they picked up his fifth-year option earlier this year. But Elliott didn't travel with the team to their training camp in Oxnard, California. The reason he didn't head to camp with the team is the same reason why Le'Veon Bell didn't go to Steelers camp last summer, and why Chargers RB Melvin Gordon also isn't in camp currently — he wants more money. Elliott is holding out, trying to get a new deal out of the team that drafted him No. 4 overall in 2016. Here's an argument, put forth by FiveThirtyEight writer Josh Hermsmeyer, why the Cowboys shouldn't give in to Elliott's demands.

Ezekiel Elliott's current contract
Elliott has already made more than $20 million in his first three seasons in the NFL, including a $16.35 million signing bonus. He's slated to make an additional $3.853 million this season, and just under $9.1 million in 2020 before becoming an unrestricted free agent in 2021. That adds up to nearly $33.5 million in guaranteed money through his first five seasons in the league. With the big raise he will get next season, and based on current contracts, Elliott's $9.1 million will make him the second-highest-paid running back in the league in 2020, behind only David Johnson at $10.2 million.

Is Elliott just an average running back closing out a game?
Hermsmeyer argues that, in some situations and statistical categories, Elliott is just an average — or worse — running back. Take win probability added (WPA) for example, which Hermsmeyer says is a good measurement of a player's rushing value late in a game.

Ezekiel Elliott had a positive WPA per play last season, but he was beaten out on his own team by QB Dak Prescott. Comparing Elliott to the rest of the league he ranked 22nd in WPA among all qualified running backs (minimum five rushes to close out a game). Some of the backs who ranked ahead of him include Royce Freeman, Isaiah Crowell, Kenyan Drake, and Jacquizz Rodgers — none of whom would be considered the second coming of Walter Payton.

What about short-yardage plays in the red zone?
It's important to get positive plays when you're in the red zone because that helps increase your chances of getting a touchdown instead of settling for a field goal attempt. Hermsmeyer argues Elliott isn't good in those last 20 yards before the end zone.
Looking at expected points added (EPA) per play, the writer notes that Elliott ranks 16th on short-yardage runs in the red zone and 28th in success rate among qualified backs (minimum five short red zone rushes). He sits behind the likes of Aaron Jones and Corey Clement in the short-yardage red zone runs category.

Ezekiel Elliott isn't great on short-yardage runs in general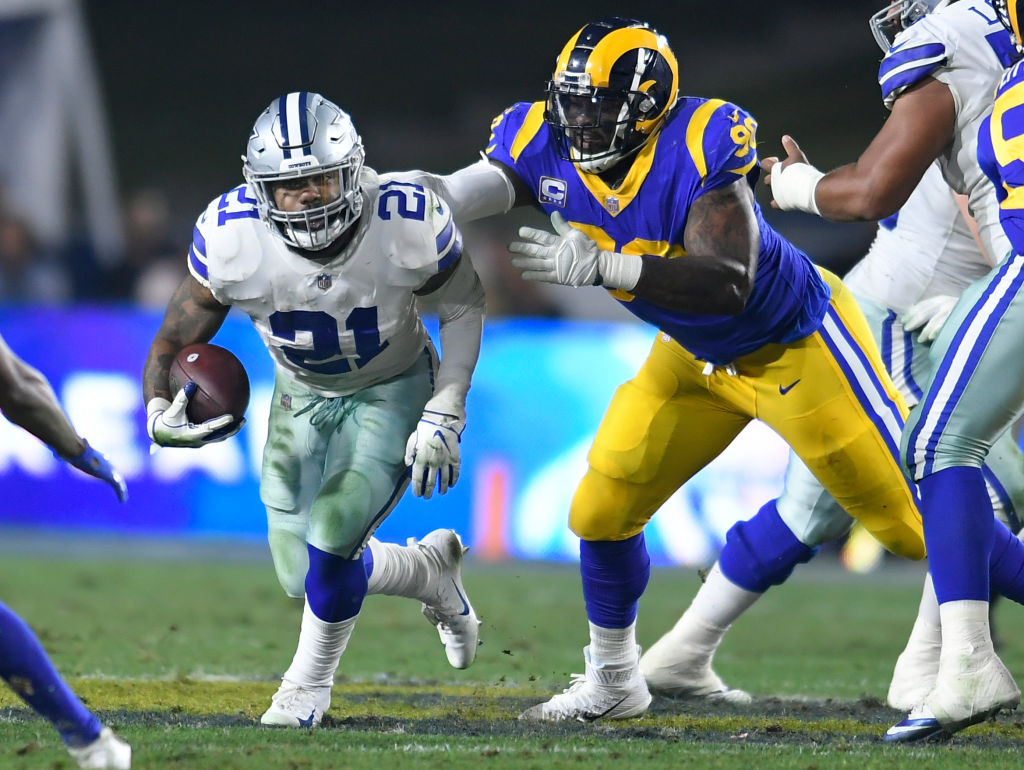 Forget the red zone, Elliott isn't among the top running backs in short-yardage runs in the middle of the field either. To prove it, Hermsmeyer takes a look at EPA on plays outside of the red zone.
Short yardage, in this case, refers to plays in the open field in which the team needs no more than three yards to gain a first down. Elliott got the ball on 43 such plays last season and successfully converted on 67% of them. But Hermsmeyer writes that that's not good enough for a star running back like Elliott.
Among qualified backs with at least five short-yardage attempts, Elliott ranks 10th. And this time he has players like Jordan Wilkins, Alfred Morris, Mike Davis, and Kerryon Johnson ranked ahead of him.