Why the LA Rams Should Take Carson Wentz No. 1 Overall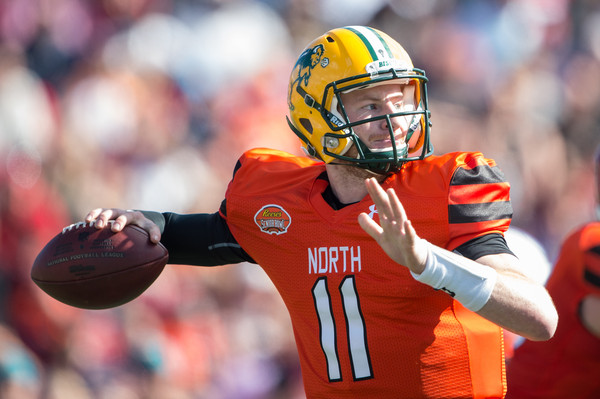 When the Los Angeles Rams traded for the No. 1 overall pick in the 2016 NFL Draft, they did so likely knowing very well who they wanted to select with the pick. The top quarterback options in the draft — North Dakota State's Carson Wentz and Cal's Jared Goff — give them two solid prospects to consider, but by most accounts, they have a good idea who they will take come April 28.
Many will tell you that they are leaning toward Goff, but with time still remaining before they're officially on the clock, the Rams would be wise to go against the grain and select Wentz. Most draft experts out there do in fact expect LA to take California-bred Goff, but there a few out there who think Wentz could be their guy.
Goff is clearly the more experienced QB and played against a much higher level of competition in the Pac-12 than Wentz with his FCS schedule, which makes Goff a safer bet with the selection. However, if the Rams want a player who could develop into an All-Pro-caliber signal caller, then Wentz is the way to go. Let's break down what makes the North Dakota State product so intriguing and worthy of the top pick next Thursday.
Physical traits
Wentz is a physically imposing prospect who fits the build of a prototypical successful NFL quarterback. At 6-foot-5 and 237 pounds, he has the size to stand tall in the pocket and read the field while being strong enough to withstand hits from pass rushers. That build also contributes to Wentz' accuracy — made clear by a 62.5% completion rate during his final season at North Dakota State — and his ability the throw the deep ball.
Athleticism is another thing that Wentz has going for him, as he used his legs to consistently avoid pressure in the pocket and make plays on the ground. During the seven games he played during his senior campaign, Wentz accounted for six rushing scores, a desired ability in today's NFL. At the combine, he tied for the second-fastest 40 time among QBs and also proved his athletic ability with an impressive broad jump.
Compared to Goff, Wentz is taller, stronger, faster, and overall more athletic. Those traits could go a long way in determining which player turns out better in the NFL, giving Wentz a bit of an edge. If the Rams want a player who can do it all, the small-school product is the way to go.
High ceiling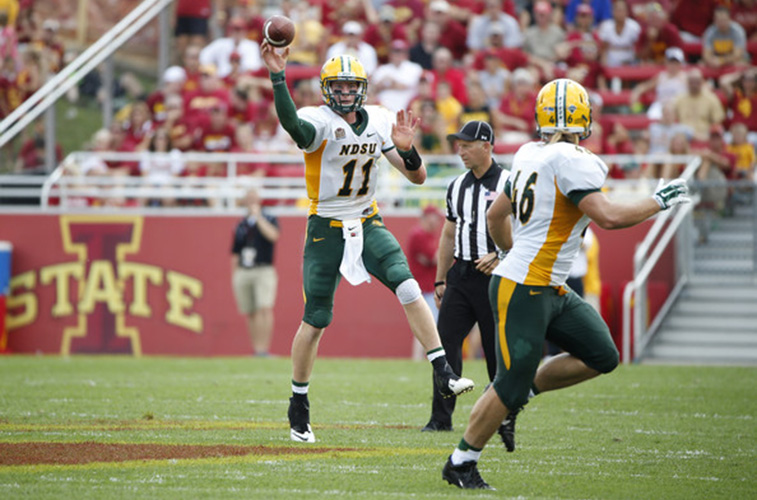 With those physical traits, it's clear enough that Wentz likely has the higher ceiling of the two quarterbacks the Rams are considering. However, Wentz is also making waves as a top-flight QB prospect despite the fact that he only spent two seasons as a starter at North Dakota State. Compared to Goff, a three- year starter at a recognizable program, there isn't that much game tape on Wentz, yet scouts still see his clear potential.
It isn't as if Wentz wasn't successful during his time at NDSU. In his first year as starter in 2014, he accounted for 3,111 passing yards and 25 touchdowns, leading the Bison to a fourth consecutive FCS championship. During his senior campaign, he had to sit out multiple months thanks to a broken wrist, but he still came back to start seven games and throw for 1,651 yards and 17 touchdowns while leading his team to yet another title.
Even with a relatively small sample size of game action, Wentz proved he can play, proved he can win, and proved he can lead. Another thing that contributes to Wentz' high ceiling is his unquestioned intelligence. He had a long list of academic achievements in college, which is proof not only of his high IQ, but also of his work ethic.
In today's NFL, a quarterback has to be able to understand the complex schemes of the playbook, read the various coverage of opposing defenses, and outsmart opposing coaches. Wentz has the mental capacity to do those things for a team like the Rams.
Success of FCS quarterbacks
Many are weary of Wentz's status as a potential franchise quarterback because of the lack of competition he faced at North Dakota state. When you see the success of other FCS quarterbacks throughout NFL history, though, this worry becomes a moot point. In the league today, guys like Tony Romo (who played college ball at Eastern Illinois) and Joe Flacco (who attended Delaware) have proven that QBs from lower division schools can have lengthy, successful careers in pro football.
Romo, who was undrafted out of college, has been the face of the Dallas Cowboys for about a decade. Flacco was a first-round selection by the Baltimore Ravens back in 2008 and all he's done is lead the Ravens to six playoff appearances in eight seasons, as well as a Super Bowl title in 2012.
The Rams likely aren't worried about where Wentz played college ball because head coach Jeff Fisher has already had success with an FCS QB. When he was coaching the Tennessee Titans, Fisher had Steve McNair of Alcorn State at the helm of his offense. McNair led the Titans to a Super Bowl appearance back in 2000 and was the starter for several seasons. Los Angeles should look at that track record and be all the more intrigued with Wentz.
Statistics courtesy of NFL.com and Pro-Football-Reference.com.