Why This 17-Year-Old Is the Player to Watch for the 2016 NBA Draft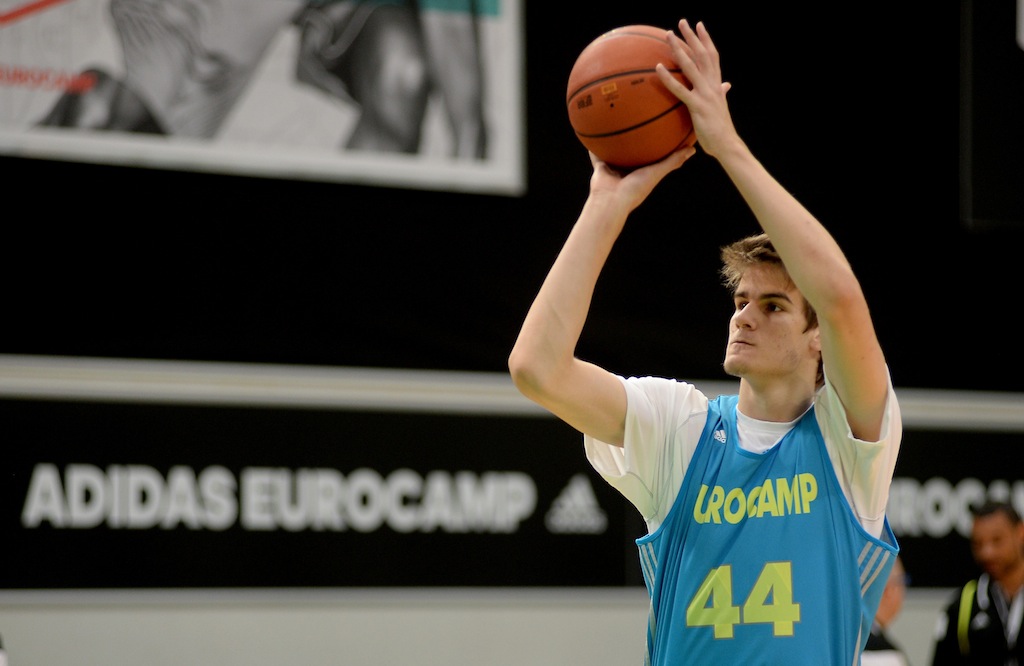 The allure of the Euro is an oft-repeated story in the NBA today: As much as franchises would love to find the next Dirk Nowitzki or Pau Gasol, there have been enough failed experiments (cough, Darko Milicic, cough) to make teams wary of getting overly excited about hyped European players who seem to fit that very mold. Just because they have the skills, it doesn't mean they're able to handle the demands of the world's top league. And by demands, of course, we're talking about the physicality.
When it comes to international talent with both length and the ability to shoot the ball from the outside, more often than not, those players will be forced to overcome the dreaded "soft" label. It is a stigma that can either hold a player back, or force them to play with a major chip on their shoulder. Unfortunately, there doesn't appear to be an in-between.
As far as the New York Knicks are concerned, Kristaps Porzingis — the team's No. 4 overall pick in the 2o15 draft — most definitely falls into the latter category. The 20-year-old Latvian big man is out to prove he belongs in the National Basketball Association. And if you're among those who believe he has what it takes to alter the public's perception of international players — and we are — then you're going to fall in love with Dragan Bender — Europe's next big thing.
Dragan Bender has more than just one of the greatest names an athlete could ever have — he is also a top-flight basketball talent. At just 17 years of age, he is 7-foot-1, 216 pounds, and already suiting up for the elite European club Maccabi Tel Aviv. And while there is no denying this kid still needs to refine his game, as well as get bigger and stronger, scouts can't help but rave about his incredible upside.
During a conversation with Bleacher Report, DraftExpress's Jonathan Givony noted how advanced Bender's game was for someone — especially for someone of his age and height:
How do you find a 7'1″ kid that's 17 years old, that is skilled with such a feel for the game like Dragan's? It doesn't exist. Compare where Dragan is now to where [New York Knicks No. 4 pick] Kristaps Porzingis was at the same age, and there's no comparison. Bender is way ahead in terms of how polished he is, creativity, versatility and his body. I was watching some of his games from preseason in France and Israel, and he is huge.

His body made a huge jump this summer. Every time I watch him, he is better, stronger; his jumper is better, his ball-handling, he runs coast-to-coast, dishes off. … NBA teams will fall in love with him.
It's no wonder DraftExpress now has Bender at No. 3 on its 2016 Mock Draft board. That sort of praise is not handed out lightly. Of course, if you're looking for any further proof of this kid's skills, take a look at what ESPN NBA reporter Marc Stein had to say about the young power forward. Talk about being direct.
There is still plenty of time between now and next June's 2016 NBA Draft. However, it's never too early to start evaluating players who have the potential to do big things at the next level. As far as international talent is concerned, Dragan Bender is at the head of the class.
All statistics are courtesy of Bleacher Report, DraftExpress, and ESPN.go.com.