Why This 5-Foot-9 Point Guard Could Be a Future NBA Star
In this season's race for the Wooden Award, which honors the best player in men's college basketball, you've probably heard names from some of the top schools in the nation. Denzel Valentine of Michigan State, Jarrod Uthoff of Iowa, Brice Johnson of North Carolina, Ben Simmons of LSU, and Buddy Hield — the likely favorite — of Oklahoma are all players who have received plenty of national love when it comes to consideration for the award.
While all of those players are certainly deserving of that recognition (that's not the argument here), there are a few players who are flying under the radar. None of those players are better than Kahlil Felder of the Horizon Conference's Oakland Golden Grizzlies. Never heard of Kahlil — or Kay, as he generally goes by — Felder? Don't worry, you're not alone. First off, the team that Felder plays for isn't exactly a national powerhouse.
Oakland has only had a basketball program for 17 seasons and they haven't made the NCAA Tournament since the 2010-11 season. Secondly, Felder wasn't exactly highly-touted coming out of high school, which is why he fell into the Golden Grizzlies' lap. Looking at his numbers, the junior point guard has certainly made the most of his opportunity to lead a team and prove his doubters wrong.
Felder's numbers are outstanding. He leads college basketball in assists with more than nine per game and he is fourth in scoring with more than 24 points per contest. While those numbers are impressive on their own, Felder's size makes them all the more noteworthy. He's 5-foot-9 and only weighs 176 pounds, which is a big reason why many of the bigger schools overlooked his potential.
However, it seems as if Felder has used his small stature to his advantage, as he created scoring opportunities for himself and his teammates at every corner this season. It's unlikely that he will win the Wooden Award, even if he's worthy of more consideration. Despite that, there are still plenty of reasons to pay attention to this ultra-talented player going forward. Here's why.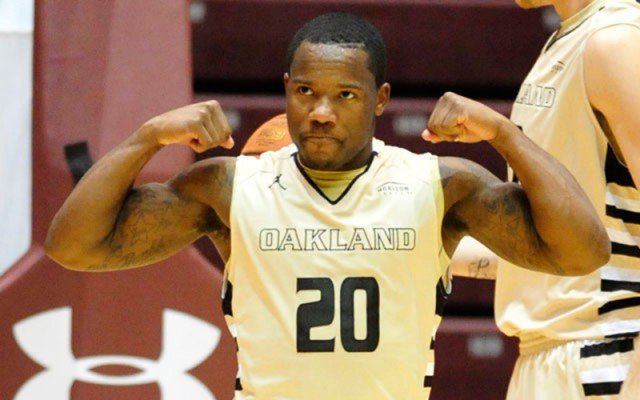 Felder's numbers could end up being unprecedented. No modern player in the history of men's college basketball has ever led the nation in both scoring and assists, but with his current production, Felder could achieve that feat. He is averaging more than one assist per game than the player closest to him in that category, and while he has a decent margin to make up in scoring (3.5 points per game), his ability to put up points in bunches makes that margin seem minuscule.
On 12 occasions this season, Felder has put up 25 or more points in a single game. Of those 12 occasions, five of them saw Felder put up more than 30 points, including a season high 38 in one of Oakland's best wins of the season against Washington back in December. Against the best competition, Felder has done anything but falter under the bright lights of playing on the same court as a national power. He put up 37 (and nine assists) against Michigan State and nearly led his team to an upset when the Spartans were the top-ranked team in the country (a game that had to make Felder feel great, seeing as he is from Detroit).
He followed up that performance with a 30-point outburst against a highly ranked Virginia team. Clearly, he's proved that he can play with anybody in the country. Aside from those scoring stats, Felder's passing ability has been on display on a nightly basis as well. In 15 separate games, he's put up 10 assists or more, which also gives him 15 double-doubles on the year. His abilities to pass and score make Felder one of the most tantalizing talents in the game. As a bonus, he's a solid defender who grabs more than steals. Plus, he makes highlight reel plays on a regular basis.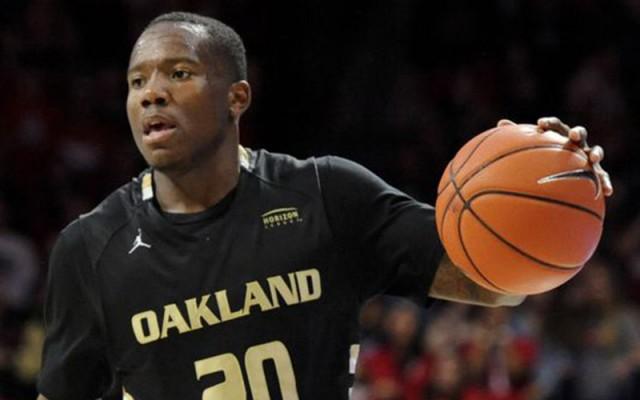 So he's got the numbers, but how has Felder's electric play affected his team? Well, as we said earlier, the Golden Grizzlies were able to push Michigan State to the brink earlier this season. They beat Washington for their most notable win and have managed a solid 11-4 record in the Horizon league. They have a huge game against conference rival and leader Valparaiso on Friday, which could determine if they win the conference's regular season crown. But they ultimately will need to win the Horizon League's tournament if they want to make the NCAA Tournament for the first time in several seasons.
With Felder on hand, Oakland has a great chance to be a part of March Madness and put one of the best players in the game on display. It's impressive what Felder has already brought to this team and how he has elevated the play of everyone around him, but if he gets a chance to play in the NCAA Tournament, there's no telling what kind of magic he will produce. He feels like a player who could go on a 2008 Stephen Curry type of run if he gets the opportunity.
Only time well tell if Felder and the Golden Grizzlies will be in the headlines in March, but that takes nothing away from the immense talent that runs through Felder's veins. He may be overlooked by NBA teams, but that will only fuel his fire. With a chip on his shoulder and the passion to prove his doubters wrong, be prepared to hear the name Kay Felder for the next decade or more.
Statistics courtesy of ESPN.com and SR/College Basketball.