Why Tony Stewart Needs to Apologize for His 'Ankle Bracelet' Comment During the Daytona 500 Broadcast
Tony Stewart is rolling right along.
The newly wedded three-time NASCAR premier series champion owns two NHRA cars and earned rave reviews for his debut effort as a Fox Sports analyst during NASCAR's Clash at the Coliseum broadcasts last weekend. 
Except Stewart should adhere to a bit of sensitivity and apologize during the upcoming Daytona 500 broadcast for his post-Clash joke of "still being in ankle bracelets." 
It was wrong considering there was a real possibility Stewart could have spent time in jail.
The wrongful death cases against Tony Stewart was dismissed at the state and federal levels
On Aug. 9, 2014, Stewart, who often raced on local tracks to keep his skills sharp, participated in a local dirt race at Canandaigua (N.Y.) Motorsports Park.
After an accident, Stewart, who had a reputation for losing his temper, allegedly gunned his engine, propelling his machine into a skid, and struck 20-year-old racer Kevin Ward Jr. as he walked on the track away from the accident.
Ward's parents fought for a jury trial, claiming wrongful death, reckless conduct, and gross negligence, but a grand jury declined to indict Stewart.
A toxicology report discovered Ward had marijuana in his system, and Stewart claimed the incident was an accident. The case moved from the New York state court to federal court, but a judge dismissed it in September 2018.
A free man, Stewart moved on with his life.
Still, during the Clash's wildly popular broadcast, Stewart should have been more sensitive to his situation.
If Ward's parents were two of the 4.2 million viewers on Feb. 6, what would they have thought? Here was the man they blame for the death of their son, and he's prospering and making jokes about an "ankle bracelet."
Stewart: 'Yea, ummm, my ankle bracelet is still on'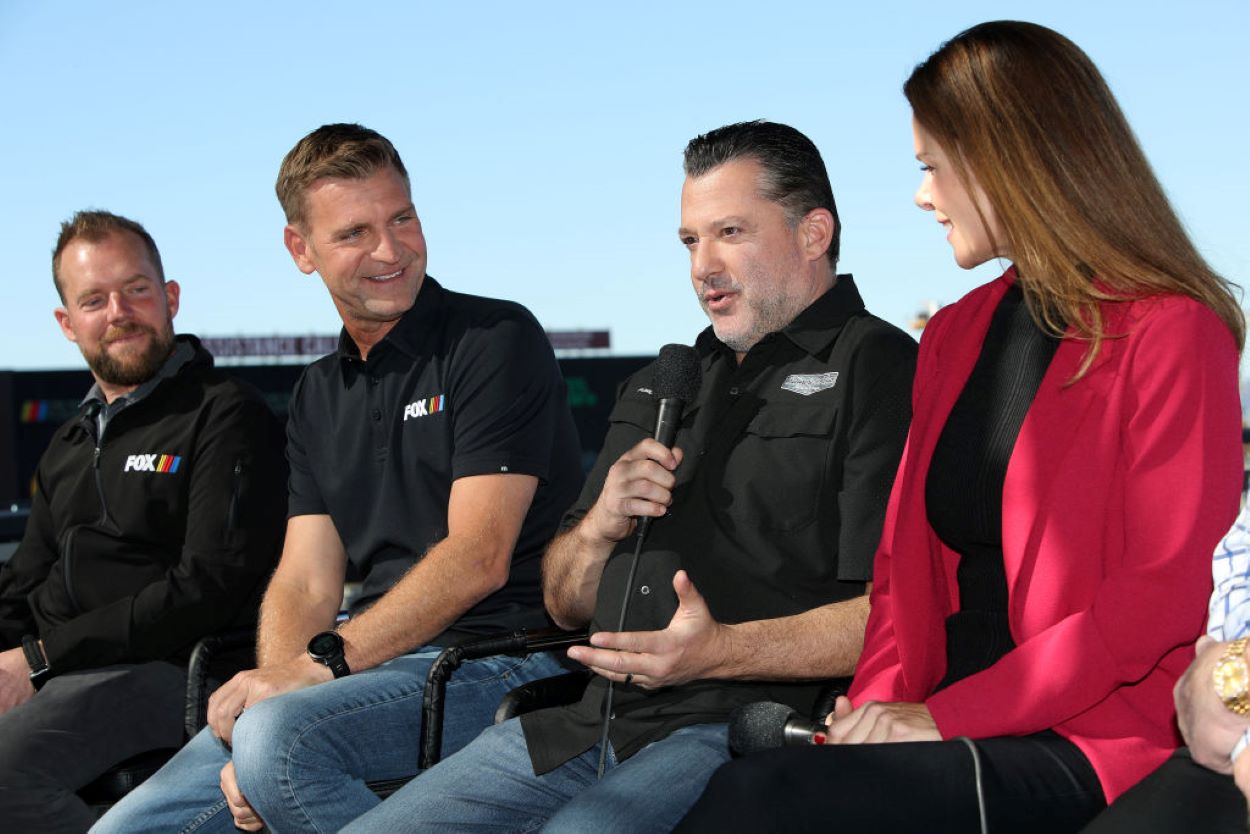 In the moments after Joey Logano outdueled Kyle Busch for the Clash at the Coliseum exhibition victory, the exchange between Fox Sports' Mike Joy, Clint Bowyer, and Stewart started out innocently enough, but it veered off and skidded into a dark place.
Stewart: "Who can believe it? Who would have thought we would be at the LA Coliseum with a NASCAR race?"
Bowyer: "It's a dream come true for me. I've wanted to go to a new audience, new eyeballs, new fanbase for so long. … I loved what I saw."
Joy: "… Come on let's go to Daytona."
Stewart: "I can't wait to see what this Next Gen car does at Daytona. … New cars. New teams. New drivers. "
Joy: "All right, cellmate, you're going to join me for the (Daytona) 500.
Stewart: "Yea, ummm, my ankle bracelet is still on."
The three commentators laughed it off, but there was nothing to laugh about. The laughter seemed to serve as a smokescreen for the disturbing nature of the joke.
Stewart has a new wife, broadcasting career, and two NHRA teams, but he shouldn't forget the past
From the early response to his broadcasting chops, Stewart, who earned Cup drivers' titles in 2002, '05, and '11 among his 49 career wins, could have a lengthy career as an analyst.
Tony Stewart Racing employs two highly decorated drivers, Matt Hagan and Leah Pruett, for the upcoming NHRA season. Hagan has collected 39 event titles, and Pruett has nine wins. Pruett maintains close ties to management. She married Stewart in November 2021.
Stewart's life appears to be rolling right along, but what if the New York state court had moved forward with the wrongful death case? His life right now could be completely different.
Life, after all, will never be the same for Ward's parents.
Exactly what he was referring to during the Clash broadcast isn't certain. But even if it wasn't a direct reference to the incident, Stewart should forever be sensitive to that fact.
Like Sportscasting on Facebook. Follow us on Twitter @sportscasting19.
RELATED: 65 Years Before the Clash at the Coliseum, NASCAR Legend Fireball Roberts Captured a Race at Soldier Field