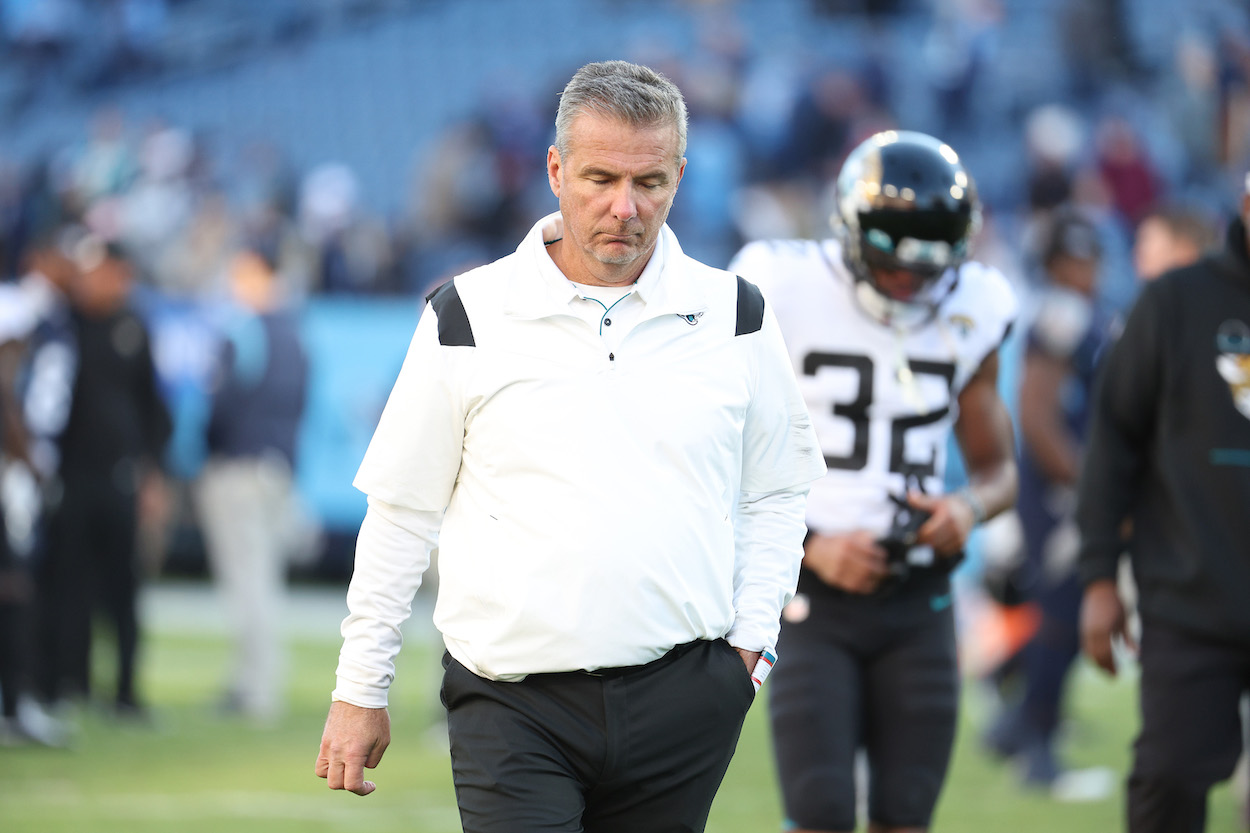 Why Urban Meyer Is to Blame for the Jaguars Reckless Offseason Spending Spree
Former head coach Urban Meyer can still be blamed for the team's reckless offseason spending spree that's taking place right now.
The Jacksonville Jaguars entered the 2022 NFL offseason with a significant amount of questions to answer. The roster was terrible, their No. 1 overall quarterback struggled during his rookie season, they were coachless following the firing of Urban Meyer, and the overall vibe in Jacksonville was simply not good.
The Jaguars began the offseason in a promising manner by landing Super Bowl champion Doug Pederson as their next head coach. His strong leadership on and off the field could be enough to turn the franchise around. However, it was the team's intense spending spree following the Pederson hiring that caused heads to turn.
Jacksonville definitely needed to spend money this offseason. However, it's how the franchise spent that's causing fans to question the current direction.
The Jaguars have already spent $250-plus million this offseason
The Jaguars had a plethora of roster holes that needed filling this offseason. It's no surprise that they were one of the most aggressive teams in free agency. However, no one thought they would go to the lengths they have.
The Jaguars have already spent a combined $259.5 million on free agents. Some of the contracts they handed out were smart ones, like landing Pro Bowl offensive guard Brandon Scherff. Some of the contracts they handed out were not so good, like the massive deal they handed out to wide receiver Christian Kirk.
Jacksonville bringing in talent while Trevor Lawrence is still on his rookie deal is smart. However, committing over a quarter-billion dollars to free agents is a level of desperation that few teams reach. Signing free agents can be helpful. Overpaying? Not so much.
Urban Meyer can be blamed for the Jaguars' intense spending spree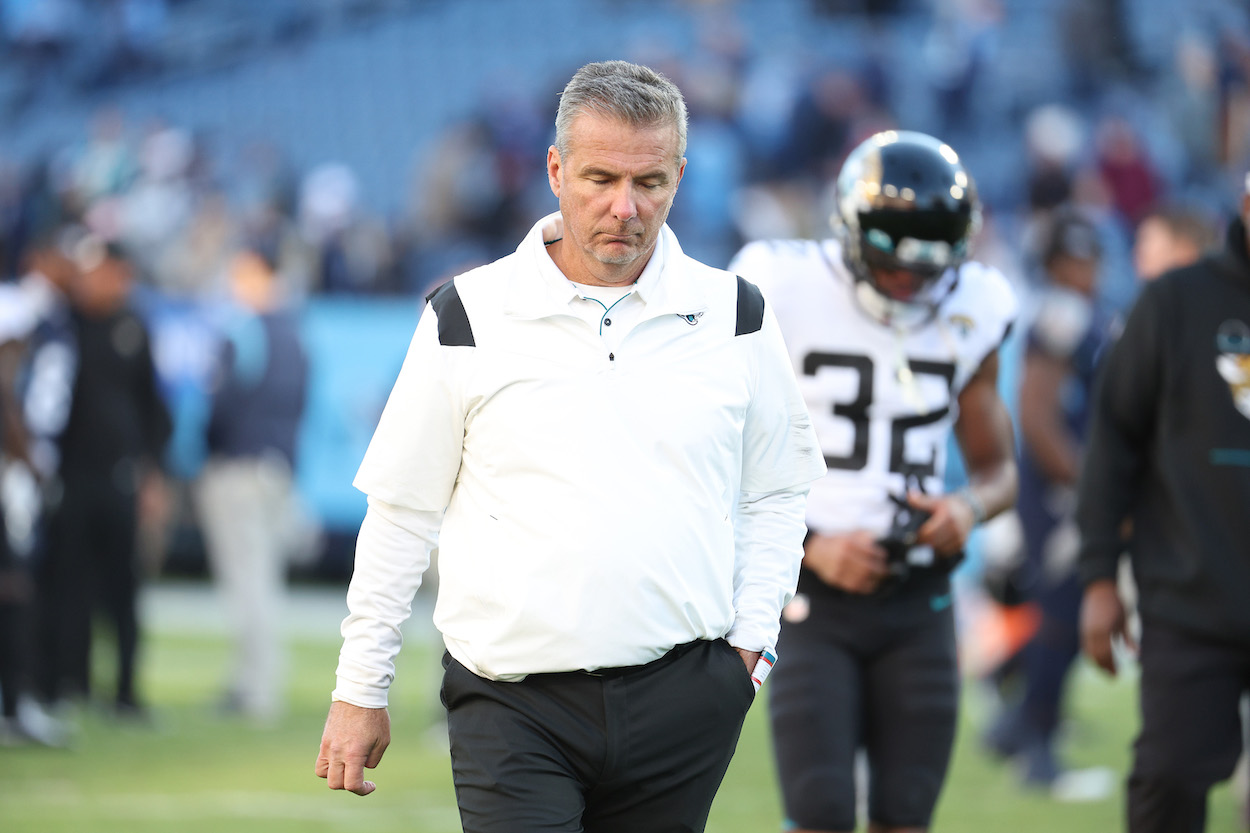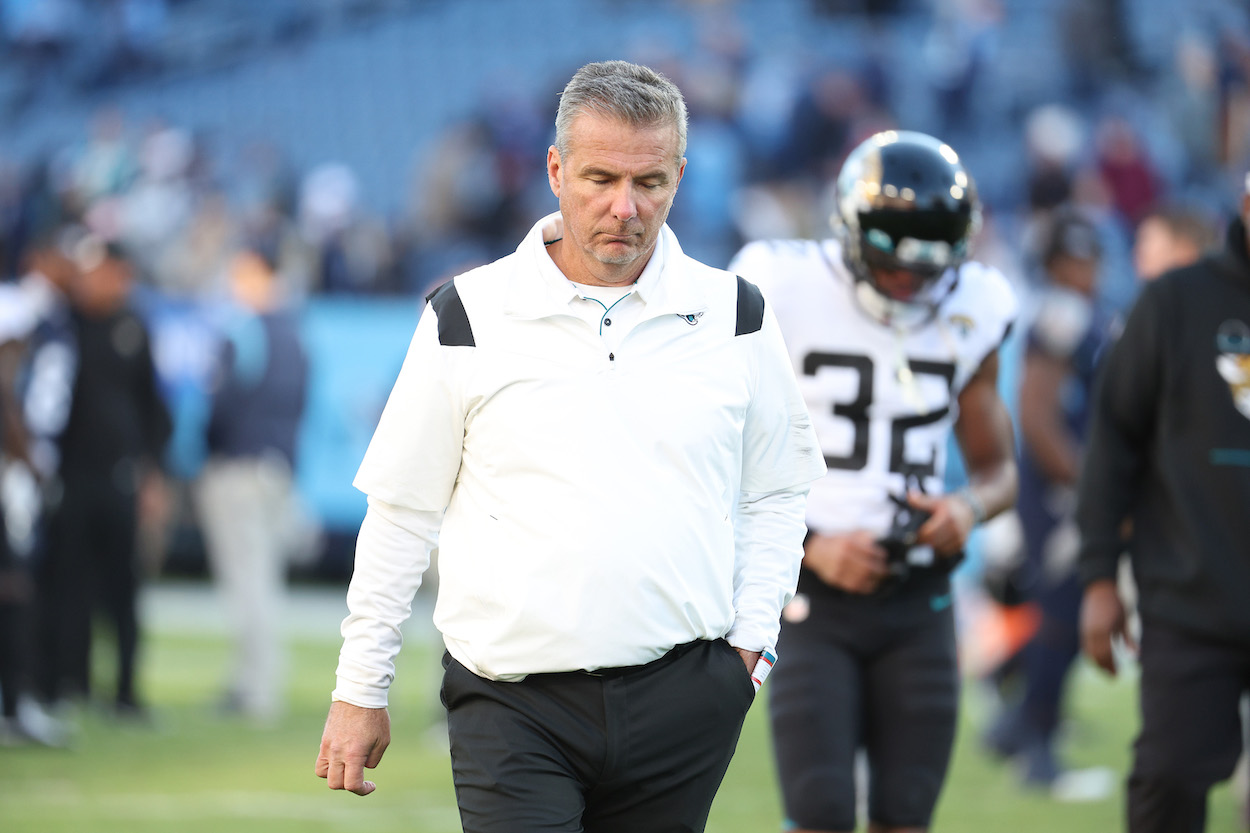 Jaguars general manager Trevor Baalke is the leading man responsible for the team's massive financial commitments over the past few weeks. He's the one handing out the big contracts. However, it's worth acknowledging that former head coach Urban Meyer plays a role in all of this.
The Urban Meyer experience in Jacksonville was a spectacularly bad one. Not only was he engulfed in constant off-the-field controversy, but he was a terrible head coach. Young players regressed under his watch, leaving the Jaguars in a precarious position moving forward.
Fresh off such a disastrous season. Jaguars ownership and the front office undoubtedly feel pressure to generate some much-needed excitement again. Fans are getting restless, and Doug Pederson likely demanded talent be brought in upon taking the job. Add all these factors together, and you end up with a franchise desperate for talent, willing to overpay for average talent on the open market.
Jacksonville needs to leave Urban Meyer in the past
The city of Jacksonville won't be forgetting Meyer's stint as HC anytime soon. However, for Pederson, Baalke, and the Jaguars, they need to do their best to leave that era behind them.
The focus needs to be on developing and coaching young talent moving forward, not just endlessly spending in free agency.
It's great that the team was able to land some notable free agents and take attention away from their ugly 2021 season. However, great teams are built through the draft and on the practice field. The Jaguars can't spend their way to the playoffs, especially in the hyper-competitive AFC.
Like Sportscasting on Facebook. Follow us on Twitter @sportscasting19.