Why Wasn't Joe DiMaggio a First-Ballot Hall of Famer?
Some sports fans think it's a bigger honor to be a first-ballot Hall of Famer than it is to be inducted in subsequent years after an athlete's first year of eligibility. Ultimately, the end result is the same — you're a Hall of Famer. Case in point is Yankee great Joe DiMaggio. He had to wait until his third year of eligibility to make it into the National Baseball Hall of Fame. Here's why.
Joe DiMaggio's MLB career
DiMaggio played 13 seasons in the majors, all with the Yankees. But he took three years off from 1943-45 to fight in World War II. The centerfielder played in more than 1,700 games in his career, hitting an impressive .325 with 361 home runs and 1,537 RBI.
DiMaggio finished his career with a .579 slugging percentage, which is still the 10th best all-time nearly 70 years after his 1951 retirement. The outfielder had a 79.1 WAR, and he won the American League MVP three times — in 1939, 1941, and 1947. The California native also earned the AL batting title in back-to-back seasons in 1939 and '40.
DiMaggio's biggest claim to fame involved his 56-game hitting streak in 1941. It still stands as the longest hit streak in MLB history, and one that's unlikely to be passed anytime soon. The 13-time All-Star played in 10 World Series, with the Yankees winning nine of them.
Missing out on the Hall of Fame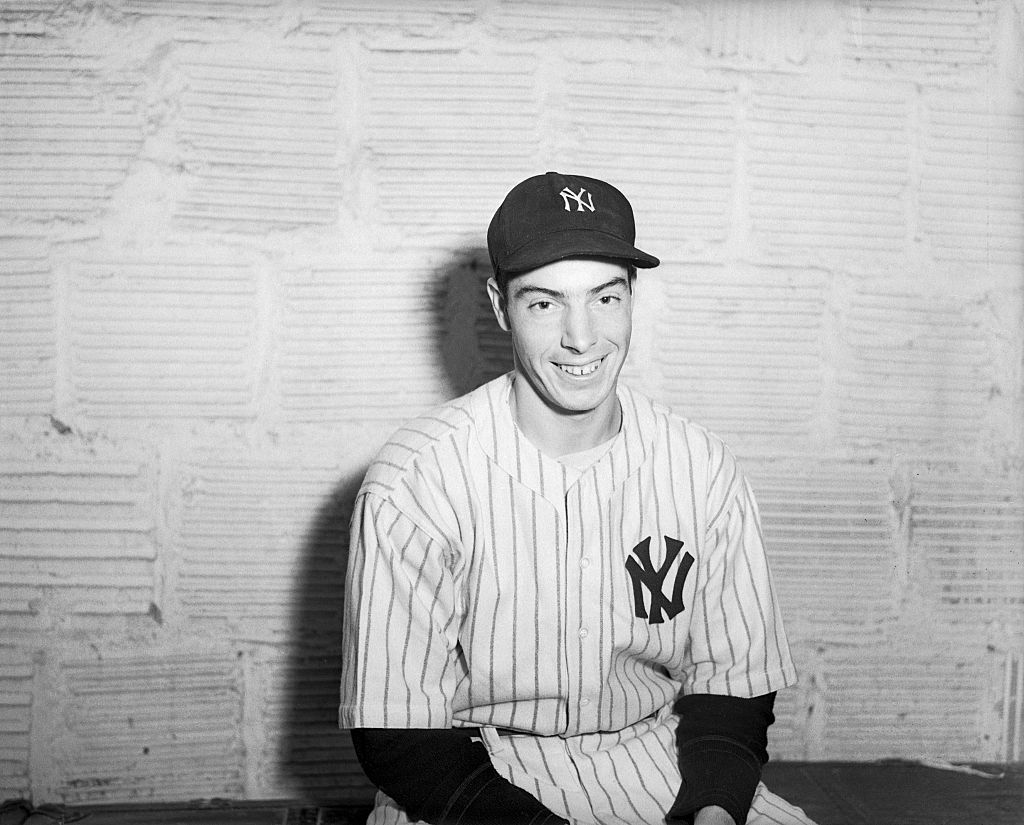 DiMaggio announced his retirement in December 1951 and became eligible for the Hall of Fame a year later, as he was exempt from the newly instated five-year waiting period. When he was first up for induction in 1953, fans considered him a shoo-in to become a first-ballot Hall of Famer.
The Sporting News even ran an article with the headline "DiMag Heads for Speedy Election to Shrine" before the BBWAA announced the results. Early returns supported that thought, but it wasn't meant to be. DiMaggio earned just 44.3% of the writers' vote, finishing in eighth place. Many believe he didn't get more votes because a lot of voters didn't like choosing a player just a year after he retired. (Lou Gehrig is the only player to enter the Hall of Fame that quickly.)
The following year, DiMaggio went up to 69.4% of the vote but still missed induction by 14 votes. He was fourth on the ballot in 1954, but again voters didn't want to vote for him just two years out of the game. Many believes the voters wanted to recognize players who'd been waiting longer. The three players inducted that year had each been on the ballot for between nine and 14 years.
DiMaggio finally makes it
DiMaggio's time came in 1955, when he earned 88.8% of votes in his third year on the ballot — easily surpassing the 75% needed to enter the Hall of Fame as he appeared on 223 of the 251 submitted ballots. The centerfielder led a class of four that year, with Ted Lyons, Dazzy Vance, and Gabby Hartnett joining him — each had been on the ballot for at least 10 years.
During his induction speech, DiMaggio noted that he tried to model himself after Gehrig; he'd watched every move the legend had made on and off the field. DiMaggio concluded his speech by noting, "The last chapter has been written. I can now close the book."