Why Was Zion Williamson the Consensus No. 1 Pick in the 2019 NBA Draft over Ja Morant?
The 2021-22 season has seen Zion Williamson and Ja Morant move in two entirely different directions. Ja is now a complete A-list superstar as he leads the Memphis Grizzlies to the top of the Western Conference, while Zion hasn't played a single game for the New Orleans Pelicans.
The more news that comes out of NOLA concerning its franchise player, the more — well, concerning — the future of Williamson's career with the Pels looks.
But it wasn't supposed to go down this way. Zion was the clear-cut No. 1 prospect in the 2019 NBA Draft. Across the board, scouts raved about his unique physical abilities and his character as a player who could lead a franchise, even one in a small market like New Orleans.
What was it about the Duke phenom that had teams drooling, and why was Ja rarely, if ever, in consideration for the top pick?
Zion and Ja were the top two prospects in the 2019 NBA Draft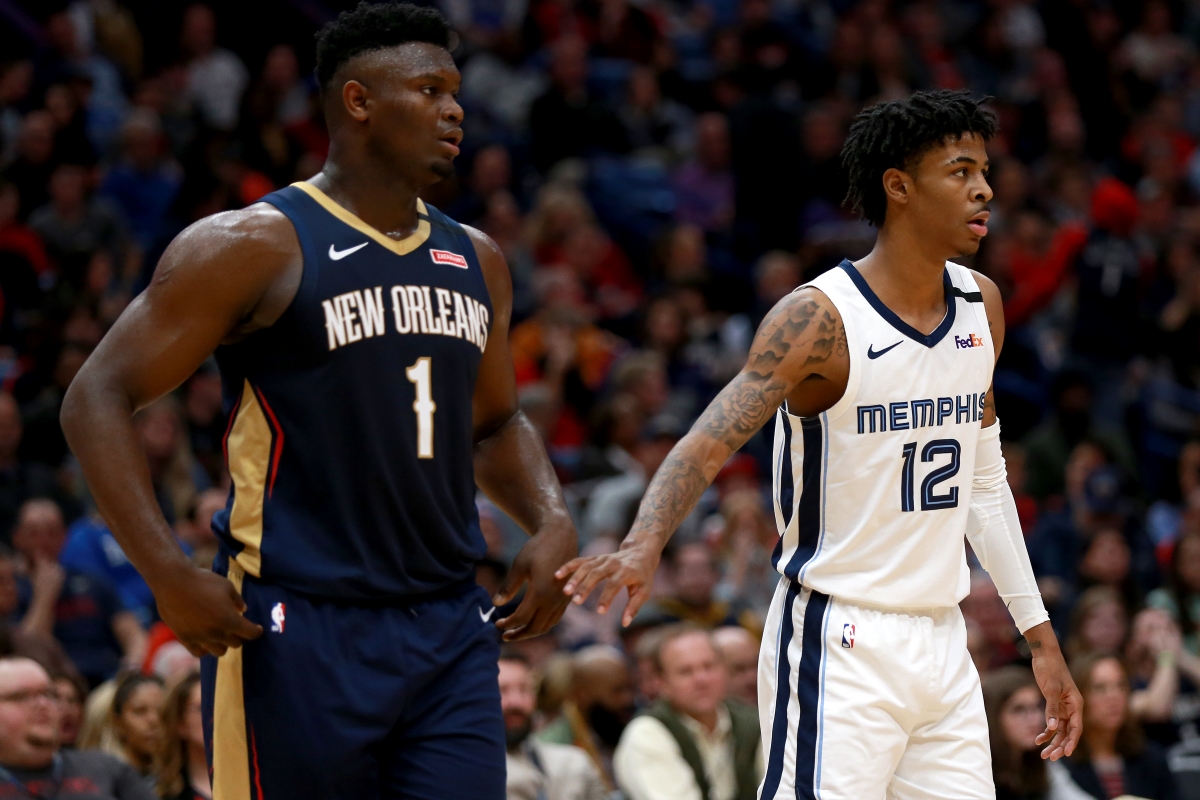 Most scouts projected Zion Williamson to go No. 1 overall to the Pelicans and Ja Morant No. 2 to the Grizzlies from the outset of the draft process. Williamson's teammate at Duke, RJ Barrett, was the third prospect in that top tier.
(In true New York Knicks fashion, they ended up with the third pick and had to settle for Barrett).
In Kevin O'Connor's 2019 draft guide on The Ringer, the 6-foot-7, 285-pound Williamson was described as a "gravity-breaking athlete with the all-around skill to be one of the league's best superstars."
At the time, that was the consensus around the NBA. Zion dominated college basketball with his combination of size, unreal athleticism, and high-character intangibles (more on that whiff later).
Morant was No. 2 on O'Connor's big board and described as an "athletic wonder and clever playmaker who needs to develop his jump shot and curb turnovers to unlock his true potential."
Barrett, De'Andre Hunter, and Cleveland Cavaliers' budding star Darius Garland rounded out The Ringer's top five. But the top two were set long before draft night.
Why was Zion a lock to go No. 1?
Williamson dominated the best conference in college basketball to the tune of 22.6 points, 8.9 rebounds, and an effective field-goal percentage over 70. (Not to mention his numerous nightly highlights).
But not only was Zion athletic, he was highly versatile. It wasn't difficult to imagine him as the screener or ball-handler in pick-and-rolls. He was a potential positionless defender because of his size and quickness. He could finish through — or over — contact but was willing to pass out of double teams too.
He showed all the intangibles you could want in a No. 1 pick — he wasn't afraid to chase down loose balls, dive on the floor, or get his teammates involved. When he blew out a shoe (he was that explosive) and injured his foot, he refused to shut down his season and prepare for the draft.
Instead, he scored 31 points in 35 minutes in a rivalry game against North Carolina in the ACC Tournament semifinal. He missed the first two meetings with UNC but wasn't about to miss a third, via SI.com.
"It was tough watching the first two games," Williamson said. "I watched my brothers out there battling and I wished I could go to war with them but it was very exciting to get out there and play."
So not only was he the clear-cut No.1 player on the court, but his unselfishness and team-first attitude made him the No. 1 player off it too. Zion was a sure thing.
Until he wasn't.
Things worked out for the Grizzlies, not so much for the Pelicans
Would Memphis have taken Williamson No. 1 overall if they had the pick? Yeah, most likely. So would almost every other NBA franchise.
Unfortunately for the Pelicans, though, their supposed franchise superstar has played a total of 85 career games through three-quarters of his third season. He was limited to 24 in his rookie campaign as the team brought him along slowly after injury and then played only 61 last year.
When he's on the floor, he's been everything everyone expected him to be. But he can't.
And now we're wondering just what kind of high-character and team-oriented player Williamson is. Reports have been surfacing left and right over the last few days about how he's a detached teammate, hasn't been able to control his weight, doesn't trust the New Orleans organization, didn't bother to reach out to new teammate CJ McCollum after he arrived in a trade from Portland, and that his time with the Pels might be ending before it ever really began.
Morant, meanwhile, has exploded onto the scene in his third year (after winning the 2019-20 Rookie of the Year Award over Williamson). He's in the MVP conversation and has his Grizzlies team third in the West at 41-20.
Ja is averaging 26.7 points, 5.9 rebounds, 6.8 assists, and 1.2 steals on 48.9% shooting and has been every bit as athletic as he was projected to be coming into the 2019 draft.
All that while Zion is averaging zero points, zero rebounds, and zero assists in zero minutes played.
Williamson had every reason to be considered the No. 1 prospect and more of a franchise-altering player than Morant, both on the court and off it. But things have taken a dramatic turn in the other direction, and he hasn't lived up to any of those expectations.
Despite the Pelicans landing the most highly-regarded prospect in years, it's the Grizzlies who got a franchise-changer. New Orleans has only gotten a franchise absentee.
All statistics courtesy of Basketball Reference.
RELATED: Zion Williamson Situation Means We Need to Talk About the Rookie Contract Problem