NFL: 5 Wide Receivers Who Can't Seem to Score Touchdowns
In the NFL, it pays to score touchdowns. Literally. Every year, when free agency comes around, we see the offensive players who have a knack for finding the end zone cash in by signing massive contracts either with their current team or on the open market. One position that is heavily relied upon to produce touchdowns is wide receiver.
Over the last few seasons, the benchmark for a productive season in terms of touchdown receptions has become 10. There were 10 wide receivers around the league that posted 10 or more touchdowns in 2015. With the league-wide trend toward more pass-heavy offenses, that number could very well increase in 2016.
Still, several talented wide receivers around the league — despite their impressive stats and physical ability — just can't find their way into the end zone on a regular basis. Here is a list of five notable players who all demonstrate that they can be productive in the NFL, but cannot seem to consistently score touchdowns.
1. Danny Amendola
Career Stats:
342 receptions
3,207 receiving yards
13 touchdown receptions
When Danny Amendola signed with the New England Patriots in 2013, many people felt that the former Texas Tech standout would be the second coming of Wes Welker. While he has been a solid contributor during his time in New England (and with the Los Angeles/St. Louis Rams), one thing Amendola hasn't done is score a lot of touchdowns.
His career-high in touchdown receptions for a single season is three (which he accomplished in 2012 and 2015). In total, he has averaged under two touchdown catches per season.
2. Travis Benjamin
Career Stats:
109 receptions
1,683 receiving yards
10 touchdown receptions
Travis Benjamin had a breakout season for the Cleveland Browns in 2015, posting career highs in receptions, receiving yards, and touchdown catches. While he has emerged as one of the most explosive young wide receivers in the game, the 5-foot-10, 172-pounder has yet to prove that he can be a touchdown machine in the NFL.
In his four-year NFL career, Benjamin has caught 10 touchdown passes — five of which came in 2015. To be fair, his low touchdown total can largely be attributed to having to play with below-average quarterbacks during his time in Cleveland.
That said, don't be surprised if Benjamin comes close to 10 touchdown receptions in 2016 now that he will play with Philip Rivers and the San Diego Chargers.
3. T.Y. Hilton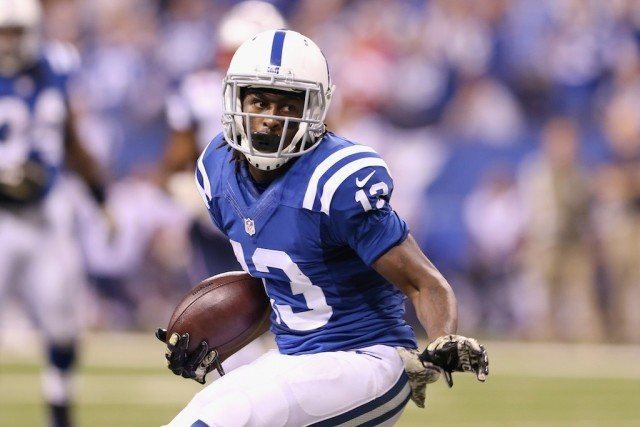 Career Stats:
283 receptions
4,413 receiving yards
24 touchdown receptions
Over the past four seasons, it has become clear that T.Y. Hilton is the Indianapolis Colts' No. 1 wide receiver — without question. Aside from finding his way into the end zone, he has the stats to back it up. In his four years with the Colts, Hilton has posted an average of 71 receptions, 1,104 yards, and six touchdowns per season.
While those stats are impressive, Hilton's touchdown totals are what continue to keep us from classifying him as an elite NFL wide receiver. Until he can post a double-digit touchdown total for a single season, which we don't think will happen anytime soon, Hilton will remain in the second-tier of NFL wideouts in our eyes.
4. Mohamed Sanu
Career Stats:
152 receptions
1,793 receiving yards
11 touchdown receptions
After spending the first four years of his career with the Cincinnati Bengals, Mohamed Sanu cashed in during free agency this offseason, signing a five-year, $32.5 million contract with the Atlanta Falcons.
While he continues to prove that he has Pro Bowl-caliber talent, Sanu's career numbers — especially his touchdown totals — don't really justify his hefty contract. Looking forward, we don't really see his touchdown totals increasing, as Julio Jones is (and will continue to be) the focal point of the Atlanta passing attack.
5. Tavon Austin
Career Stats:
123 receptions
1,133 receiving yards
9 touchdown receptions
When the Rams used the No. 8 overall pick in the 2013 NFL Draft on Tavon Austin, they thought that they would get a dynamic touchdown-scoring offensive weapon. In reality, what they got was a player who has produced nine touchdown receptions in three seasons, which results in the team still having a glaring hole at wide receiver.
In all fairness, though, Austin has proven that he is explosive with the ball in his hands (he is one of the better punt returners in the league). He just simply wasn't worth his draft slot.
Statistics courtesy of Pro-Football-Reference.com and ESPN.com.