Will Adrian Peterson's Dark Past Tarnish His NFL Legacy?
Since 2007, Adrian Peterson has been one of the top running backs in the NFL. His decline in recent years only serves as a reminder that the 35-year-old is far older than most at his notoriously short-lived position. The special athlete will be revered well after his time in the NFL ends. However, Peterson's remembrance will likely come with an asterisk.
In 2014, he triggered a wave of headlines for the wrong reasons. The NFL suspended the running back for six games. His career stats will always reference his missing time with the Vikings and child abuse conviction. Let's discuss Peterson's legacy and whether his handling of the scandal undermines it all.
How Adrian Peterson became one of the best running backs in the NFL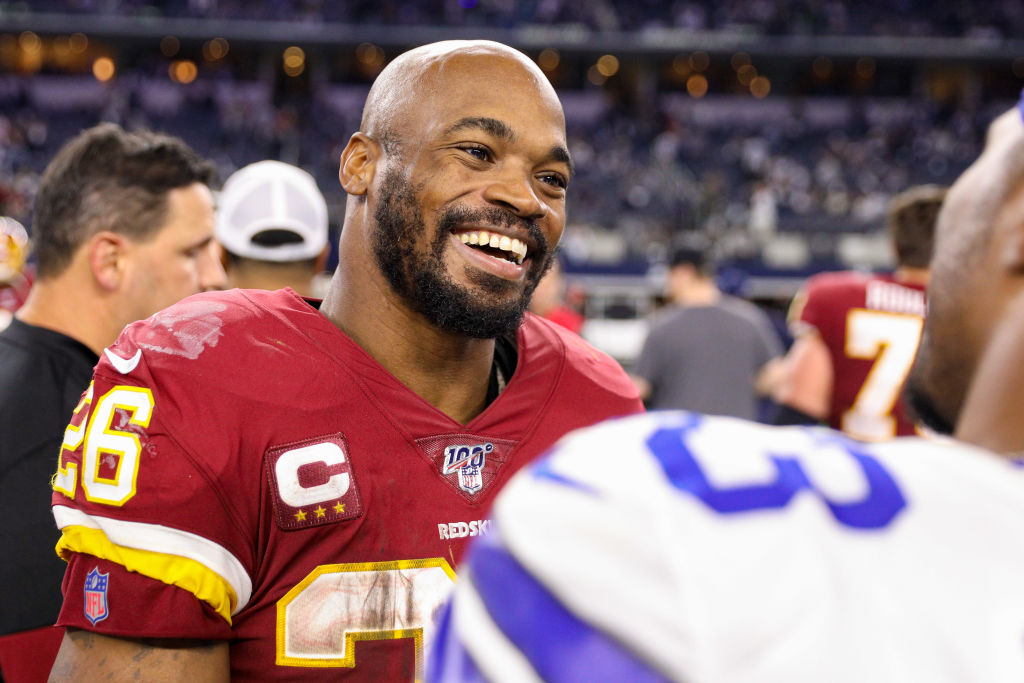 RELATED: Redskins' Adrian Peterson Reveals When He Wants to Retire
A unanimous All-American in 2004, Peterson was always going to go in the first round of the 2007 NFL draft. He went seventh overall to the Vikings, and immediately made a mark. He got the NFL Offensive Rookie of the Year award, as well as a rare rookie Pro Bowl MVP thanks to his 129 rushing yards.
He'd appear in Pro Bowls six more times, most recently in 2015. In 2012, he exploded with 2,314 all-purpose yards from scrimmage, getting him an overall NFL MVP nod. The next season, reports Sports Illustrated, he became the third fastest player to reach 10,000 rushing yards. Hall of Fame material, without a doubt. But his sterling reputation as a player, his place in history, could be undermined by his home life.
The 2014 child abuse case that shocked the sports world
RELATED: Has a Wide Receiver Ever Won the NFL MVP?
On Sunday, May 18, 2014, a police report began filtering through the press. A doctor who examined Peterson's son during a routine checkup noticed lacerations on the child's back, legs, arms, and buttocks, according to CBS Sports. Doctors had to pass on any signs of child abuse to law enforcement.
Peterson admitted he caused the injuries. His son had pushed a sibling off of a motorbike video game. Peterson punished the boy by repeatedly hitting him with a "switch," a cut, flexible tree branch. By Friday, September 12, 2014, Peterson was indicted for "Reckless or Negligent Injury to a Child." He was immediately deactivated by the Vikings.
As the team's corporate sponsors became increasingly restless, the running back ultimately took on a six-game, unpaid suspension. According to ESPN, he attempted to have the ruling overturned, but lost to the league.
How Peterson's child abuse conviction and subsequent attitude could tarnish his legacy
The child abuse scandal was embarrassing for the NFL amidst heightening tensions over its handling of domestic abuse allegations. The Vikings showed little willingness to defend Peterson, albeit always limiting their punishment to those six games. But it could be Peterson's own reaction to the incident, then and later on, that will tarnish his legacy the most.
Peterson pushed past an attempt to have his child removed from his custody. He made a strong enough case to a judge that he would be responsible for his child and avoid harsh punishments. However, he never expressed much remorse for the idea of corporal punishment. This, despite the noted ineffectiveness of such parenting tactics by research published by the National Institute of Health.
He served his time: two years probation, a $4,000 fine, and 80 hours of community service according to ESPN. The same article, from 2018, notes that Peterson hasn't actually removed corporal punishment from his parenting. Instead, the current Washington Redskins RB uses a belt.
"There's different ways I discipline my kids," Peterson said. It's a relatively flippant response to a tactic that, over applied somewhat in one incident, led to a misdemeanor charge and millions in lost revenue from his suspension. Any summation of Peterson's career will sadly have to confront this aspect of his life, no matter how focused on football it tries to be.