Will Bogdan Bogdanović's FIBA World Cup Feat Spur NBA Teams to Poach Him From the Kings?
The Sacramento Kings guard arrived from Europe with little fanfare; now he's one of the best players on the team. Bogdan Bogdanović gained more fame after impressing everyone in the 2019 FIBA World Cup. He continued to play well for a dysfunctional Kings team. Now, Bogdanović looks set to earn a big payday in free agency next summer, be it from Sacramento or another team. 
Bogdan Bogdanović cements his NBA status in the World Cup
Bogdanović took the scenic route to legitimacy in the NBA. He began his career in his native Serbia playing for Partizan Belgrade before moving to the Turkish club Fenerbahce for three years. Bogdanović won the EuroLeague Rising Star award twice and helped Fenerbahce win its first-ever EuroLeague title in 2017. Then, the shooting guard took the leap to the NBA. 
The Suns selected him with the 27th pick in the 2014 draft. But Phoenix traded his rights to Sacramento as part of a deal for the eighth overall pick (Marquese Chriss). Bogdanović is the only player involved in the deal who is still on the same team. 
Bogdanović had some moments in his rookie year, like when he became the Rising Stars Challenge MVP during All-Star weekend. But playing for a mediocre, small-market team makes it hard to attract attention. After the 2019 FIBA World Cup, however, Bogdanović's star got a lot brighter.
Bogdanović was part of a Serbia team that was projected to be one of the best teams in the tournament. The team finished in an underwhelming fifth place, but he was by far the best player in the tournament.
The shooting guard averaged 23 points, four rebounds, and four assists over eight games. He shot 55.6% from the field and 53% from the three-point line. Bogdanović was particularly good in wins against Spain and a weakened U.S. team. The World Cup showed that Bogdanović has the potential to be an NBA player of real significance.
What are Bogdanović's assets as a player?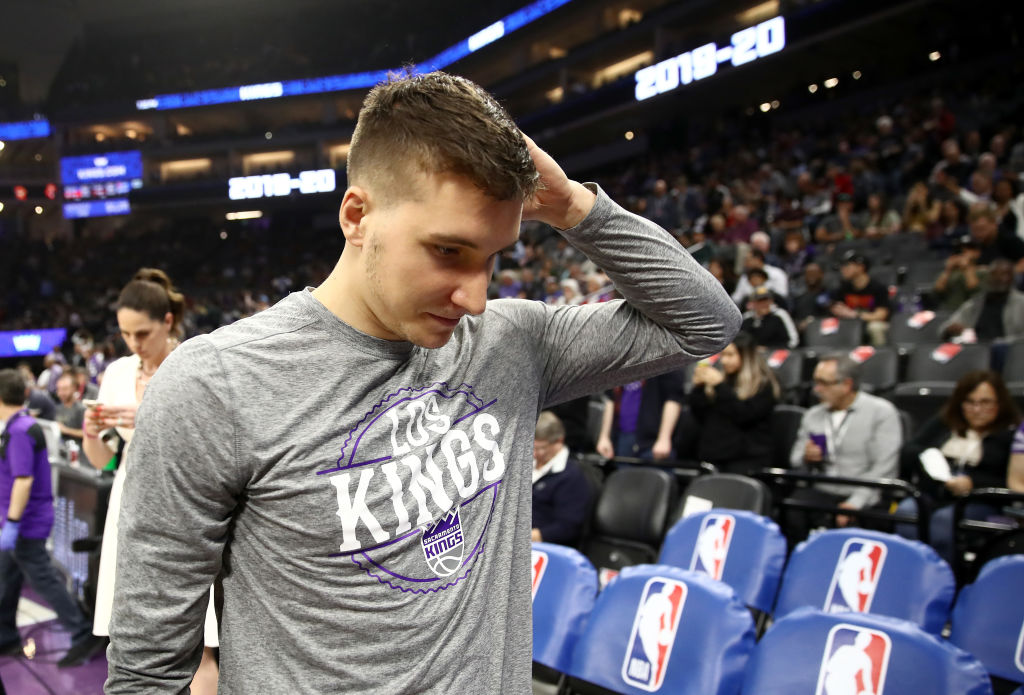 The NBA is more obsessed with versatility with each passing year. The most sought-after players can help the team with multiple skills. Anyone with an obvious weakness on either end of the floor gets exposed in the playoffs, even if they're All-Stars.
Bogdanović is a valuable player because he fits this trend. His well-roundedness is his best skill. On offense, he's at least solid at everything. Although his three-point shooting has waned slightly since his rookie year, he still hits them at an above-average rate of 36%. Bogdanović can shoot off the dribble or as a spot-up threat. He can also run a pick-and-roll and push the ball in transition.
Bogdanović's broad talents mean he can find a spot in different lineups. He's less impressive on defense, but he's big enough and smart enough not to be a liability. In the end, Bogdanovic's lack of weaknesses makes him a highly desirable player with an appealing NBA future. 
On the 2010 Kanye West track, "So Appalled," Jay-Z asks, "Would you rather be underpaid or overrated?" Bogdanović will likely relate to that line more in a few months when he hits the open market.
Bogdan Bogdanović will be a big winner in free agency
On its face, his 2019-20 season was unspectacular. Bogdanović is averaging 14 points, three rebounds, and three assists for a Kings team that's gone backward this season.
But look deeper at the states and you'll see Bogdanović has been one of the team's more reliable players. He's having a career year on two-point field goals. His offensive and defensive ratings show he's playing at the same level he did last year. The solid player would have a larger role on many other teams.
Bogdanović started the season on the bench behind Buddy Hield, who was great last year and got a large contract extension from the Kings. But Hield has underperformed this year to the point that he traded spots on the bench with Bogdanović in January. The Kings improved, but Hield is frustrated and has no problem saying so, as Fansided reports.
Sacramento started the season with hopes of earning a playoff spot. But getting rid of Dave Joerger to hire Luke Walton as head coach made the team worse. Walton forced the team to play slower for much of the season. They've been unlucky with injuries to players like De'Aaron Fox — Bogdanović himself has only played 53 games this year — but many of the problems are self-inflicted.
This will only mildly matter once Bogdanović is a free agent. The upcoming free-agency class is one of the weakest in years, and he will profit from the lack of big names. Bogdanović reportedly turned down a deal worth $151.4 million last summer, according to Bleacher Report, and that's not as crazy as it initially sounds.
Every free-agency period features struggling teams desperate to make a splash. Bogdanović is a restricted free agent, so Sacramento can match any offer, but having him and Hield on big contracts doesn't seem feasible. He has a solid modern skillset, and his displays in the World Cup show he's ready to take on a bigger role.