Will Brock Lesnar Return to the UFC to Fight Jon "Bones" Jones?
Brock Lesnar is still an active superstar in World Wrestling Entertainment. When WWE Smackdown debuts Friday night on FOX, Lesnar will be fighting Kofi Kingston for the WWE Championship. At 42-years-old and with plenty of money in the bank, a return to the UFC seems pretty far-fetched at this point in Lesnar's career.
But thanks to WWE Hall-of-Famer and Olympic gold medalist Kurt Angle, the question has resurfaced in recent months. Will Brock Lesnar return to the octagon at some point?
Kurt Angle suggested that Brock Lesnar wants a fight against Jon Jones
In an interview with ESPN's Ariel Helwani in August, Kurt Angle was asked if we'd ever see Brock Lesnar fight in the UFC again. Angle's answer came as a bit of a surprise.
"I hope he does return," Angle said. "I know he's said that he's retired, but, I think the one fight he wants, and I don't know if it's ever going to happen, but he wants to go up against Jones, Jon Jones."
Kurt Angle went on to talk about how intriguing the matchup would be. "I think that would be an extraordinary fight. They're very different, their sizes are extremely the opposite, but Brock's a freak. He might not win all of his fights, he might not be the most polished fighter, but he is an incredible athlete."
Brock Lesnar won the UFC Heavyweight Championship at UFC 91 in 2008 and successfully defended it twice before having his career get sidelined in a bout with diverticulitis. Lesnar left the UFC after back-to-back losses in 2010 and 2011, returning at UFC 200 to fight Mark Hunt. Lesnar won that fight by unanimous decision, but it was eventually reversed to a no-contest after he tested positive for a performance-enhancing drug. The heavyweight hasn't fought in the UFC since.
Jon Jones has shown interest in the past
Back in February, Jones was asked if he was offered an equal opportunity fight with Brock Lesnar or Daniel Cormier, who would he fight? Jones quickly answered Lesnar, per MMAJunkie:
"I'd take Brock Lesnar," Jones told reporters before UFC 235. "I'd take Brock Lesnar because he brings in a whole different audience and people have already seen me make 'DC' cry twice already. I've got nothing against that guy. Let him have his heavyweight dominance."
After winning at UFC 235, Jones brought up the potential Lesnar fight again in his post-fight press conference. "I figure if I'm going to make the gamble, you might as well go extremely big," Jones told the press. "Go big or go home. And a Brock Lesnar fight, I mean, extremely high risk and extremely high reward. I don't really see myself versus anyone that could bring in the kind of numbers me and Brock could bring in."
Dana White originally stated that a Daniel Cormier vs. Brock Lesnar fight was more likely, Cormier's plan to retire after his next fight against Stipe Miocic might change White's tune.
Sadly, it's very unlikely to happen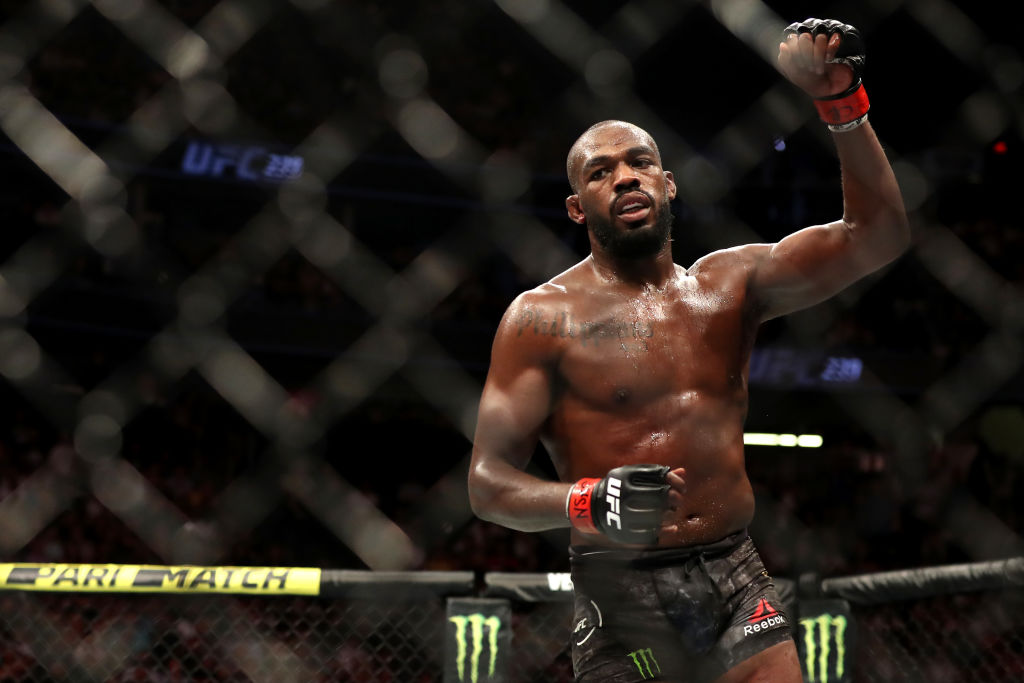 There are rumors that the WWE could be planning a Cain Velasquez wrestling match for Brock Lesnar if it is able to sign the former UFC Heavyweight Champion. And while UFC fans are clamoring for Jon Jones to move up to heavyweight to take on new opponents, the current UFC Light Heavyweight Champion has shown plenty of resistance in doing so.
Jones vs. Lesnar would be a compelling fight as Lesnar would have a clear size and strength advantage while Jones would have a clear technique and skill advantage. But until Jon Jones shows a willingness to move up to heavyweight and Brock Lesnar decides to consider leaving the WWE to return to the octagon seriously, this fantasy matchup will remain in our imaginations.