Will Brooks Koepka Crush Golf Nemesis Rory McIlroy in the 2020 Masters Tournament?
Rory McIlroy and Brooks Koepka are two of the biggest names in the PGA and for good reason. Both are at the top of the game, with Koepka winning the 2019 PGA Championship and McIlroy receiving the 2019 PGA Tour Player of the Year award.
The two are caught up in a game of musical chairs atop the PGA standings. As such, they may be facing the start of a rivalry.
Brooks Koepka vs. Rory McIlroy
There was a time when Irish golfer McIlroy was one of the bright young talents in the game. Winning his first major, the 2011 U.S. Open, at just 22 years old, McIlroy's poise under pressure did not go unnoticed. Over the next three years, he won four major championships, including two PGA Championships. Around this time, Koepka burst onto the scene.
Although Koepka is roughly the same age as McIlroy, it took him some time to get into the PGA. Once he did, he showed he was for real. The Florida native won his first major, the 2017 U.S. Open, and followed it up with another win in 2018. He also repeated his 2018 PGA Championship win in 2019. Although both the Masters and Open Championship have eluded him, Koepka shows his dominance.
Aside from battling for the No. 1 spot in the rankings, Koepka and McIlroy have faced off several times on the green. Koepka beat McIlroy in the final round at the 2019 WGC-FedEx St. Jude Invitational in Memphis. McIlroy, who reportedly learned of a text Koepka sent friends declaring preemptive victory there, followed it up with a victory at the FedEx Cup.
Is there a rivalry?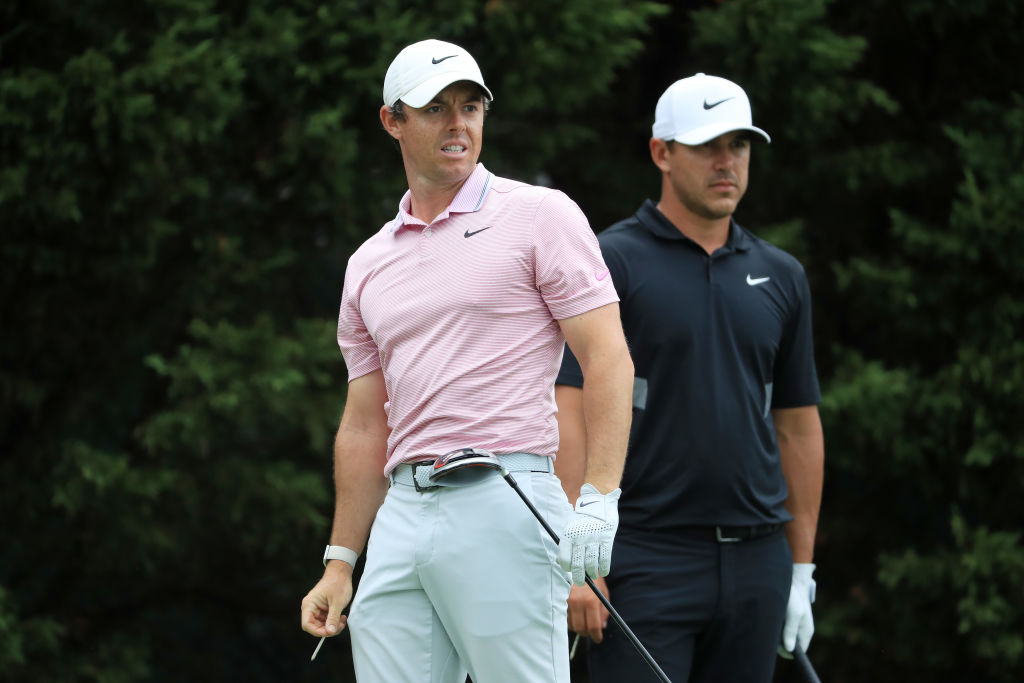 In a world where the sport does not get much interest from casual fans — unless Tiger Woods is having a throwback performance — the golf world would love for Koepka and McIlroy to become a celebrated rivalry. If you ask them, however, there isn't much of one despite some trash talk over the last years.
Koepka was candid with his feelings when asked about a rivalry. "I've been out here for what, five years," he said per the Golf Channel. "Rory hasn't won a major since I've been on the PGA Tour. So I don't view it as a rivalry."
Ever the good sport, McIlroy, who truly hasn't won a major since 2014, acknowledged that Koepka wasn't wrong. "I love Brooks, he's a great guy," McIlroy said. "Obviously super competitive, like we all are. I guess I can see where he's coming from."
Whether there's a rivalry or not, the two have a way of toeing the line between friendly banter and true vitriol. Entering the 2020 season, both have a shot at putting their money where their mouths are.
What comes next for Koepka and McIlroy?
Koepka has the momentum of winning several majors, but McIlroy remains in the front of the pack with rankings. At the upcoming WGC-Mexico Championship, the two will have a chance to build momentum. March's Dell Technologies Match Play could lead to intriguing additions to their history. Their best bet will come in April when the Masters begins on the 9th.
Rivalries in sports can mean a lot of things. Whatever the case may be, Koepka and McIlroy add intrigue to a sport that greatly needs it. With a lot of golf to take place in 2020, we will certainly see more.
Follow more updates from Sportscasting on our Facebook page.