Will Damon Sheehy-Guiseppi Make the Cleveland Browns 53-Man Roster?
No better story has come out of the 2019 preseason so far than the one developing in Cleveland around Damon Sheehy-Guiseppi. The 24-year-old lied his way into tryouts with the Cleveland Browns and has gotten by on showers at a 24 Hour Fitness and only one to two meals a day as he chases his dream of making an NFL roster.
He may have told a few white lies to get in front of the Browns coaches and trainers, but talent doesn't lie. Sheehy-Guiseppi runs a 4.38 40-yard-dash and has excellent instincts as a kick returner from his time spent returning kicks at Phoenix College. Those kick-returning skills were on full display in Cleveland's first game of the preseason on Thursday.
How significant was his kick return for a touchdown?
Sheehy-Guiseppi was targeted four times in the passing game, catching two passes for 12 yards. But where he really made his impact was in his one an only punt return of the game. With the Browns up 24-10 over the Washington Redskins in the fourth quarter, Damon Sheehy-Guiseppi caught the punt at his own 14-yard-line and went untouched en route to an 86-yard touchdown. He spotted the best route to the endzone immediately and put his speed to work by bursting through it without hesitation.
The entire Cleveland Browns team mobbed Sheehy-Guiseppi. The undrafted rookie has quickly become a locker room favorite for his unique story, personality, and incredible work ethic. The team was clearly thrilled to see him make the most of his big moment.
The significance of this punt return can not be overstated. Sheehy-Guiseppi was a huge underdog to even see preseason action as an undrafted rookie with no legitimate college football experience. It wouldn't have been surprising to see him get cut as early as this week as the team tries to get its roster down to 53 men before the 2019 season begins.
But now, he's not going anywhere, at least not yet. The Browns will have to give him more return opportunities next week, perhaps on kickoffs as well, to get a sense of whether or not the 24-year-old has what it takes to be Cleveland's primary kick returner during the regular season.
Who is he competing for a roster spot against?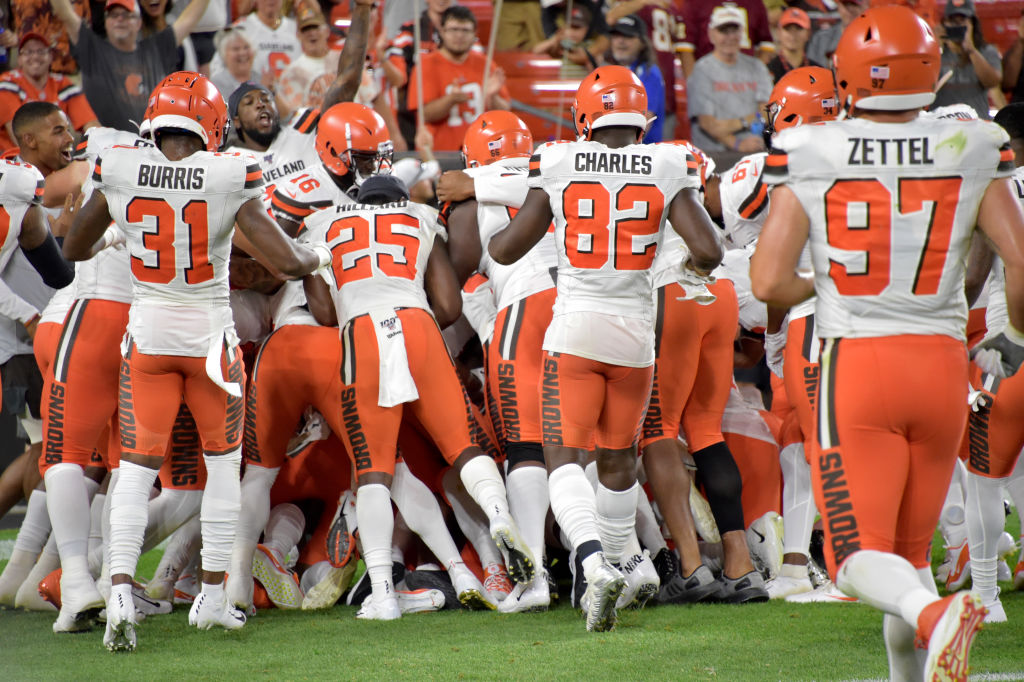 Most NFL teams carry six wide receivers on their 53-man roster. The majority of plays only call for two or three wide receivers, with a fourth usually being reserved for long passing plays down the field. The team's fifth wide receiver is there to move up the depth chart in case of an injury and to contribute on special teams. The sixth wide receiver provides even more depth and is often either inactive on game day or used on special teams.
Unfortunately for Damon Sheehy-Guiseppi, the 2019 Cleveland Browns are loaded at wide receiver. Odell Beckham Jr. and Jarvis Landry are locked into the top two spots on the depth chart as two of the best young wide receivers in the game. The recently-suspended Antonio Callaway was projected to be the team's No. 3 wide receiver, though Rashard Higgins (who had five catches for 98 yards and a touchdown in the team's preseason opener) could play his way into the role and bump Callaway down to No. 4.
So that leaves two spots open for Sheehy-Guiseppi, Jaelen Strong, and Derrick Willies to compete for. The problem for Sheehy-Guiseppi in this group is that he's going up against two 6'4" wide receivers with solid football backgrounds as Strong came out of Arizona State and Willies came out of Texas Tech. Sheehy-Guiseppi is 5'11" and weighs only 181 pounds.
Will he make the team?
Another cool twist on this story: Sheehy-Guiseppi told me he wore Odell Beckham's cleats tonight. Says he had misplaced the ones he wanted to wear. Beckham, who has taken a liking to the kid, said, "Here, I broke these in for you." pic.twitter.com/o41GIhGhBm

— Mike Garafolo (@MikeGarafolo) August 9, 2019
It's still a long shot. The most likely scenario is that Jaelen Strong and Derrick Willies fill out the No. 5 and No. 6 wide receiver positions on the squad and Damon Sheehy-Guiseppi is invited to join the team's practice squad.
That scenario isn't set in stone just yet though. Sheehy-Guiseppi's breakout speed and kick returning potential might be worth a gamble in the No. 6 wide receiver spot on another NFL roster, so the Browns could lose him if they try to send him to the practice squad.
Cleveland has put an added emphasis on special teams this offseason after struggling in this facet of the game in recent years. If Damon Sheehy-Guiseppi continues to thrive as a kick returner, maybe the Browns eventually decide that a drop-off in skill at wide receiver is a worthwhile trade for an uptick on special teams.
Time will tell. At the very least, this story has one more chapter in it, and that comes on August 17 when the Cleveland Browns visit the Indianapolis Colts in their second preseason game of 2019.