Will David Beckham Ever Coach England Soccer?
Can a great player be a great coach? For some, like former Boston Celtics star Larry Bird, it was easy. Bird was a great coach of the Indiana Pacers in the early 2000s before he stepped down. For other all-time greats, like Bird's rival Magic Johnson, it was more of a struggle.
One all-time great at soccer, David Beckham, recently discussed if he would consider coaching England's national soccer team. Beckham played for England for years.
What were Beckham's thoughts on the question, and would he make a good coach?
David Beckham's career highlights
Both as a member of England's national team and in club play, Beckham has quite a history of accomplishments in his career, including:
10-time Domestic League champion
Two-time UEFA Team of the Year
1998-1999 UEFA Footballer of the Year
95 career goals
157 career assists
517 appearances
41,245 minutes over 19 seasons
Beckham was best known for his ability to bend free-kicks in an almost inhuman way. The name for the film Bend It Like Beckham was a tribute to this.
He spent the first nine seasons of his career playing for Manchester United before moving to Real Madrid for four seasons. He went to the MLS's Los Angeles Galaxy from 2007-2012, also playing for Milan during that time. He spent his last season playing for Paris Saint-Germain before retiring after the 2012-2013 season.
Regarding his career with the English team, he played with them from 1996-2009. He played in the World Cup in 1998, 2002, and 2006. He scored 17 goals in 8,335 minutes. He also holds the dubious distinction of being the only player ever to be "sent off" twice with England.
David Beckham's post-retirement career
Beckham's been very active after leaving the game. On top of spending time with his wife Victoria and their children, he was part of an ownership group bringing an MLS expansion franchise to Miami, Florida. This came from a savvy deal Beckham made when he first came to MLS:
"When Beckham moved to the LA Galaxy in 2007, he received a purchase option from MLS which would allow him to establish a future franchise for $25 million rather than the usual $150M cost."
With savings of over $125 million, Beckham is sure to make a financial windfall from the team. The franchise plans to kick off in 2020.
He's also served as a Goodwill Ambassador for UNICEF.
Will David Beckham ever coach England soccer?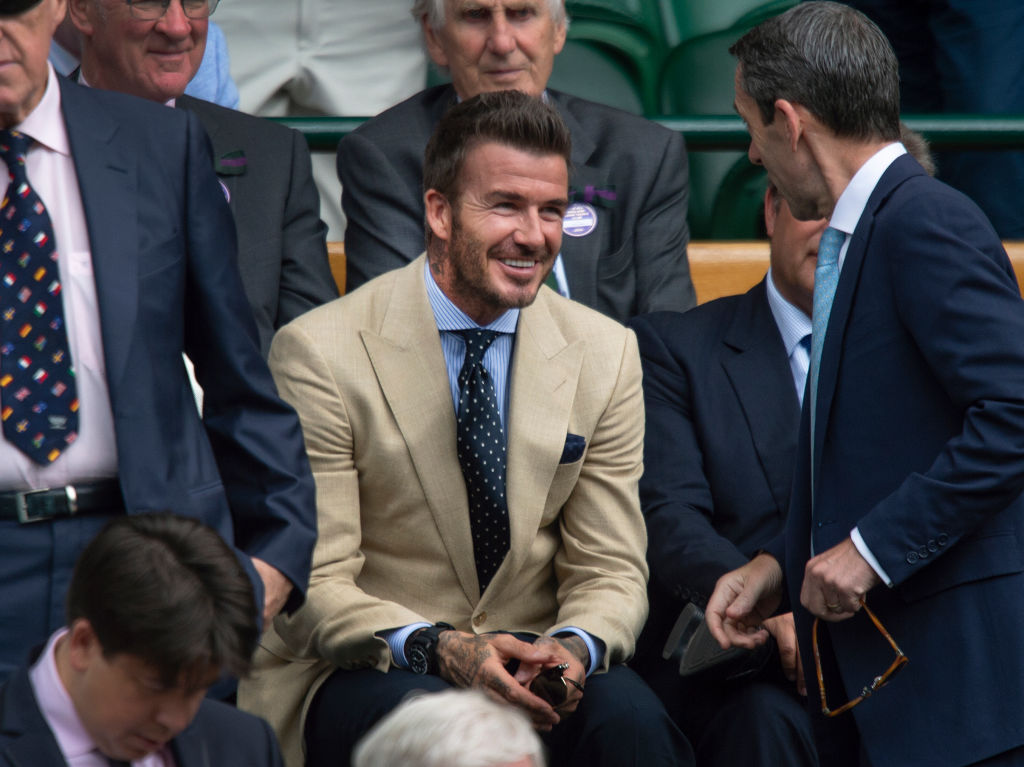 In an interview with GQ (via Bleacher Report) Beckham commented on the possibility of ever coaching England's national team:
"I think some people within the FA saw me possibly as a future England manager, just because maybe I had had a successful career being England captain. If someone turned around to me and said, 'If the England job came up, would you take it?,' I mean, of course I would think about it, because I'm a passionate Englishman and I'm passionate about our national side, but would I be any good at it? Who knows?"
It doesn't sound as though Beckham has the confidence needed to lead the English team, though he certainly possesses the requisite soccer knowledge. There also has to be the question of whether he'd be willing to put in the time necessary to be successful.
No one could question his work ethic as a player, but in the years since he's played, he's gotten involved in a lot of new business, personal, and charitable endeavors.
Prediction: Beckham will always be a strident supporter of the English soccer team but will never coach them. Great players can be great coaches, but many times they don't end up that way. This seems like if Michael Jordan were to come back to coach the Chicago Bulls. Beckham's doubt in whether he could do the job combined with his competing interests make this match unlikely.