Will Ezekiel Elliott Repeat as the NFL's Rushing Champ in 2017?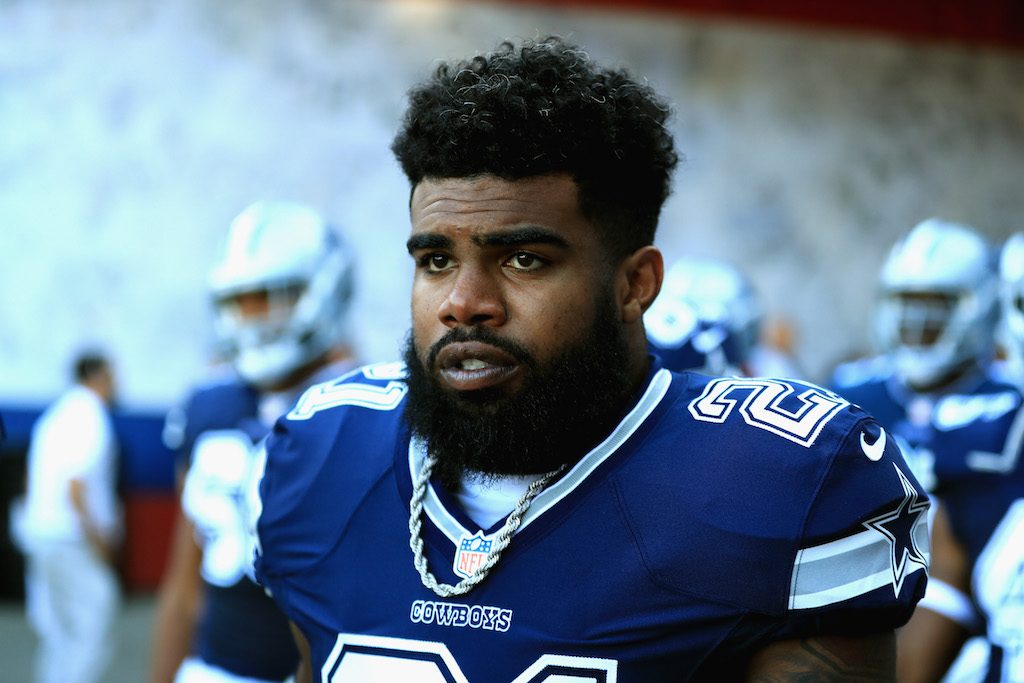 In 2016, Ezekiel Elliott put together perhaps the best rookie season for a running back in NFL history. With Zeke out there setting the tone, the Dallas Cowboys went 13-3, won the NFC East, and established themselves as a team on the up and up. What a difference a year makes.
If you're a true follower of the game, then you know it's only a matter of time before America's Team disappoints its fanbase. And right now, that "disappointment" comes in the form of a six-game suspension handed out to Elliott for violating the league's personal conduct policy. While the Cowboys running back filed an appeal of the ban, it's safe to say any suspension to the star player could be catastrophic to the Cowboys' season.
Prior to this news, you'd be hard-pressed to find anyone who didn't think Zeke could repeat as the NFL's rushing champion. The guy is just that good. Thanks to this latest setback, however, Vegas oddsmakers aren't so sure. Don't believe us? See for yourself.
[Editor's Note: Odds courtesy of Bovada via Odds Shark as of July 11, 2017.]
6. Jay Ajayi, Miami Dolphins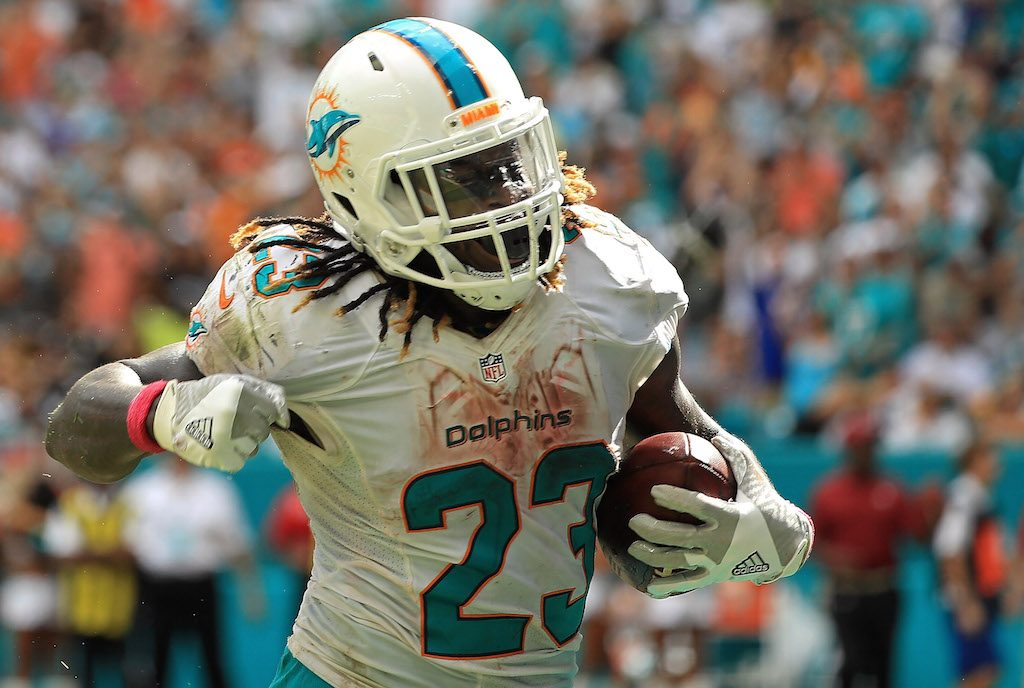 Odds: +1600
Miami's Jay Ajayi didn't "wow" anyone in his first NFL season 2015, but he definitely flipped the script in his sophomore campaign. Last year, the former Boise State product averaged 84.8 rushing yards per game, scored eight rushing touchdowns, and finished the season with 1,272 yards on the ground (fourth in the NFL).
This outstanding effort earned him a trip to the Pro Bowl. Not bad for a guy who had to wait until the fifth round (No. 149 overall) in the draft to hear his name called.
4. (tie) DeMarco Murray, Tennessee Titans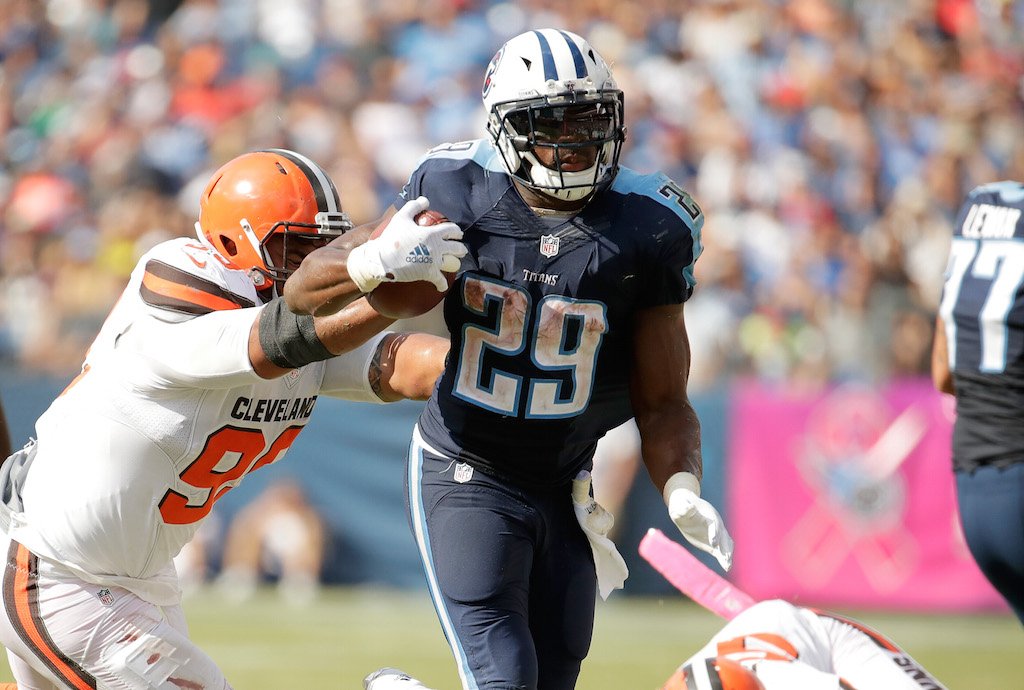 Odds: +1200
DeMarco Murray's lone season in Philadelphia in 2015 was a disaster. Luckily for Tennessee Titans fans, the one-time rushing champion regained his form a season later.
Murray played in all 16 games, turning 293 carries into 1,287 rushing yards (third in the NFL) and nine rushing touchdowns. He also caught 53 passes for 377 receiving yards and three touchdown receptions. Now that's how you bounce back and prove all those doubters wrong.
4. (tie) Jordan Howard, Chicago Bears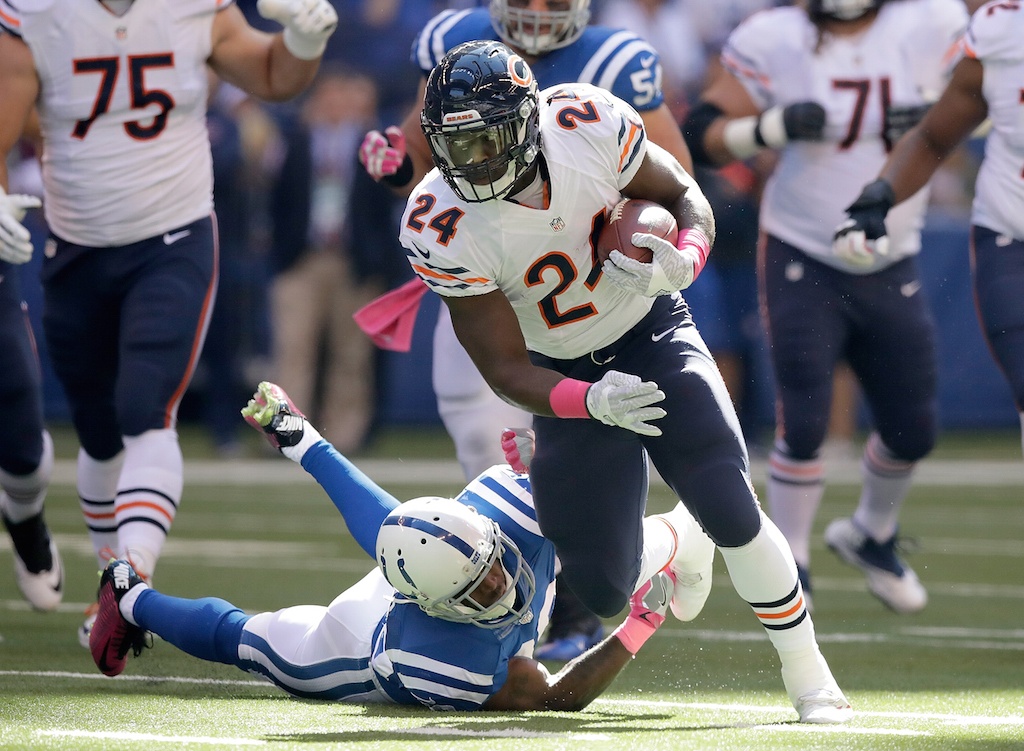 Odds: +1200
Jordan Howard wasn't selected until the fifth round (No. 150 overall) of the 2016 draft. Following his breakout rookie season, it's safe to say team are kicking themselves for passing up the former Indiana Hoosier.
The Chicago Bears back ran for 87.5 yards a game, amassed six rushing touchdowns, and finished second in the league in rushing yards with 1,313 yards on the ground. You better believe defensive coordinators will be game for Howard in 2017.
3. David Johnson, Arizona Cardinals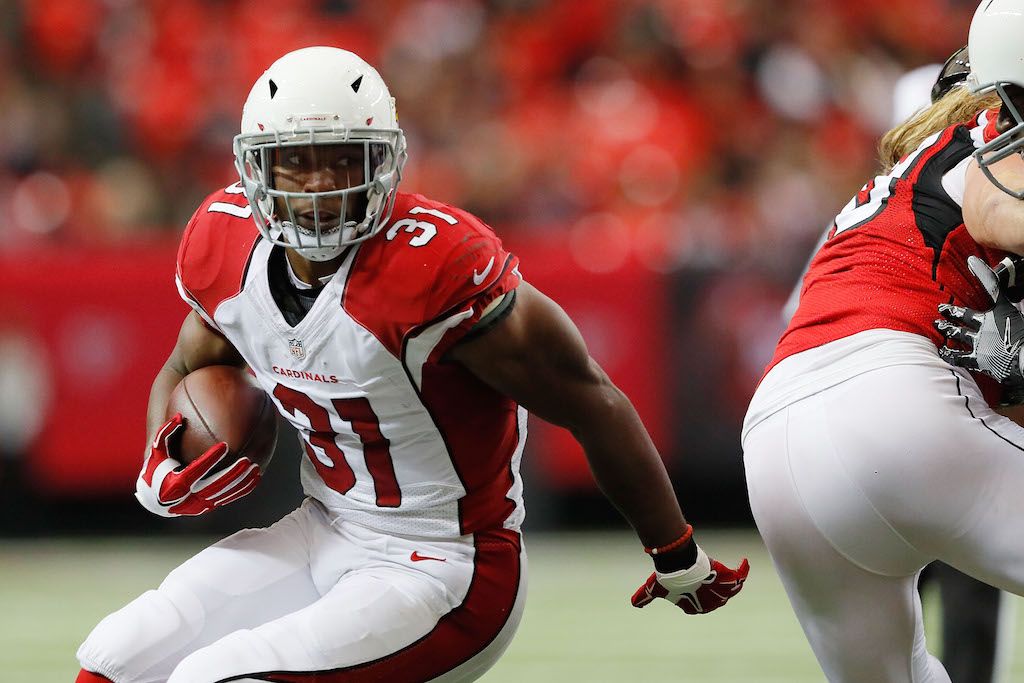 Odds: +1000
David Johnson broke onto the scene in 2015 with a beyond respectable rookie season. In 2016, the 6-foot-1 back out of Boise State proved it wasn't a fluke. The Arizona Cardinals' second-year pro rushed for 1,239 yards and 16 scores and finished the year with a league-leading 2,118 yards from scrimmage and 20 total (rushing and receiving) touchdowns (also the best in the NFL).
Even when you know he's coming, Johnson is clearly one of the most difficult players in the National Football League to stop.
2. Ezekiel Elliott, Dallas Cowboys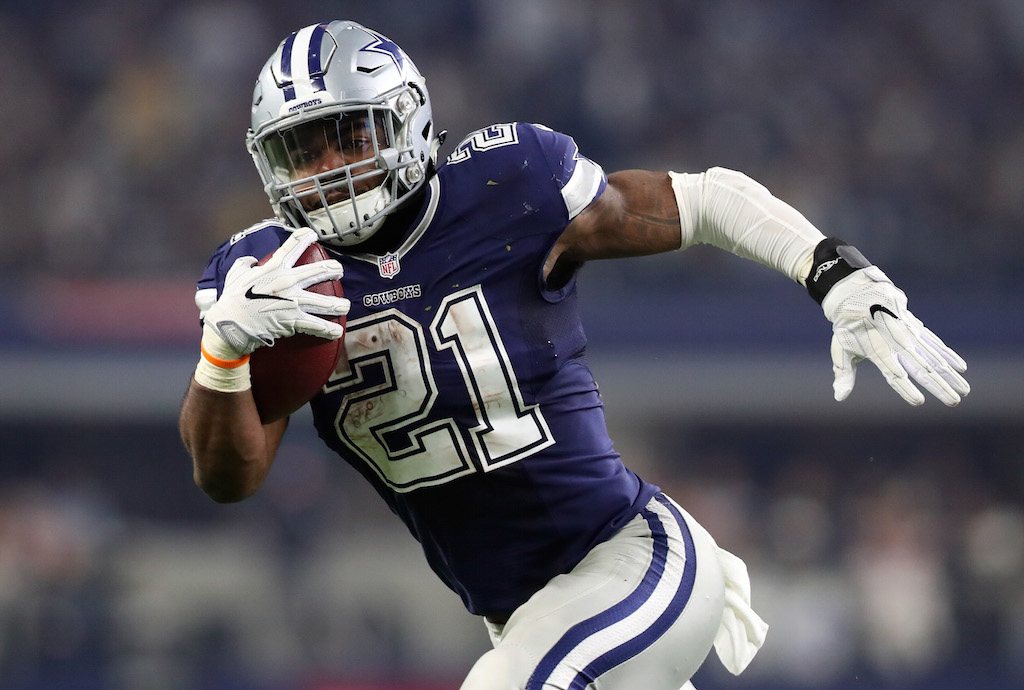 Odds: +350
Ezekiel Elliott showed the world why he was the most highly-touted running back prospect to come out of college in years. A true three-down back, Zeke made the Dallas Cowboys look smart for taking him fourth overall, as he went on to lead the league in rushing yards (1,631) and rushing yards per game (108.7).
If Elliott wasn't currently facing a six-game ban for violating the NFL's personal conduct policy, the odds would probably be more in the former Ohio State standout's favor. Of course, things could change if the appeal process goes his way, as recent rumors indicate that his suspension could actually get pushed to 2018.
1. Le'Veon Bell, Pittsburgh Steelers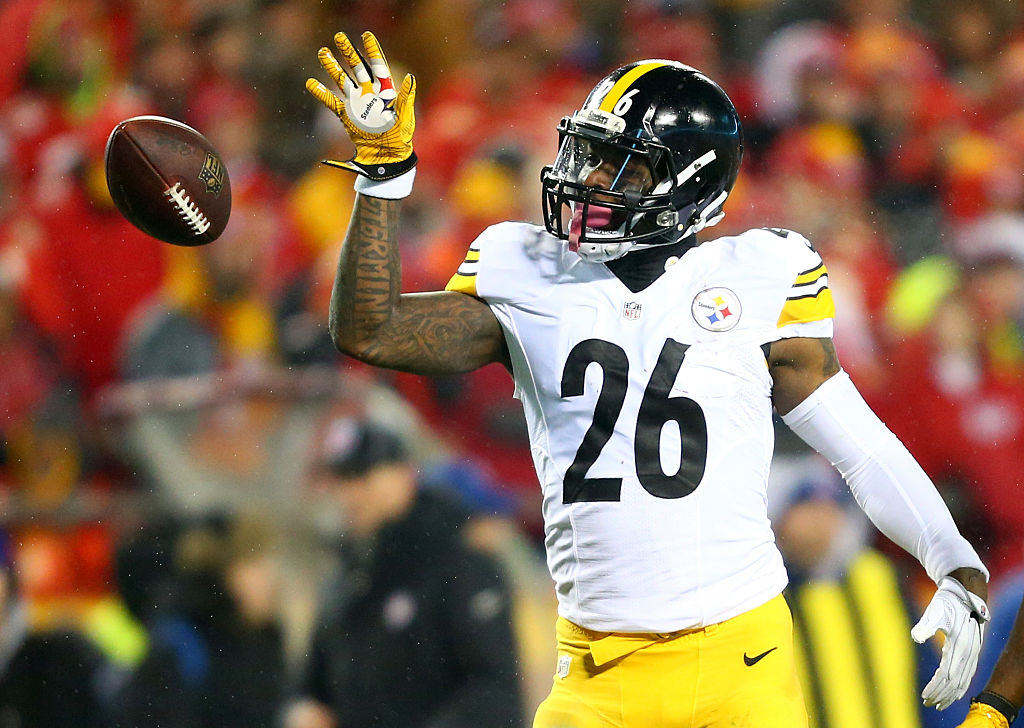 Odds: +300
Pittsburgh's Le'Veon Bell is a special, special talent. In 2016, on his way to making his second career Pro Bowl, the former Michigan State Spartan averaged 105.7 rushing yards per contest, rushed for 1,268 yards (fifth in the NFL) and seven rushing touchdowns and caught 75 passes for 616 receiving yards and two touchdown receptions.
Bell did all this in just 12 total games. When he is on the field, the Pittsburgh offense is about as lethal as it gets. Fortunately for Steelers fans, it looks like Bell plans to end his holdout on September 1.
Statistics courtesy of Pro-Football-Reference.