Will Injured Alabama QB Tua Tagovailoa Skip the 2020 NFL Draft?
Alabama QB Tua Tagovailoa was widely thought to be the front-runner to be the top pick in April's NFL draft, but that came into question when Tagovailoa suffered a season-ending hip dislocation and fracture in the Tide's November win against Mississippi State. Tagovailoa's career numbers are good enough to support a No. 1 pick in the draft, but will his injury make NFL teams nervous about drafting him that high? If Tagovailoa and his representatives feel that may be the case, the quarterback may decide to skip the 2020 NFL draft and return to Alabama for his senior season. But how likely is that to happen?

Tua Tagovailoa's Heisman candidacy
Before suffering his hip injury, Tagovailoa was in the conversation to win this year's Heisman Trophy. The junior, who finished second in Heisman voting last season, played in nine games in 2019. He completed more than 71% of his passes for 2,840 yards with 33 touchdowns and just three interceptions.

Tagovailoa's yardage and touchdown totals put him on pace to have a significant increase over the stats he had in those categories in 2018 — in 15 games, including the SEC Championship Game and two playoff games. Tagovailoa led Alabama to an 8-1 record in the nine games he played in 2019.

Tua's season-ending injury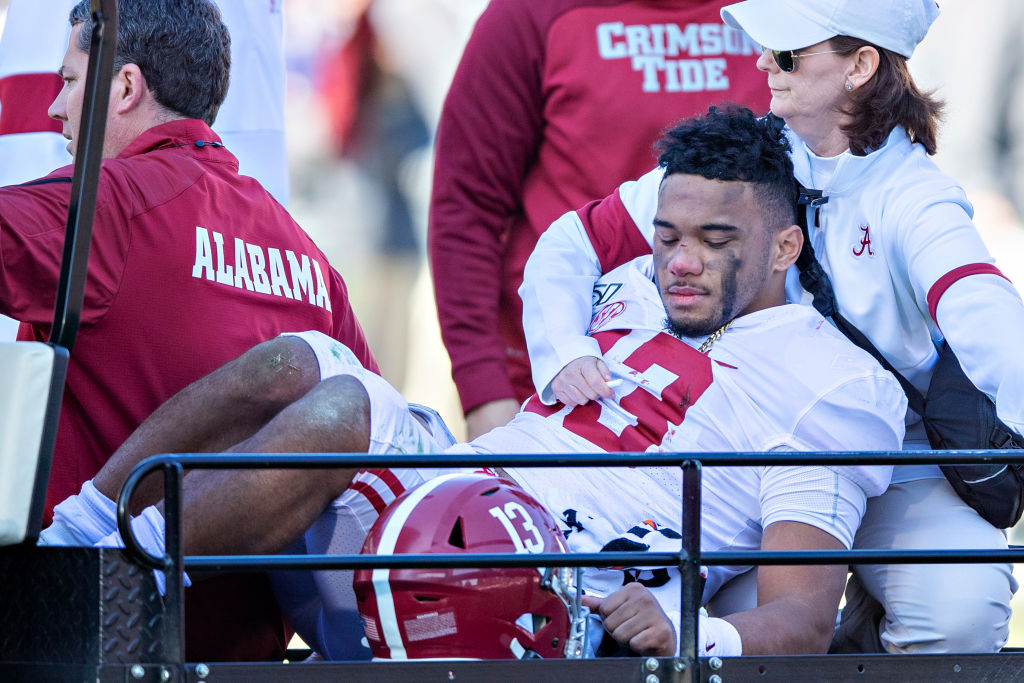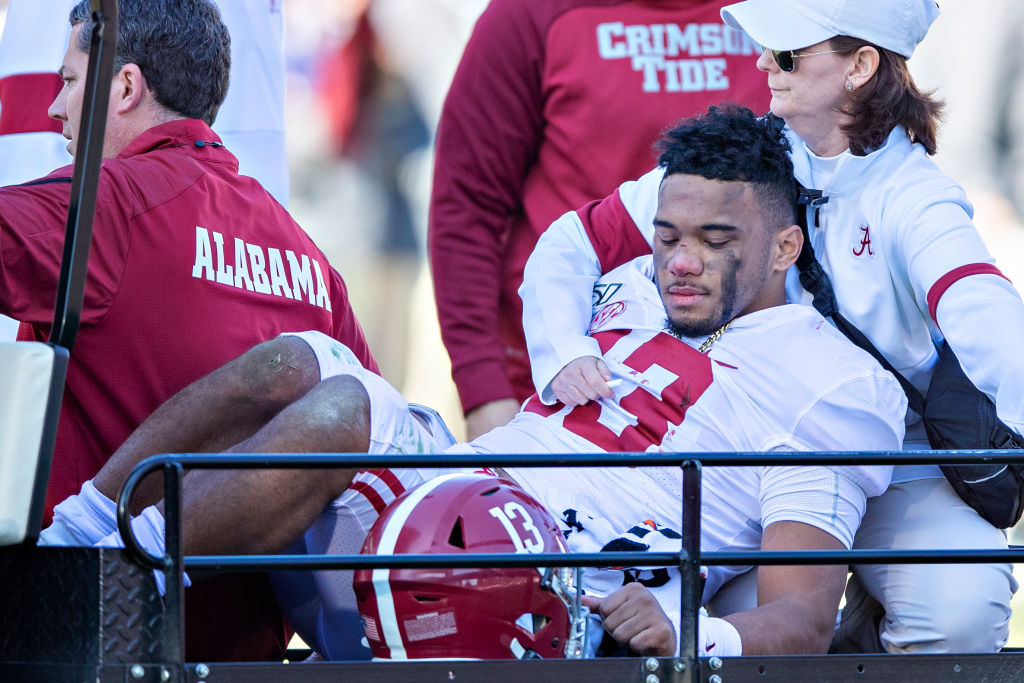 Tagovailoa's Heisman candidacy — and Alabama's playoff hopes — took a sharp downward turn on November 16. That's when he suffered his season-ending injury against conference opponent Mississippi State.

The injury happened late in the first half of the game when Tagovailoa was tackled from behind by two defenders. He landed on the turf — face down — and his helmet came off. Trainers came out onto the field to help him as he was in obvious pain. When the trainers helped Tagovailoa off the field, he couldn't put any weight on his right side, and he eventually went to the locker room on a medical cart.

Later that day, the quarterback was airlifted by helicopter from Starkville, Miss., to St. Vincent's Medical Center in Birmingham, Ala. Reports came out that day that the injury would be a season-ender. Alabama's team orthopedic surgeon confirmed that night that Tagovailoa "is expected to make a full recovery but will miss the remainder of the season."
However, a few weeks after the injury, Tagovailoa commented that he has doubts about how much of a full recovery he'll make. While he's confident he'll be able to suit up and take the field again, he wonders if he'll be as explosive as fans and scouts are used to seeing.
Will Tua Tagovailoa skip the 2020 NFL draft?
With Tagovailoa's injury, the question surrounding him has gone from will he be the No. 1 pick in the 2020 NFL draft to will he declare for the 2020 NFL draft? Even with the hip injury, many draft analysts are pegging Tagovailoa to be a first-round pick. Will that be good enough for him to enter the 2020 draft as planned? Or will he want to use his final year of college eligibility to return to Alabama to prove to NFL teams that he is fully recovered from the injury and back to performing at the level people have come to expect from him?

It is unlikely that Tagovailoa will return to college to improve his draft stock for 2021, according to reports. NFL draft insider Tony Pauline says that, according to "people close to Tagovailoa," the quarterback is telling people that "he is very likely to enter the 2020 NFL draft." Pauline added that, according to what he is hearing, the chances of Tagovailoa returning to Alabama next season are "very, very slim."

Tua has a long recovery ahead of him in the coming months leading up to the draft in April, and he will hope to recover quickly enough to be able to show NFL scouts that teams shouldn't be concerned about using a high draft pick on him.