Will Jerry Jones Actually Fire Mike McCarthy Anytime Soon?
Jerry Jones is officially pressing the panic button in Dallas. His Cowboys — somehow, still in first place in the awful NFC East — are off to a rotten 2-4 start. It's an inauspicious beginning for the franchise's brand-new head coach Mike McCarthy. The 56-year-old was brought in as an antidote to Jason Garrett's feeble offensive style of the past decade, but the returns haven't been much better so far.
Now the question on every Cowboys' fan's mind becomes, "Will Jones actually fire McCarthy any time soon?'
Mike McCarthy's pre-Dallas career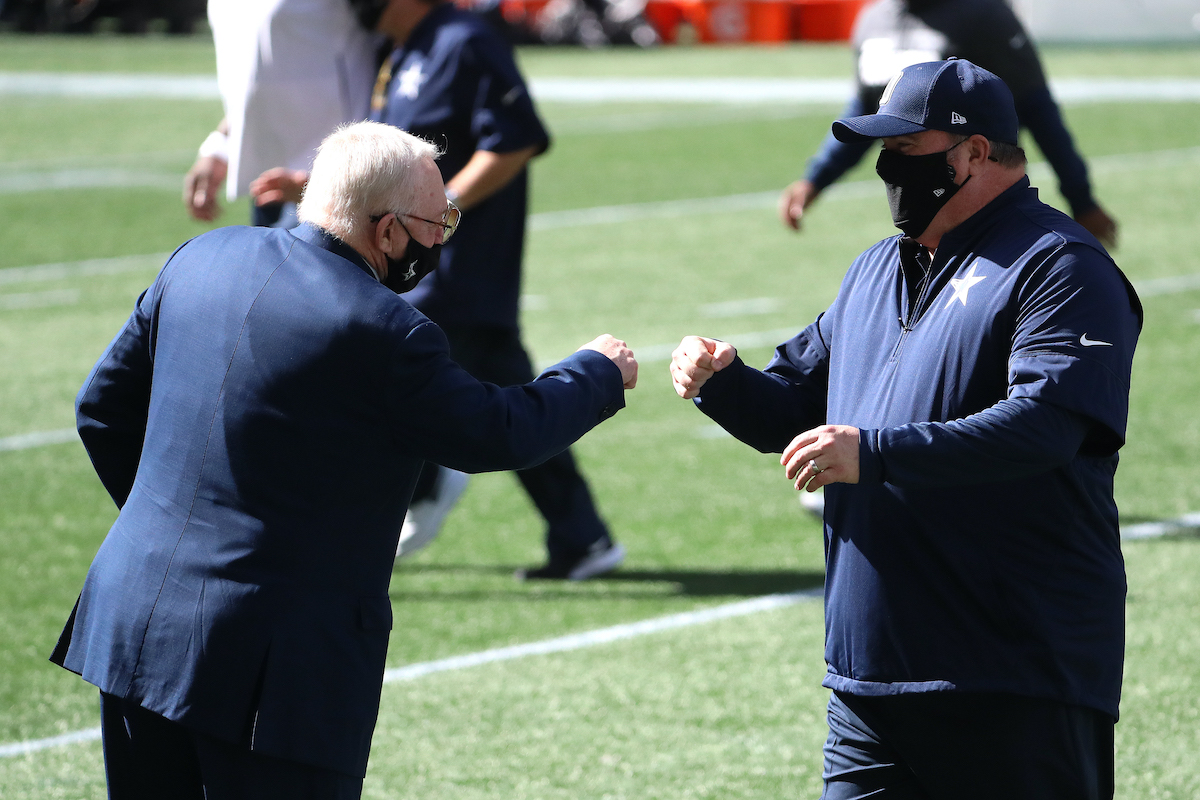 Prior to McCarthy's current stint in Dallas, he was the head coach of the Green Bay Packers. He was best known for leading the Packers to a Super Bowl title in 2011. Certainly, it didn't hurt that McCarthy did so with a future Hall of Fame quarterback under center in Aaron Rodgers. But though Rodgers received plenty of credit for the win, so too did McCarthy. 
McCarthy's last few seasons in Green Bay were ineffective, and he was fired in December 2018. After taking a season off, McCarthy ended up with yet another head coaching gig in Dallas. This year, he assumed control of the team with high expectations, as they hoped to contend for a Super Bowl. 
How have the Dallas Cowboys fared under Mike McCarthy? 
The Cowboys are currently 2-4, details ESPN, with wins over the New York Giants and Atlanta Falcons. They've lost to the LA Rams, Seattle Seahawks, Cleveland Browns, and most recently, a 38-10 drubbing at the hands of the Arizona Cardinals on Monday Night Football.
The Cowboys defense has been epically bad so far this season. They've given up over 30 points in all but one game and gave up a season-high 49 against the mediocre Browns. The only game in which they managed to play adequately on defense was their season opener against the Rams. They lost 20-17.  
Will Jerry Jones actually fire Mike McCarthy anytime soon? 
There are a few reasons why a McCarthy firing makes little sense right now. One is that McCarthy was largely brought in to revolutionize the offense. While he has yet to do that, it's been Dallas's defense that has served as their Achilles heel so far. There isn't an offense they've faced so far that hasn't looked good against them.
If Dallas really wants to turn things around, they'll need to right their defensive ship. While McCarthy's ultimately responsible for this, it's hard to assign blame to him only six games into his tenure as he doesn't pick the players and isn't a defensive-focused coach. 
McCarthy's also been dealt a brutal hand with regard to his quarterback. While Dallas has a capable backup in Andy Dalton, they did lose Dak Prescott when he suffered a season-ending injury against the Giants. This has to give McCarthy something of a grace period. No team can lose its starting quarterback and not feel some kind of aftereffect. 
The real reason why Jones won't fire McCarthy
The final reason why Dallas shouldn't fire McCarthy is that he's still relatively new to the team. They should give him at least one season to see what he can do. While it's true that the Cowboys have looked awful this year, they're still in control of their own destiny. The NFC has looked awful this season, with the Giants, Washington Football Team, and Philadelphia Eagles all playing putrid football.
Dallas may be in rough shape right now, but they're also likely the odds on favorites to win this division. For all their horrible play so far, they're still in first place. Firing McCarthy would just introduce chaos where it isn't needed.