Will Jimmy Butler's Off-Court Antics Come Back to Haunt Him During the Season?
Since we're reaching the end of the NBA off-season, anything remotely salacious about a player or team can become news. So when shooting guard Jimmy Butler got himself into trouble on Instagram, all the big sports outlets jumped on it. But while it could be a small blip on social media, it gives the impression Butler isn't keeping many friends in the league — especially after reports from a few months back claiming he was very vocal about being "fed up" with his teammates on the Minnesota Timberwolves.
Is this whole thing being blown way out of proportion? Or could Jimmy Butler be further developing a reputation which can hurt him when he meets back up with his teammates for the 2018-19 campaign?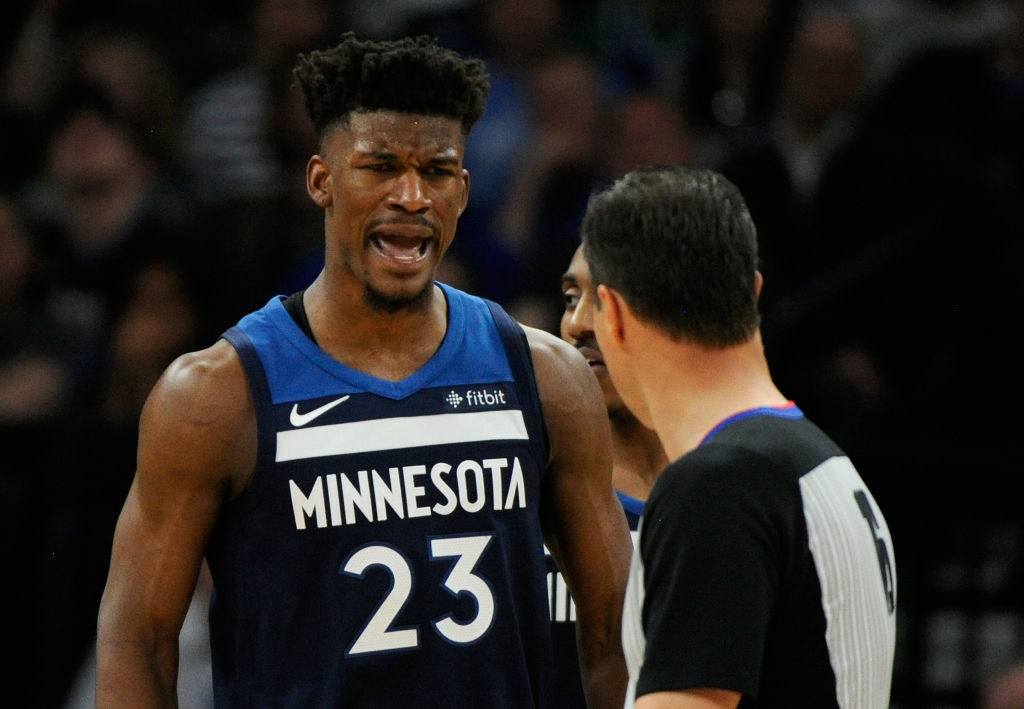 First, in case you missed the Instagram fiasco …
All the recent shenanigans started when Butler posted a comment on one of Gabrielle Union's Instagram photos. The actress — and wife of Butler's former Bulls teammate Dwyane Wade — posted a picture of herself in a swimsuit to the social media platform which got a ton of commentary, especially from male 'gram followers. One such comment was a "WELL DAMN!!" posted by Butler.
So when Butler later posted a video of himself to Instagram captioned with "The good, the bad, and the ugly" Wade was quick to jump in:
"Put well damn on my wife photo again and you're gonna see what the good, the bad, and the ugly is like"
Butler responded by noting the situation "escalated quickly" and added a few emojis. Since the two are reportedly friends, the back-and-forth could've been sarcastic. (And we all know sarcasm doesn't translate well over the internet.) Nevertheless, Wade's threatening comment grabbed the internet's full attention.
Then, came the 'trust fall' video
Perhaps the Butler-Wade-Union Instagram exchange would've blown over after a couple of days. But then Bleacher Report posted a video to Twitter of Butler letting a friend fall hard onto the ground while doing the "trust fall" challenge. With the Instagram debacle still fresh in everyone's mind, the video got plenty of attention as well.
Must be fun being @JimmyButler's friend 😅 pic.twitter.com/2CJC20kxRw

— Bleacher Report (@BleacherReport) August 19, 2018
Could this hurt Butler in the long run?
Surely some basketball fans are asking themselves this question. And while the Instagram instance seems blown out of proportion, other recent events show it isn't difficult to see why this looks bad for Butler's image.
At the start of the summer, the Chicago Sun-Times reported Butler was tired of his young "nonchalant" Timberwolves teammates — particularly All-Star center Karl-Anthony Towns — and has no intention of signing a contract extension with the team after the 2018-19 season.
Butler posted an average 22.2 points, 5.3 rebounds, 4.9 assists and 2.0 steals per game last season for the T'Wolves. He also helped them reach the playoffs for the first time since the 2003-04 season. Nevertheless, he was reportedly irked by how the young team around him played — particularly in the first round of the playoffs — and wants to play in another city as soon as he can be.
The long and short of it is …
Even if he gets his wish to join Kyrie Irving on the Boston Celtics, Jimmy Butler still has one season left in Minnesota — a team whose future will likely be built around Towns. Needless to say, things could get pretty awkward if the locker-room this season.
Butler may want to consider cooling it with speaking ill of his current teammates — or rubbing his former teammates the wrong way on social media, for that matter.