Will Joe Johnson's BIG3 Dominance Earn Him an NBA Roster Spot?
In the BIG3 3-on-3 basketball league, the first team to get to 50 points is the winner of the game. Former NBA swingman Joe Johnson was the regular-season MVP in the BIG3 this season, and he capped off his fantastic season with a three-pointer to give his team, the Triplets, a 50-39 win in the championship game over the Killer 3s.
LeBron James was in attendance at Staples Center for Johnson's performance, and he wasn't the only person in the NBA watching. Johnson's performance in 2019 with the Triplets has fans, players, and NBA executives wondering if the 38-year-old should be on an NBA roster this fall.
Joe Johnson's impressive season in the BIG3
Joe Johnson finished the championship game with 28 points for more than half of the team's total points. It was just another day at the office for Johnson, who was far and away the best player in the BIG3 this season.
The 38-year-old set a new league record in scoring this season, racking up 175 points over the league's eight-game regular season. Johnson also led the league in assists with 31 and finished third in rebounds with 60 and second in steals with nine.
He was a productive NBA player before a disappointing 2017-18 season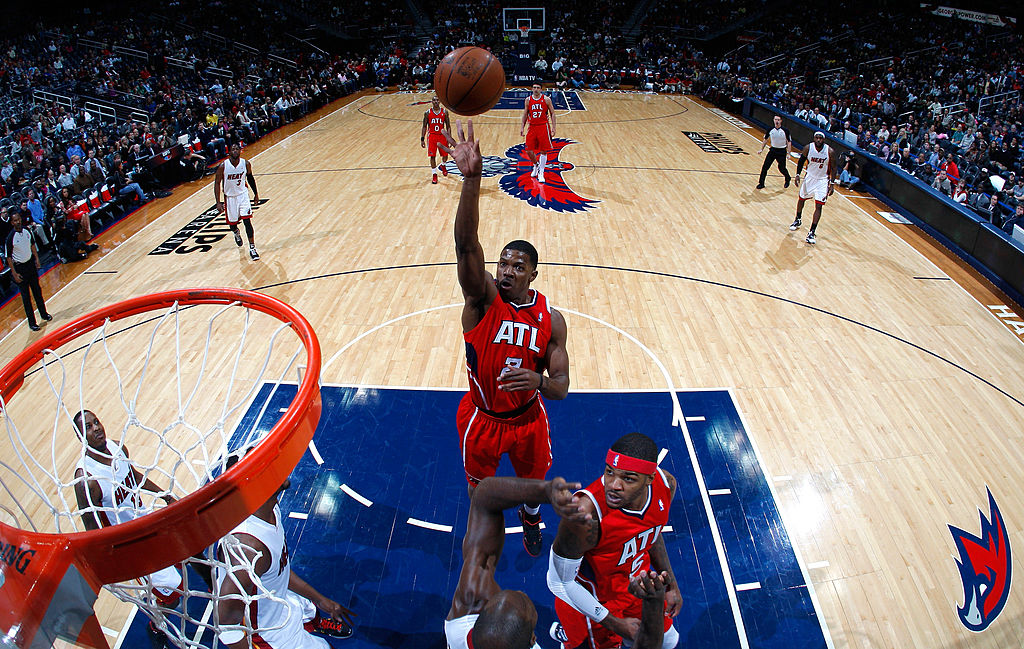 Johnson's NBA career lasted for 17 seasons across seven different teams. All told, Joe Johnson appeared in 1,276 NBA games and averaged 16 points per game.
The veteran had the best stretch of his career with the Atlanta Hawks. He made the All-Star Game in each of his last six seasons with the Hawks from 2007 through 2012. In seven seasons with Atlanta, Joe Johnson averaged 20.9 points and 5.2 assists per game.
His last full season as a starter came in 2015-16 when he was traded from the Brooklyn Nets to the Miami Heat. Johnson averaged 13.4 points per game in 24 regular-season games for the Heat and chipped in 12.1 points per game during Miami's 14-game postseason run.
Joe Johnson came off of the bench for Utah in 2016-17 and 2017-18 before being traded to the Houston Rockets, where he came off the bench and scored only six points per game. In the postseason, Johnson averaged 6.8 minutes per game and scored 1.5 points per game, bringing his NBA career to a disappointing close.
Multiple teams are giving him a tryout
It was that ugly run in Houston that gives Joe Johnson the desire to return to the NBA.
"I am hopeful to get back, but I did not get in the BIG3 to get back to the league," Johnson told ESPN's Marc Spears. "I had a great career. I enjoyed the process. The only thing that keeps the NBA fire in the belly is how it ended in Houston. That just does not sit well with me. So if an opportunity comes along and I feel that it is worth it, yeah, I take that chance."
Johnson may get that opportunity. Sources told ESPN that the Detroit Pistons, Milwaukee Bucks, and Brooklyn Nets are all interested in giving Johnson a workout in the coming weeks. He has also reportedly received interest from the Philadelphia 76ers, Los Angeles Clippers, Denver Nuggets, and New Orleans Pelicans.
If Joe Johnson does indeed earn an NBA contract this month, it would be a massive endorsement of the BIG3 as a legitimate place for former NBA stars to go and receive a second chance on their careers. Could Carmelo Anthony be next?