Will Khabib Nurmagomedov Get to Fight in 2020 at All?
UFC 249 was supposed to finally pit Khabib Nurmagomedov against Tony Ferguson. This long-awaited fight had been canceled four times in the past already. Unfortunately, it's been canceled again. This time, a global pandemic prevented the two men from fighting one another. And it may stop Nurmagomedov from fighting at all in 2020.
COVID-19 cancels everything 
The coronavirus pandemic forced much of the world to stop, including the sports world. The UFC planned on hosting many great events this summer. But most got canceled, postponed, or shuffled around. Many countries also started shutting down borders. So UFC fighters from different countries had to choose to fly to the U.S. or stay at home. 
Nurmagomedov was in the U.S. at the time. So UFC President Dana White tried to save UFC 249 by hosting the event at a Native American casino in California not subject to quarantine restrictions. But Governor Gavin Newsom stepped in and stopped the fight by talking to ESPN about it.
Without a location to fight, Nurmagomedov, like many people, chose to go home and wait it out. He lives in Russia, and Russia has since locked down their borders, which has made it difficult, if not impossible, for him to fly anywhere to fight.
How the pandemic affects Khabib Nurmagomedov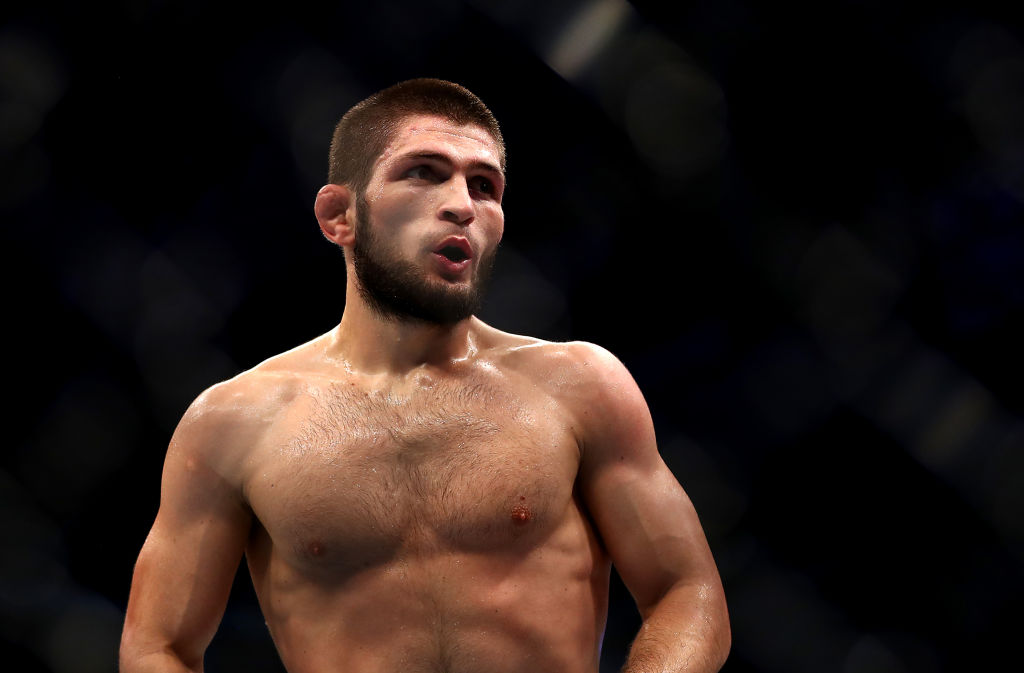 Obviously, being stuck in Russia prevents him from fighting in any UFC events in the near future. The UFC could hold an event in Russia. Until the pandemic goes away, however, this is unlikely to happen. That said, some political connections are at play. 
White is friends with Donald Trump, and Nurmagomedov has met with and talked to Russian President Vladimir Putin before. It may be possible for the UFC to get something moving politically speaking. But this is not the most likely scenario. That's because this pandemic affects Nurmagomedov in other ways, too.
His father, also one of his coaches, was recently hospitalized with heart problems and potential pneumonia, reports Bloody Elbow. He was flown to Moscow to receive better treatment. Fortunately, he also tested negative for COVID-19. But, if the worst happened to Nurmagomedov's father, then it'd be a serious blow. The fighter would probably take off time to deal with it. 
Will Nurmagomedov fight in 2020?
The answer to this question ultimately depends on COVID-19. There's no shortage of fighters willing to challenge him for his belt; it's just a matter of setting up the event in the first place. If Russia stops him from leaving the country in 2020, then there's a good chance he won't fight again. But, if he is allowed to leave, then the UFC has options. 
If the U.S. allows people to enter the country, then Nurmagomedov will likely fight in the U.S. in 2020. Several states currently allow sporting events without an audience present. The UFC is taking advantage of this. But, if the U.S. doesn't allow people to fly into the country, then that gets a bit tricky.
However, the UFC already has a plan for that. White told ESPN that the UFC has been developing 'Fight Island,' which is a private island where the UFC can host international events. If Nurmagomedov is allowed to fly out of Russia, then the UFC could set him up to fight on 'Fight Island.'