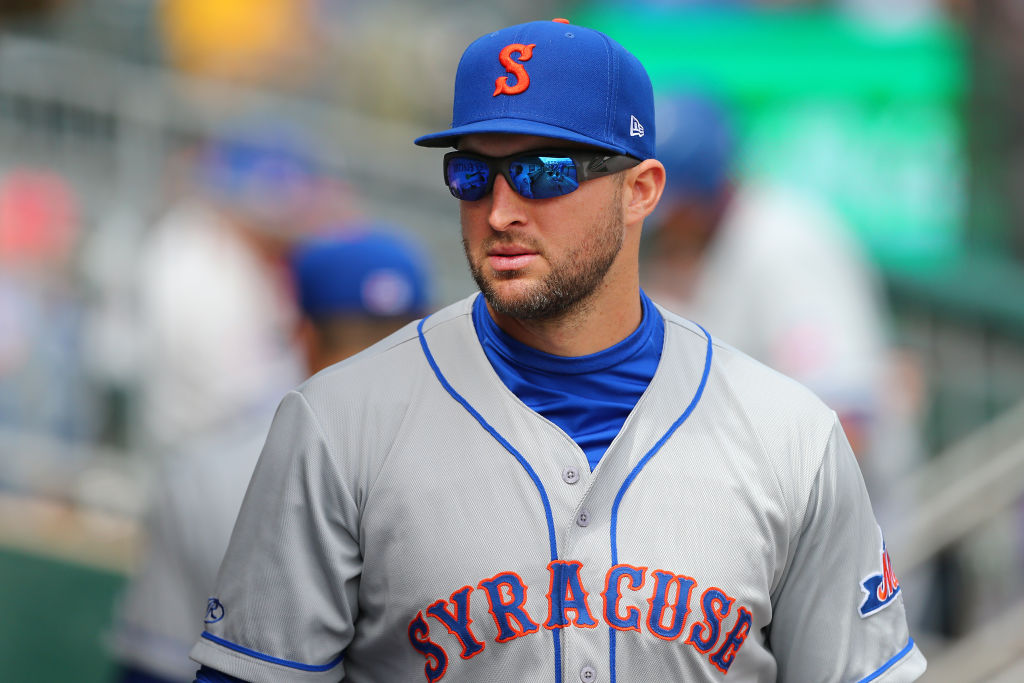 Will New York Mets Prospect Tim Tebow Ever Make it to the MLB?
Tim Tebow's 2019 season with the Syracuse Mets came to an end due to a pinky injury. What are Tebow's pro prospects in 2020 and beyond?
Tim Tebow was one of the most polarizing figures in professional sports during his brief stint in the NFL. The former Heisman Trophy winner had a cult-like following with the Denver Broncos; his personality and leadership were admirable, but his talent as an NFL quarterback was not. Tebow finished his three-year NFL career with an abysmal completion percentage of 47.9%.
The former Bronco got his final shot in the NFL in 2015 with the Philadelphia Eagles, failing to make the team as a backup quarterback. With no path to the NFL remaining, Tebow made a surprising career change in 2016 when he announced that he would pursue a career as a professional baseball player.
Tebow had a breakout season in 2018
Tim Tebow earned mixed reviews from baseball scouts after his two-hour workout in 2016. His athleticism and power made him an intriguing prospect, but at 28-years-old, he was far from the finished product that he would need to be at his age. The New York Mets decided to take a shot on him, signing the former NFL quarterback to a minor-league deal in 2016.
The gamble made sense for the Mets, who could profit from his popularity in merchandise and ticket sales whether he succeeded or not. And on the off chance that his athleticism carried him into the pros someday, even better.
In 2017, Tebow had mediocre results in Single-A ball. In 126 combined games between the St. Lucie Mets and the Columbia Fireflies, Tebow batted .226 with eight home runs, 50 runs, and 52 RBI. He recorded a .915 fielding percentage in the outfield.
But in 2018, Tim Tebow had a surprisingly solid year with the Double-A Binghamton Rumble Ponies before having his season cut short with a broken hand in July. In 84 games, Tebow had 32 runs, six home runs, 36 RBI, and a .273 batting average to go along with a .988 fielding percentage. These numbers were far from spectacular for a 30-year-old prospect in the grand scheme of things, but they were a significant step in the right direction for Tebow.
But against Triple A pitchers, he couldn't cut it
The next step in Tebow's development would be a promotion to Triple-A, and this step in the process delivered a crushing blow to the former quarterback's chances of ever making it to the MLB.
In 77 games with the Syracuse Mets this season, Tebow looked completely lost at the plate with only 39 hits in 239 at bats for a paltry .163 batting average. The 31-year-old struck out 98 times and recorded only 25 runs, four home runs, and 19 RBI.
Tim Tebow's 2019 season mercifully came to an end last week as a deep cut suffered on his left pinky will keep him out for the remainder of the year.
Will Tim Tebow ever make it to the majors?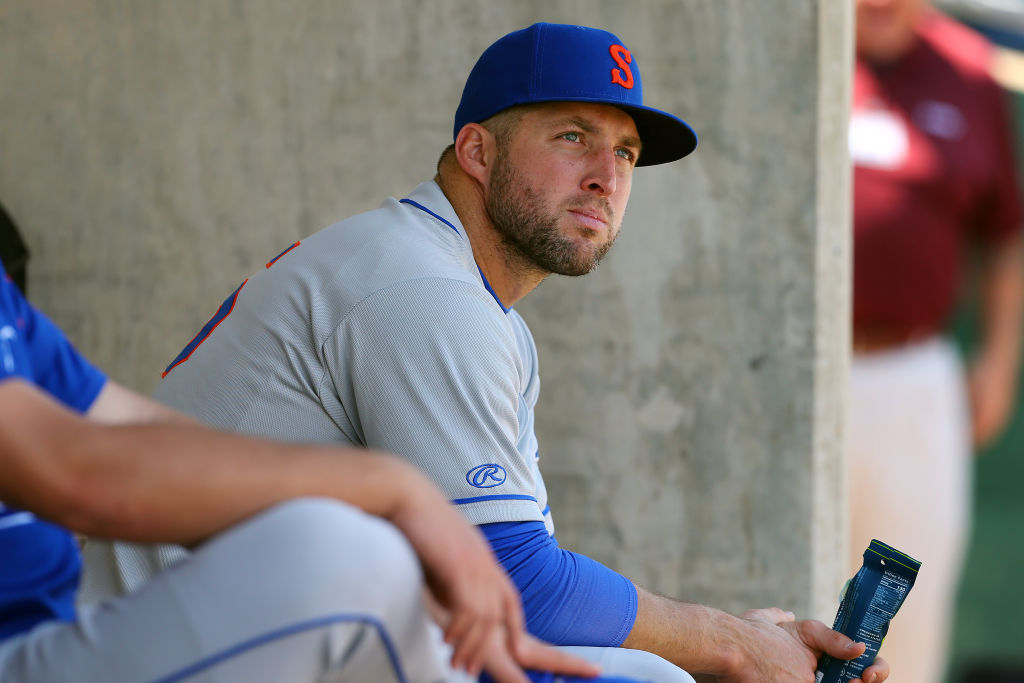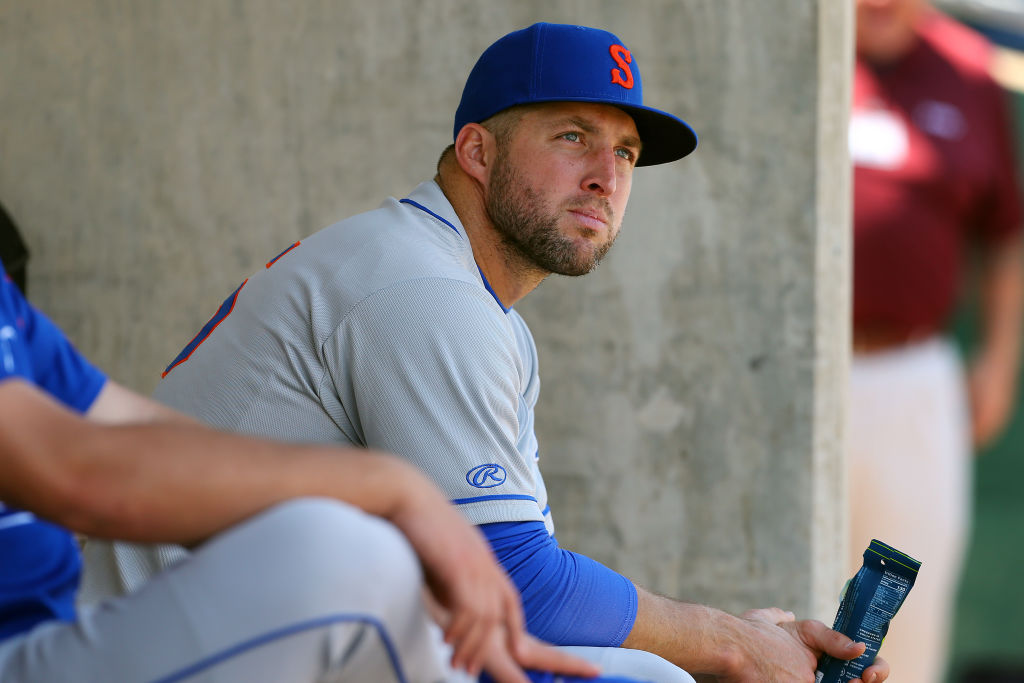 Tebow's major-league prospects were always a long shot, but after his terrible performance in 2019, they are virtually all but dead at this point. Tebow turns 32 on August 14, and it doesn't make a whole lot of sense for him to continue the grind of a minor-league career when he has no realistic path to the majors and plenty of other professional options including one as a college football analyst at ESPN.
Perhaps if the Mets had been sellers at the MLB trade deadline and started a new rebuild in 2020, Tebow could have been promoted as a publicity stunt. But after trading for Marcus Stroman and keeping Noah Syndergaard, New York has its sights set on the playoffs in 2020 and likely won't want to waste valuable at bats on a player who has no business in the majors.
Tim Tebow is by all accounts is a great locker room guy and an excellent athlete. But it's about time that he stop chasing this pipe dream and starts enjoying his retirement from professional sports with his new fiancee.